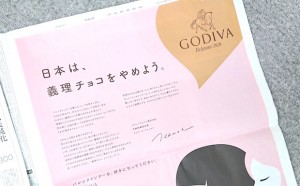 The first thing to learn about Valentine's Day in Japan is that it's only for women to give to men. The guys are supposed to reciprocate on White Day, or March 14th. Moreover, it's not just for couples. In fact, women are meant to provide chocolates for all their male colleagues and relatives. So women purchase chocolates for their fathers as well as coworkers. Communal desks at offices around Japan are piled high with chocolate offerings come February 14th.
In Japan, the custom of buying chocolate like this is known as "giri choco" (obligation chocolate).
But the custom has arguably led to a widespread devalorization of chocolate, to such an extent that formerly luxury brands like Godiva are now much more widely available than before.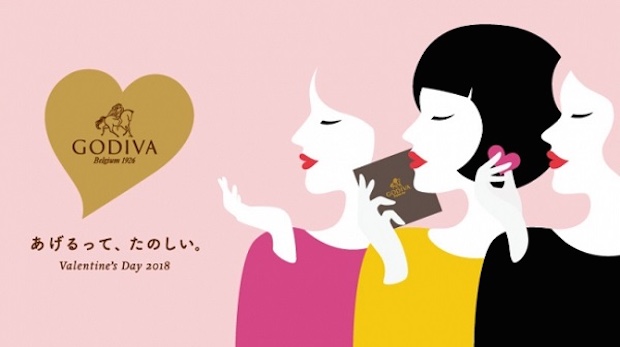 It also means that people tend to expect cheaper chocolate, which is no longer a special treat but something enjoyed quite regularly (even daily in many cases). Visit a department store food area around Valentine's Day and you will find huge crowds at the counters, lining up to buy chocolate items out of a sense of duty rather than genuine passion for the sweet snack (or who they will give it to). Events like Salon de Chocolate are immensely popular, with organizers hiring out major halls to cope with the demand.
Now Godiva has taken the unprecedented step of asking people to stop buying chocolate. The brand put out a full-page advertisement in the Nihon Keizai Shimbun newspaper on February 1st with a message from Godiva Japan president Jerome Chouchan, specifically requesting people not to purchase giri choco. "People of Japan, let's stop giri choco," the title reads.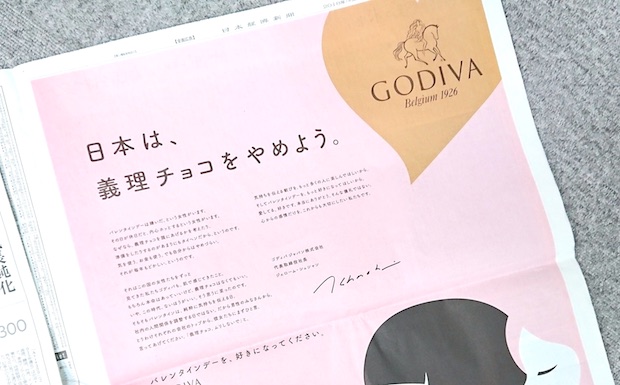 Naturally, brands like Godiva make a …continue reading