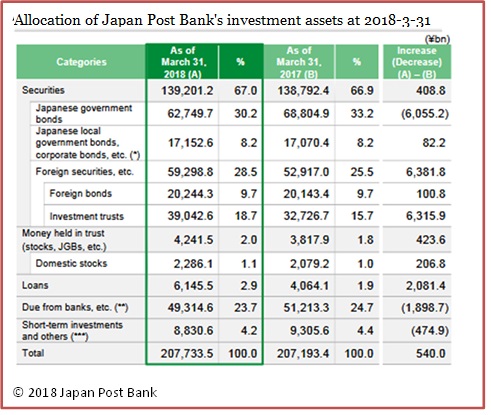 Japan Post group has topped off a week which saw its bank and insurance components unveiling their financial results for the year to 31 March 2018 with publication of a Medium-Term Management Plan 2020 that sets out in general terms how it aims to cope with the twin market difficulties of a shrinking population and barely-there interest rates.
Japan Post Bank plans to increase commission revenue by selling customers more investment trusts and to "diversify and sophisticate" management of its own portfolio — in part by using the services of the newly established Japan Post Investment Corporation (JPIC) in which it holds half the voting rights.
Japan Post Insurance owns a further 25% of the JPIC and, according to the Medium-Term Plan, it will see an "expansion of in-house investment", presumably through the services of the captive asset manager, as it diversifies its holdings "within the scope of risk buffer under ERM [an Enterprise Risk management] framework".
Yet while the focus will be sharper, the Plan sets out a net profit target for Japan Post Holdings of just 410 billion yen for the year ending 31 March 2021 — sharply down on the 460bn yen for the year just ended.
Post Bank's investment assets rose very slightly in financial year 2017/18 to reach a total 207,733.5bn yen from 207.193.4bn yen 12 months previously. Asset allocation changed very little though holdings of Japanese Government Bonds fell to 30.2% from 33.2% of the portfolio while investment trusts rose from 15.7% to 18.7%. Domestic stocks still make up a puny 1.1%.
Post Insurance also kept it allocations steady though the total value of its investment assets fell during the term to 76,831.2bn yen from 80,336.7bn yen a year ago. Like any life co it must keep a large percentage of its stash in bonds …continue reading