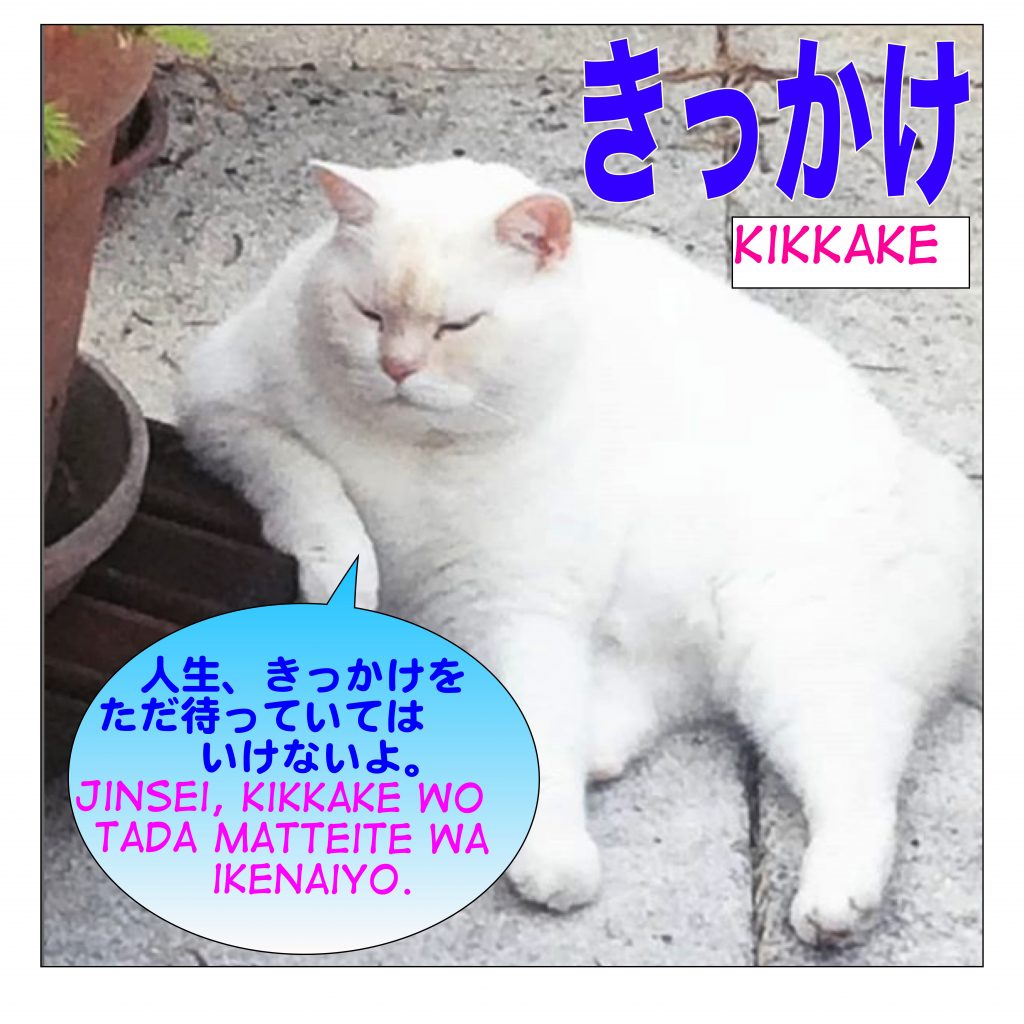 = Jinsei, kikkake wo tada matte ite wa ikenaiyo.
=

Don't just wait for the chance in your life.
Hi everyone! I am your guest teacher, Nuage!
Today, by request, I am going to teach you the word,

きっかけ

( = kikkake)The translation of

きっかけ

( = kikkake) changes depending on the context but it means "original motive, incentive, chance, opportunity, reason, or something that triggers an incident"
This word is used to describe something that leads you to the current state, and it the reason why you decided to do something
It can be used with in positive or negative situations.
Ex. A:「日本に来たきっかけはなんですか?」
= Nihon ni kita kikkake wa nan desu ka?
= What brought you to Japan?
B:「ジブリ映画を見てからずっと日本に行ってみたいと思っていました。」
= Jiburi eiga wo mite kara zutto nihon ni itte mitai to omotte imashita.
= Ever since I watched some GHIBLI movies, I've wanted to come to Japan.
Ex. 「日本語に興味を持ったきっかけはなに?」
= Nihongo ni kyoumi wo motta kikkake wa nani?
= What got you interested in the Japanese language?
Ex. きっかけがなんであってもボランティア活動をするのはいいことだと思う。
= Kikkakake ga nande atte mo borantia katsudou wo suru no wa ii koto da to omou.
= Whatever the initial reason is, I think it's great to do volunteer work.
Ex. これといったきっかけがあったわけではないが、なんとなく彼と別れてしまった。
= Koreto itta kikkake ga atta wake dewa nai ga, nanto naku kare to wakarete shimatta.
= There wasn't really a specific reason, but I for some reason I broke up with him.
Ex. 家族の思い出を作りたいという姉の言葉がきっかけとなり初めて海外旅行に行った。
= Kazoku no omoide wo tsukuritai toiu ane no kotoba ga kikkake to nari hajimete kaigairyokou ni itta.
= My big sister said she wanted to make memories with the family so we went overseas for the first time.
Ex. 今回のスクールキャンプは子供達が自立するいいきっかけを与えたと思う。
= Konkai no sukuuru kyanpu wa kodomotachi ga jiritsu suru ii kikkake wo ataeta to omou.
…continue reading