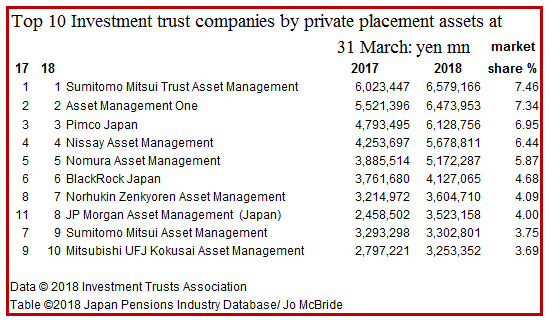 The business in privately placed investment trusts continues to flourish with the value of such vehicles rising 14.75% to 76.83 trillion yen in the year ending 31 March 2018, figures just released by the Investment Trusts Association and analysed by the Japan Pensions Industry Database show.
This growth rate compares with 10.56%, to 109.21tr yen, in publicly offered trusts and marks the second year in which the rise in the value of privately placed vehicles has outpaced that in the publicly offered variety (for which see posting below).
First established in January 1999, this type of investment trust was initially sold mainly to institutional investors but subsequent years saw demand for it growing among defined-contribution pension plans and investors in variable annuity products.
Market shares in these products are much more evenly spread than in their public counterparts where Nomura eats up a quarter of the business. Moreover the top 10 firms by growth includes four independents: Aristagora Advisors, Ichiyoshi Asset Management, Fivestar Asset Management and GCI Asset Management.
Full versions of the above table appear under the 'Rankings tab above.