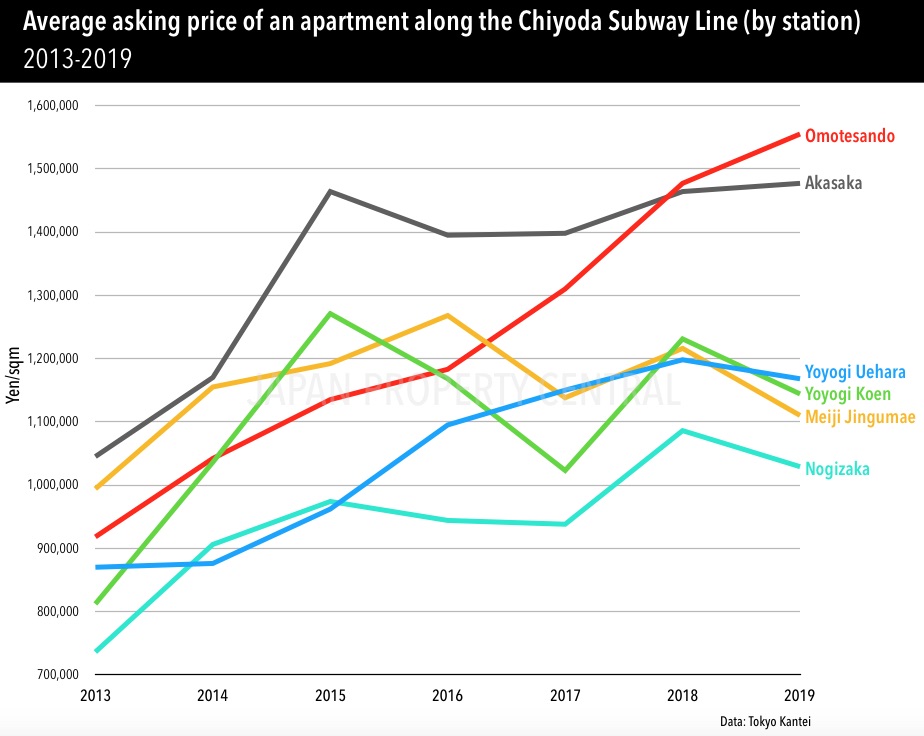 The southern half of the Chiyoda Subway Line runs through some of the most expensive real estate in Tokyo, including Harajuku, Omotesando, Akasaka, and the Otemachi/Marunouchi business district.
According to Tokyo Kantei, the average price of a second-hand apartment alongside this train line was approximately 929,000 Yen/sqm in 2019, showing no change from last year. The average apartment size was 57.82 sqm and the average building age was 23.7 years.
The most expensive station was Omotesando where the average apartment price in 2019 was 1,555,000 Yen/sqm. The average apartment size of 77.0 sqm (829 sq.ft) was the largest of all stations, while the average building age was 21.3 years.
Apartment prices in Omotesando have increased by 5.3% from 2018 and are up 69.4% from 2013. This fashionable district has seen the highest growth in apartment prices. Other stations have seen prices increase by 35 ~ 40% between 2013 and 2019.
Source: Tokyo Kantei, November 12, 2019.
9 total views, no views today
The post Apartment prices along Tokyo's Chiyoda Line in 2019 appeared first on JAPAN PROPERTY CENTRAL.