Sales of used vehicles in Japan hit a record low last year. The higher consumption tax discouraged drivers from trading in their old cars for new ones.
The Japan Automobile Dealers Association says about 3.75 million second-hand cars, excluding mini-vehicles, were sold last year.
That's down 3.6 percent from the previous year, and the lowest figure since record-keeping began in 1978.
Japan's used car market has been shrinking since 1997. More drivers are holding onto their vehicles for longer periods.
Jun 27
Japan's home-sharing market is poised for a shift away from couch-surfing toward professional services after the passage of a law regulating short-term rentals.
(bloomberg.com)
Jun 26
Japanese production of disposable diapers declined for the first time in 15 years in 2016, mainly due to weaker purchases from visiting Chinese tourists.
(Nikkei)
Jun 26
Struggling Japanese airbag maker Takata has filed for bankruptcy protection in a Tokyo court, following massive recalls of its products around the world.
(NHK)
Jun 26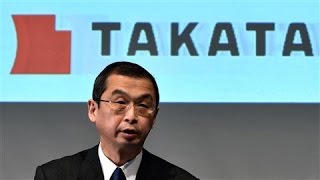 The head of Japanese airbag maker Takata says he will step down to take responsibility for the company's failure.
(NHK)
Jun 26
Reward programs and discounts are an attraction for consumers, but they are not exactly a motivator to do better. In a twist on such services, some Japanese companies are introducing point systems that encourage users to be more diligent in various personal tasks and then compensate them for their efforts.
(Nikkei)
Jun 23
A Japanese chemical firm shipped unauthorized Chinese-made acetaminophen, a painkiller used as an ingredient for cold medicines, to drug makers by mixing it with its own acetaminophen, health ministry officials said Thursday.
(Jiji)
Jun 22
Chinese bicycle-sharing startup Mobike has set up a subsidiary in Fukuoka city in southern Japan and plans to begin service later this year, it said on Thursday.
(Reuters)
Jun 22
Japanese virtual mall operator Rakuten said on Thursday it will open an online room-sharing marketplace now that the country is poised to lift a ban on room-sharing for travelers.
(Nikkei)
Jun 22
Amazon Japan aims to build a team of 10,000 independent couriers in the Tokyo region by 2020 to continue offering same-day delivery service without relying on major parcel delivery companies.
(Nikkei)
Jun 21
Struggling Japanese electronics maker Toshiba says that it picked a government-led multinational consortium as the preferred bidder for the sale of its memory chip unit.
(NHK)
---