Cyclists from around the world have competed in the Mount Fuji Hill Climb, considered Japan's toughest climbing race.
A record 8,031 riders took part in the annual event on Sunday.
They started from a park at the foot of Mount Fuji in Yamanashi Prefecture, cycling on a toll road that runs halfway up the 3,776-meter mountain.
The 24-kilometer course ends at the 5th station of Mount Fuji, where the elevation difference is about 1,300 meters.
The top male cyclist reached the finish line in a record 58 minutes and 31 seconds. The female winner finished with a time of 1 hour, 12 minutes and 51 seconds.
富士山の山梨県側のふもとから5合目までを自転車で駆け上がるレースが、12日に開か­れ、およそ8000人がタイムを競いました。 このレースは富士山の山梨県側のふもとと標高2300メートルほどの5合目までを自転­車で駆け上がるレースです。
Dec 10
The agent representing Japanese baseball star Shohei Ohtani has announced that the ace pitcher-and-slugger has decided to join the Los Angeles Angels in the 2018 season.
(NHK)
Dec 07
Police in Tottori Prefecture will file papers with prosecutors next week on the alleged assault by former sumo grand champion Harumafuji.
(NHK)
Dec 06
Japanese professional shogi player Yoshiharu Habu has become the first person ever to win lifetime titles in all 7 major title matches.
(NHK)
Dec 02
Japan have been presented with a chance for revenge in their opening match of next year's World Cup finals after being drawn against Colombia, Senegal and Poland in first-round Group H on Friday.
(Kyodo)
Dec 01
The Japan Sumo Association has reprimanded Yokozuna Hakuho for recent conduct and remarks deemed below the standards expected of a grand champion.
(NHK)
Nov 29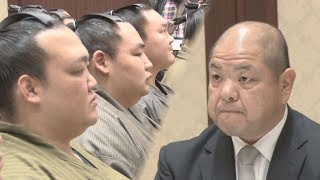 NHK has learned that Yokozuna Grand Champion Harumafuji is to retire from sumo to take responsibility for assaulting a lower-ranked wrestler.
(NHK)
Nov 27
About 10,000 runners competed in long-distance races at the foot of Japan's highest peak, Mount Fuji, on Sunday.
(NHK)
Nov 27
The grand champion who won the just-concluded autumn sumo tournament said Sunday he will "tell the truth" about a high-profile assault case involving wrestlers to rid the sumo world of "the pus."
(Japan Times)
Nov 26
In professional sumo, Yokozuna Grand Champion Hakuho has clinched his 40th tournament victory in the year's last tournament in Fukuoka.
(NHK)
Nov 26
Two Japanese snowboarders banned last year after being found guilty of puffing marijuana could be cleared to compete at the 2018 Winter Olympics, ski officials said Friday.
(Japan Today)
---