An 18-year-old male university student hiking up Mount Fuji died in a fall near the 3,776-meter summit while a member of his group remains missing, Shizuoka Prefectural Police said on Sunday, reports NHK.
At around 10 a.m. on Sunday, Ibuki Suemoto, an 18-year-old university student in Hikari City, Yamaguchi Prefecture, telephoned emergency services with his mobile phone to report that he had fallen near the 9th Station, located at an elevation of 3,600 meters, and suffered a bone fracture in his foot.
At around 5:00 p.m. a rescue team discovered Suemoto's unconscious body off a trail near the 7th Station. He is believed to have fallen again after making the emergency call. He was confirmed dead on Sunday night.
Another Katsutoshi Watanabe, a 64-year-old from Hiroshima Prefecture, also fell on the mountain. He is currently missing. A rescue team consisting of 15 persons was scheduled to begin searching for him at 6:30 a.m. on Monday.
Suemoto and Watanabe are among a six-person group from Hiroshima and Yamaguchi prefectures that set out for the summit from Yamanashi Prefecture at 6:00 a.m. on Sunday. The other members of the group returned safely.
On Sunday, snow and ice were recorded near the summit with the temperature reaching as low as minus 9.3 degrees Centigrade, according to Fuji News Network (Nov. 21).
富士山の9合目付近から男性2人が滑落しました。警察が捜索していますが、行方は分かっていません。 20日午前10時ごろ、静岡県の須走ルート9合目付近で男性2人が登山道から100メートルほど滑落し、落ちたうちの1人が110番通報して救助を要請しました。
Mar 25
Springtime cherry blossoms are drawing crowds of sightseers to the Imperial Palace in central Tokyo.
(NHK)
Mar 25
Two tires of a plane operated by low-cost carrier Peach Aviation Ltd went flat after landing at a southwestern Japanese airport Saturday morning, stranding the aircraft and causing the runway to be closed for over two hours.
(Japan Today)
Mar 25
Japan's High Energy Accelerator Research Organization, or KEK, has put into full operation the SuperKEKB accelerator in search of new physics to solve riddles left by a key theory on elementary particles.
(Jiji)
Mar 25
In Sumo, Yokozuna Grand Champion Kakuryu has won his 4th Emperor's Cup with one day left in the spring tournament.
(NHK)
Mar 25
An 88-year-old woman working as a visiting researcher at a university in Kyoto was conferred a doctorate on Saturday, making her the oldest person to earn such a degree, according to the institution.
(Japan Today)
Mar 25
Local residents and tourists are visiting Kumamoto Castle in southwestern Japan to view cherry blossoms in a picturesque setting.
(NHK)
Mar 24
A host of tourists and work trainees in Japan sought refugee status in Japan last year, fueling a jump in applications.
(Nikkei)
Mar 24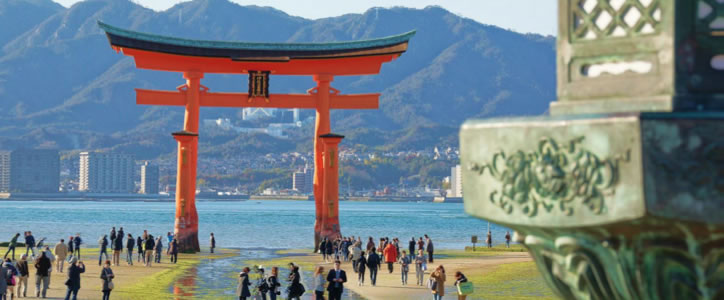 In 2017, Japan attracted a record number of foreign tourists – 28.69 million people which is 19.3% more than in the previous year. Being one of the most beautiful countries in the world, Japan is often listed on people's must-go-to places.
(newsonjapan.com)
Mar 24
Tokyo Metropolitan Police have arrested a 20-year-old man for allegedly assaulting a high school girl in an attempt to steal her underwear in Kita Ward, reports the Sankei Shimbun
(tokyoreporter.com)
Mar 24
The US military has shown to the media for the first time F-35B fighter jets deployed in Japan.
(NHK)
---