Tokyo Metropolitan Police have arrested a 37-year-old man for allegedly setting laundry on fire while stealing women's undergarments from a residence in Edogawa Ward, reports the Sankei Shimbun.
At around 1:20 a.m. on Sunday, Tetsuharu Matsuda, a construction worker who handles scaffolding, allegedly climbed over a wall onto the balcony of the residence and stole three items of women's underwear hanging out to dry. He also set a towel on fire with a lighter.
The suspect has been charged with causing property damage and theft.
Matsuda was heavily intoxicated at the time of the incident. "While starting the fire purely for mischief purposes, I saw the hanging underwear and stole them," the suspect is quoted by the Komatsugawa Police Station in admitting to the allegations.
About 10 minutes before the crime, a sunshade at a residence located about 200 meters away was set on fire. Police are now investigating whether Matsuda was also behind that incident.
火を付けようと…下着にムラッとして盗んだ
Apr 27
A joint drill of Japanese and US fighter jets scheduled for Wednesday over the Pacific has been cancelled due to bad weather.
(NHK)
Apr 27
The Higashi-Honganji Temple, a prestigious Japanese institution in Kyoto, withheld its 2 monks' overtime wages, totaling about 59,000 dollars.
(NHK)
Apr 27
A Japanese railway operator has invited news reporters to ride on a new luxury sleeper train that links Tokyo and northern Japan.
(NHK)
Apr 27
A special Imperial abdication bill planned by the Japanese government will mention Emperor Akihito's "thoughts" on stepping down from the throne, as a product of compromise with opposition parties, a draft outline of the bill showed on Tuesday.
(Jiji)
Apr 26
A man was caught on security camera stomping and killing two cats to vent his frustration after suffering gambling losses in Nagoya, reports TV Asahi
(tokyoreporter.com)
Apr 26
A bear was shot and killed in Takayama City after an attack resulted in injuries to three persons, reports TBS News.
(tokyoreporter.com)
Apr 26
Tokyo Metropolitan Police have arrested a 41-year-old man who fled a train station in Itabashi Ward by jumping on railway tracks after being accused of groping a woman, reports the Asahi Shimbun
(tokyoreporter.com)
Apr 26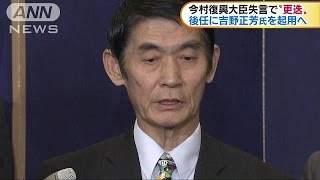 Japan's Prime Minister Shinzo Abe has decided to appoint Masayoshi Yoshino, a former State Minister of the Environment, as the new minister in charge of rebuilding areas hit by the 2011 earthquake and tsunami.
(NHK)
Apr 26
Japan's catches of smaller Pacific bluefin tuna this season are very close to topping the annual limit set under an international accord for resources conservation.
(the-japan-news.com)
Apr 26
Japan Post Holdings says it expects to book a net loss of about 360 million dollars for the business year that ended in March.
(NHK)
---