Those seeking to escape the hustle and bustle of Japan's big cities will find what they are looking for in a hot-spring paradise hidden deep in a forest.
Located about 90 kilometers west of Tokyo, Hakone in Kanagawa Prefecture is a famous
onsen
(hot springs) resort area located on a mountain region bordering Mount Fuji and encompassing the Fuji-Hakone-Izu National Park.
At present, a total of 17 hot-spring resorts are listed in Hakone, including the Hakone Yumoto, Tonosawa, Miyanoshita, Gora and Kowakudani spas. Each has its own unique attributes, and the medicinal qualities of the hot-spring's waters are rich and varied.
Because Hakone is easily accessible from Tokyo, the area offers an array of hot-spring facilities to accommodate short-stay visitors. Such bathhouses typically provide towels, soap. shmpoo and even toothbrushes, so that visitors can drop in empty-handed.
Hakone Yuryo is one such example, featuring a large indoor bath in addition to three types of open-air baths as well as a sauna for both men and women. The facility offers a roryu sauna from Finland once every hour between 11:30 a.m. and 7:30 p.m each day. The process requires a sauna meister to pour aromatic water over hot stones, generating steam and pushing up the mercury in the cabin. The meister then swirls the air with a huge fan so that waves of humidity wash over the visitors. The roryu sauna is believed to help improve circulation and reduce stress. Admission is ¥1,400 for adults and ¥700 for children (children aged 5 years old and under are not allowed in the facility).
The facility also has 19 private rooms featuring an open-air bath (from ¥3,900 per room, per hour), a restaurant and a souvenir shop. From March 27 through April 1, the private open-air baths will be decorated with cherry blossom flowers so that guests can enjoy hamami (flower-viewing) while bathing.
Yuryo is open daily from 10 a.m. to 9 p.m. on weekdays and until 10 p.m. on Saturdays and national holidays. A free shuttle bus is available from Hakone-Yumoto Station on the Odakyu Line.
In Kowakudani area, a hot-spring theme park called Yunessun offers more than 25 kinds of spa-related services and water recreational attractions, as well as indoor and outdoor hot-spring baths.
The facility is divided into zones in which visitors wear bathing suits and zones in which they wear nothing. Many styles of baths are on offer, including wine, green tea, coffee and Japanese sake. During the Golden Week period, a collagen bath with gold foil will be available. The facility also offers a foot bath with "doctor fish," which nibble away at old dead cells from the skin.
Dec 07
Narita International Airport near Tokyo is looking to ease congestion at one of its terminals.
(NHK)
Dec 03
Inui Street in the Imperial Palace in central Tokyo was opened to the public on Saturday, in time for the autumn foliage season.
(Jiji)
Dec 01
Local restaurants, souvenir shops and even some temples and shrines are hoping to cater to foreign guests with an international custom yet to be adopted in Japan: letting customers pay their bills with credit cards instead of cash.
(Japan Today)
Nov 29
The latest edition of the Michelin guide for Tokyo is due out on Friday with 82 new restaurants, including five new two-star establishments and 23 entities garnering single stars, Michelin said on Tuesday.
(Japan Times)
Nov 28
From a television commercial that gives a humorous twist to a theme park's impending closure to hotels staffed by robots, tactics to capitalize on company outings, and ads featuring Japanese pop idols and actors — theme parks in Japan are squeezing their creative juices to attract more first-time visitors and repeaters through avant-garde ways.
(Japan Times)
Nov 27
A new Tokyo Bay amphibious bus tour was launched Monday to service the expected influx of foreign tourists drawn to the city ahead of the 2020 Tokyo Olympics and Paralympics.
(Kyodo)
Nov 26
Railway fans have gathered in western Japan to see a steam locomotive get chugging again for the first time in 44 years.
(NHK)
Nov 25
Japan appeals to different people for different reasons. Some visit for the history or the food. Many stay for the martial arts, while others keep coming back for a dose of manga, anime and video-game culture. Still others come to enjoy the land — the huge span of scenery from the north of Hokkaido to Okinawa in the southwest, and the sharp changes such places undergo with the revolutions of season.
(Japan Times)
Nov 19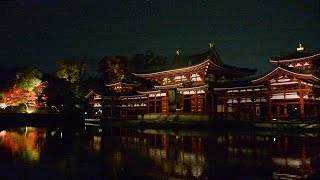 The Phoenix Hall of Byodoin temple, a UNESCO World Heritage site in Uji, Kyoto Prefecture, glows at night during a trial illumination on Friday.
(the-japan-news.com)
Nov 17
Osaka Governor Ichiro Matsui sought support for the western Japan prefecture's bid to host the 2025 World Exposition at a general meeting of the Bureau International des Expositions in Paris on Wednesday.
(Jiji)
---