Those seeking to escape the hustle and bustle of Japan's big cities will find what they are looking for in a hot-spring paradise hidden deep in a forest.
Located about 90 kilometers west of Tokyo, Hakone in Kanagawa Prefecture is a famous
onsen
(hot springs) resort area located on a mountain region bordering Mount Fuji and encompassing the Fuji-Hakone-Izu National Park.
At present, a total of 17 hot-spring resorts are listed in Hakone, including the Hakone Yumoto, Tonosawa, Miyanoshita, Gora and Kowakudani spas. Each has its own unique attributes, and the medicinal qualities of the hot-spring's waters are rich and varied.
Because Hakone is easily accessible from Tokyo, the area offers an array of hot-spring facilities to accommodate short-stay visitors. Such bathhouses typically provide towels, soap. shmpoo and even toothbrushes, so that visitors can drop in empty-handed.
Hakone Yuryo is one such example, featuring a large indoor bath in addition to three types of open-air baths as well as a sauna for both men and women. The facility offers a roryu sauna from Finland once every hour between 11:30 a.m. and 7:30 p.m each day. The process requires a sauna meister to pour aromatic water over hot stones, generating steam and pushing up the mercury in the cabin. The meister then swirls the air with a huge fan so that waves of humidity wash over the visitors. The roryu sauna is believed to help improve circulation and reduce stress. Admission is ¥1,400 for adults and ¥700 for children (children aged 5 years old and under are not allowed in the facility).
The facility also has 19 private rooms featuring an open-air bath (from ¥3,900 per room, per hour), a restaurant and a souvenir shop. From March 27 through April 1, the private open-air baths will be decorated with cherry blossom flowers so that guests can enjoy hamami (flower-viewing) while bathing.
Yuryo is open daily from 10 a.m. to 9 p.m. on weekdays and until 10 p.m. on Saturdays and national holidays. A free shuttle bus is available from Hakone-Yumoto Station on the Odakyu Line.
In Kowakudani area, a hot-spring theme park called Yunessun offers more than 25 kinds of spa-related services and water recreational attractions, as well as indoor and outdoor hot-spring baths.
The facility is divided into zones in which visitors wear bathing suits and zones in which they wear nothing. Many styles of baths are on offer, including wine, green tea, coffee and Japanese sake. During the Golden Week period, a collagen bath with gold foil will be available. The facility also offers a foot bath with "doctor fish," which nibble away at old dead cells from the skin.
Mar 25
Springtime cherry blossoms are drawing crowds of sightseers to the Imperial Palace in central Tokyo.
(NHK)
Mar 25
Local residents and tourists are visiting Kumamoto Castle in southwestern Japan to view cherry blossoms in a picturesque setting.
(NHK)
Mar 24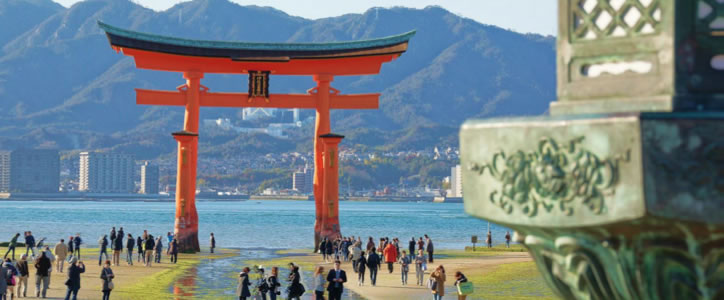 In 2017, Japan attracted a record number of foreign tourists – 28.69 million people which is 19.3% more than in the previous year. Being one of the most beautiful countries in the world, Japan is often listed on people's must-go-to places.
(newsonjapan.com)
Mar 24
Tokyo Customs and the conservation group WWF Japan launched a campaign Friday to warn foreign visitors about traveling with souvenirs made from ivory, notifying them that it is illegal to depart with such products.
(Japan Today)
Mar 23
Railway fans have flocked to Kyoto for a debut of new train cars that will take tourists to the ancient Enryaku-ji Temple in Mount Hiei.
(NHK)
Mar 23
The Legoland Japan Hotel and Sea Life Nagoya aquarium built next to the Legoland theme park in Nagoya.
(Japan Today)
Mar 22
After months of cold weather, which brought the heaviest snowfall in four years to Tokyo back in January, the days finally began warming up in the capital last week, with sunny skies and temperatures reaching highs of 22 degrees Celsius (71.6 degrees Fahrenheit).
(soranews24.com)
Mar 22
Many foreign tourists to Japan often wonder why public transportation, especially in areas of Tokyo renowned for their nightlife, is so limited after the last trains of the night.
(Kyodo)
Mar 21
Japan saw an estimated 2,509,300 visitors from overseas in February, up 23.3 pct from a year earlier, the Japan National Tourism Organization said Tuesday.
(Jiji)
Mar 20
A Somei-Yoshino cherry tree being monitored in Kochi reached full bloom on Monday, the Metrological Agency said.
(Japan Times)
---