As soon as the express train leaves for Yamanashi prefecture, west of Tokyo, you leave behind the suburbs and encounter forests where they say animals still roam in search of fruit.
The JR Chuo line express is a 90-minute ride through scenic gorges into inaka or rural Japan. Crossing into the Japanese fruit-producing region, you see a colourful part of the mountainous interior. The train tracks hug the side of wooded cliffs and pass over rushing crystal clear water which takes your mind away from hectic Shinjuku, the departure point.
The trip can even be a day adventure like mine; a speedy introduction, but I really should have found time to go walking, gaze at Mount Fuji or linger over the amazingly fresh cuisine. On the rail trip and driving around, I experienced autumn colours with red, burnt orange and yellows which we never see in our tropical forests, and forests a plenty there were. There are many reasons to seeing, tasting and enjoying this area, famous for its scenery, hot springs (onsen), vineyards and picking your own fruit, all within view of Mount Fuji.
After the 90-minute trip from central Tokyo, I got off the speedy and comfortable train at the peaceful town of Enzan. With my seasonal choice of late autumn, I could not try fruit-picking cherries (yes they blossom but early in April), peaches, grapes or strawberries. My friend who accompanied me (used to study in Wellington, New Zealand, where I also went to university) enjoys what we call "the countryside" and cuisine. It was a short drive from the train station for Malaysia's "national pastime" – eating.
Mar 25
Springtime cherry blossoms are drawing crowds of sightseers to the Imperial Palace in central Tokyo.
(NHK)
Mar 25
Local residents and tourists are visiting Kumamoto Castle in southwestern Japan to view cherry blossoms in a picturesque setting.
(NHK)
Mar 24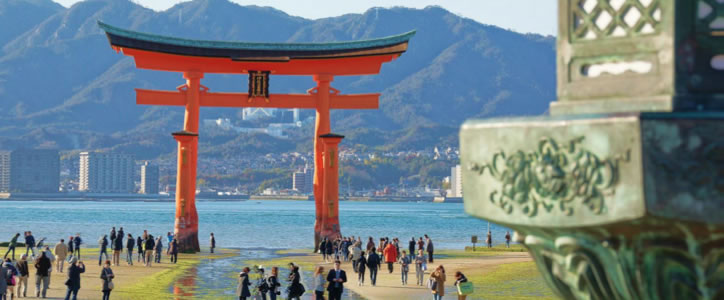 In 2017, Japan attracted a record number of foreign tourists – 28.69 million people which is 19.3% more than in the previous year. Being one of the most beautiful countries in the world, Japan is often listed on people's must-go-to places.
(newsonjapan.com)
Mar 24
Tokyo Customs and the conservation group WWF Japan launched a campaign Friday to warn foreign visitors about traveling with souvenirs made from ivory, notifying them that it is illegal to depart with such products.
(Japan Today)
Mar 23
Railway fans have flocked to Kyoto for a debut of new train cars that will take tourists to the ancient Enryaku-ji Temple in Mount Hiei.
(NHK)
Mar 23
The Legoland Japan Hotel and Sea Life Nagoya aquarium built next to the Legoland theme park in Nagoya.
(Japan Today)
Mar 22
After months of cold weather, which brought the heaviest snowfall in four years to Tokyo back in January, the days finally began warming up in the capital last week, with sunny skies and temperatures reaching highs of 22 degrees Celsius (71.6 degrees Fahrenheit).
(soranews24.com)
Mar 22
Many foreign tourists to Japan often wonder why public transportation, especially in areas of Tokyo renowned for their nightlife, is so limited after the last trains of the night.
(Kyodo)
Mar 21
Japan saw an estimated 2,509,300 visitors from overseas in February, up 23.3 pct from a year earlier, the Japan National Tourism Organization said Tuesday.
(Jiji)
Mar 20
A Somei-Yoshino cherry tree being monitored in Kochi reached full bloom on Monday, the Metrological Agency said.
(Japan Times)
---