There's never a bad time to visit Japan's former capital, but May is an especially good time.
Kyoto is one of the most popular travel destinations in Japan, and with good reason, The former capital of Japan is packed with beautiful, historically significant temples, shrines, and other cultural sites to see, and boasts some of the most refined hospitality and cuisine in the country.
The most popular months to visit Kyoto are April and November, when the cherry blossoms and fall colors, respectively, are at their most beautiful. Summer is another time when the city receives plenty of out-of-tow guests, many of whom stop by as part of their summer vacation or to witness the Gion Matsuri festival, while others hold that seeing Kyoto's centuries-old architecture under a blanket of winter snow has its own mystique.
But Kyoto isn't just a city for all seasons, but a city for all months, and right now, May, is a fantastic time to go.
1. It's a rare chance to experience Kyoto in pleasant weather
May is one of the few sweet spots in Kyoto's weather patterns, with afternoon temperatures usually hovering around 20 degrees Celsius (68 degrees Fahrenheit).
2. The unforgettable experience of a kawadoko ryori meal
Kawadoko literally means "riverbed," but for a kawadokoryori meal you won't be sitting at the river's bottom. You'll be right above the water's surface!
3. The limited-time maple light-up nighttime train ride
We mentioned the deep green leaves above, and while they're pretty enough during the day, their beauty takes on a whole new quality at night.
On weekend and holiday nights in May, Kyoto's Eizan Railway runs what it calls the Aomomiji Shinryoku ("New Green Maple Leaves") train. Between Ichihara and Ninose Stations, the forest on either side of the tracks are illuminated, and the train's interior lights are turned off so that passengers can feel completely immersed in the surrounding greenery.
Mar 25
Springtime cherry blossoms are drawing crowds of sightseers to the Imperial Palace in central Tokyo.
(NHK)
Mar 25
Local residents and tourists are visiting Kumamoto Castle in southwestern Japan to view cherry blossoms in a picturesque setting.
(NHK)
Mar 24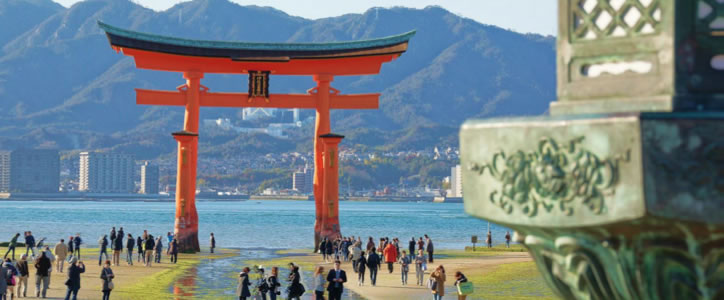 In 2017, Japan attracted a record number of foreign tourists – 28.69 million people which is 19.3% more than in the previous year. Being one of the most beautiful countries in the world, Japan is often listed on people's must-go-to places.
(newsonjapan.com)
Mar 24
Tokyo Customs and the conservation group WWF Japan launched a campaign Friday to warn foreign visitors about traveling with souvenirs made from ivory, notifying them that it is illegal to depart with such products.
(Japan Today)
Mar 23
Railway fans have flocked to Kyoto for a debut of new train cars that will take tourists to the ancient Enryaku-ji Temple in Mount Hiei.
(NHK)
Mar 23
The Legoland Japan Hotel and Sea Life Nagoya aquarium built next to the Legoland theme park in Nagoya.
(Japan Today)
Mar 22
After months of cold weather, which brought the heaviest snowfall in four years to Tokyo back in January, the days finally began warming up in the capital last week, with sunny skies and temperatures reaching highs of 22 degrees Celsius (71.6 degrees Fahrenheit).
(soranews24.com)
Mar 22
Many foreign tourists to Japan often wonder why public transportation, especially in areas of Tokyo renowned for their nightlife, is so limited after the last trains of the night.
(Kyodo)
Mar 21
Japan saw an estimated 2,509,300 visitors from overseas in February, up 23.3 pct from a year earlier, the Japan National Tourism Organization said Tuesday.
(Jiji)
Mar 20
A Somei-Yoshino cherry tree being monitored in Kochi reached full bloom on Monday, the Metrological Agency said.
(Japan Times)
---