There's never a bad time to visit Japan's former capital, but May is an especially good time.
Kyoto is one of the most popular travel destinations in Japan, and with good reason, The former capital of Japan is packed with beautiful, historically significant temples, shrines, and other cultural sites to see, and boasts some of the most refined hospitality and cuisine in the country.
The most popular months to visit Kyoto are April and November, when the cherry blossoms and fall colors, respectively, are at their most beautiful. Summer is another time when the city receives plenty of out-of-tow guests, many of whom stop by as part of their summer vacation or to witness the Gion Matsuri festival, while others hold that seeing Kyoto's centuries-old architecture under a blanket of winter snow has its own mystique.
But Kyoto isn't just a city for all seasons, but a city for all months, and right now, May, is a fantastic time to go.
1. It's a rare chance to experience Kyoto in pleasant weather
May is one of the few sweet spots in Kyoto's weather patterns, with afternoon temperatures usually hovering around 20 degrees Celsius (68 degrees Fahrenheit).
2. The unforgettable experience of a kawadoko ryori meal
Kawadoko literally means "riverbed," but for a kawadokoryori meal you won't be sitting at the river's bottom. You'll be right above the water's surface!
3. The limited-time maple light-up nighttime train ride
We mentioned the deep green leaves above, and while they're pretty enough during the day, their beauty takes on a whole new quality at night.
On weekend and holiday nights in May, Kyoto's Eizan Railway runs what it calls the Aomomiji Shinryoku ("New Green Maple Leaves") train. Between Ichihara and Ninose Stations, the forest on either side of the tracks are illuminated, and the train's interior lights are turned off so that passengers can feel completely immersed in the surrounding greenery.
Dec 07
Narita International Airport near Tokyo is looking to ease congestion at one of its terminals.
(NHK)
Dec 03
Inui Street in the Imperial Palace in central Tokyo was opened to the public on Saturday, in time for the autumn foliage season.
(Jiji)
Dec 01
Local restaurants, souvenir shops and even some temples and shrines are hoping to cater to foreign guests with an international custom yet to be adopted in Japan: letting customers pay their bills with credit cards instead of cash.
(Japan Today)
Nov 29
The latest edition of the Michelin guide for Tokyo is due out on Friday with 82 new restaurants, including five new two-star establishments and 23 entities garnering single stars, Michelin said on Tuesday.
(Japan Times)
Nov 28
From a television commercial that gives a humorous twist to a theme park's impending closure to hotels staffed by robots, tactics to capitalize on company outings, and ads featuring Japanese pop idols and actors — theme parks in Japan are squeezing their creative juices to attract more first-time visitors and repeaters through avant-garde ways.
(Japan Times)
Nov 27
A new Tokyo Bay amphibious bus tour was launched Monday to service the expected influx of foreign tourists drawn to the city ahead of the 2020 Tokyo Olympics and Paralympics.
(Kyodo)
Nov 26
Railway fans have gathered in western Japan to see a steam locomotive get chugging again for the first time in 44 years.
(NHK)
Nov 25
Japan appeals to different people for different reasons. Some visit for the history or the food. Many stay for the martial arts, while others keep coming back for a dose of manga, anime and video-game culture. Still others come to enjoy the land — the huge span of scenery from the north of Hokkaido to Okinawa in the southwest, and the sharp changes such places undergo with the revolutions of season.
(Japan Times)
Nov 19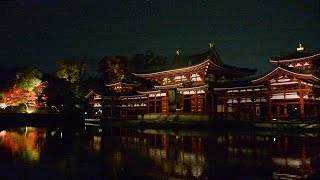 The Phoenix Hall of Byodoin temple, a UNESCO World Heritage site in Uji, Kyoto Prefecture, glows at night during a trial illumination on Friday.
(the-japan-news.com)
Nov 17
Osaka Governor Ichiro Matsui sought support for the western Japan prefecture's bid to host the 2025 World Exposition at a general meeting of the Bureau International des Expositions in Paris on Wednesday.
(Jiji)
---