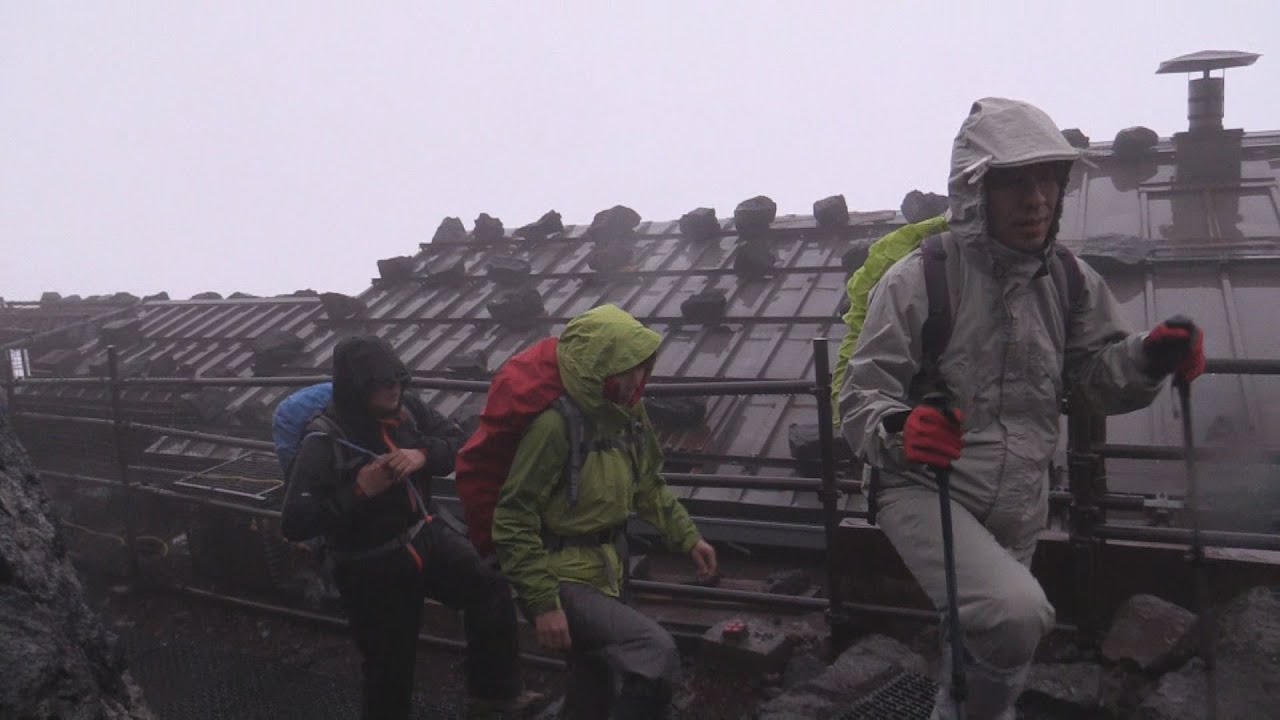 The climbing season started on the Yamanashi Prefecture side of Mount Fuji early on Saturday.
Hikers can now trek up to the summit, Japan's highest peak. The Shizuoka side will open on July 10th. The mountain straddles the 2 prefectures.
A traditional ritual to pray for the safety of climbers will take place at a shrine on the mountain's 5th station later in the day.
Mount Fuji was designated as a UNESCO World Heritage site in 2013.
Following the designation, the prefectural governments began to ask climbers to voluntarily pay a 1,000 yen admission fee. They want to raise funds to preserve the mountain and to enhance safety measures.
世界文化遺産に登録され4年がたった富士山は、1日にことしの山開きを迎え本格的な夏山シーズンに入ります。 山梨と静岡にまたがる富士山では、山梨県側で1日にことしの山開きを迎えます。
#富士山 Tweets
Sep 24
A Japanese cargo spacecraft, the Kounotori 7, is on its way to deliver supplies to the International Space Station.
(NHK)
Sep 24
Japan's space agency JAXA says 2 rovers released from its Hayabusa2 probe have landed on the asteroid Ryugu.
(NHK)
Sep 24
The organizer of the Tokyo Marathon is considering raising the fees paid by participants by 50 pct, from 10,000 yen to 15,000 yen, starting with the race in March 2020, it was learned Saturday.
(Jiji)
Sep 23
A day after securing his record-extending 41st championship, Mongolian yokozuna Hakuho closed the Autumn Grand Sumo Tournament with a perfect 15-0 record on Sunday.
(Japan Times)
Sep 22
In just one year, some of the toughest athletes are set to hit the pitch in Japan for the Rugby World Cup. As the players gear up to play, they're getting some advice about adhering to local customs, including covering up their tattoos.
(NHK)
Sep 22
Police in Tsukuba, Ibaraki Prefecture, have arrested three men on suspicion of trying to rob a vacant house where an elderly couple were murdered.
(Japan Today)
Sep 22
Japan's major mobile phone carrier SoftBank says more than 10 million e-mails have been lost due to a faulty mail system.
(NHK)
Sep 21
Pricier and bigger new iPhone models made their market debut in Japan on Friday, with the country's three leading mobile carriers starting sales of the XS Max and the XS that have faster processors and feature better battery life and improved camera functions.
(Kyodo)
Sep 21
Kansai International Airport in Osaka Prefecture fully reopened on Friday. Severe damage caused by a powerful typhoon earlier this month had forced the closure of most of its operations.
(NHK)
Sep 21
Many challenges are awaiting Japanese Prime Minister Shinzo Abe as he won a third consecutive term as president of the ruling Liberal Democratic Party in an election on Thursday.
(Jiji)
---