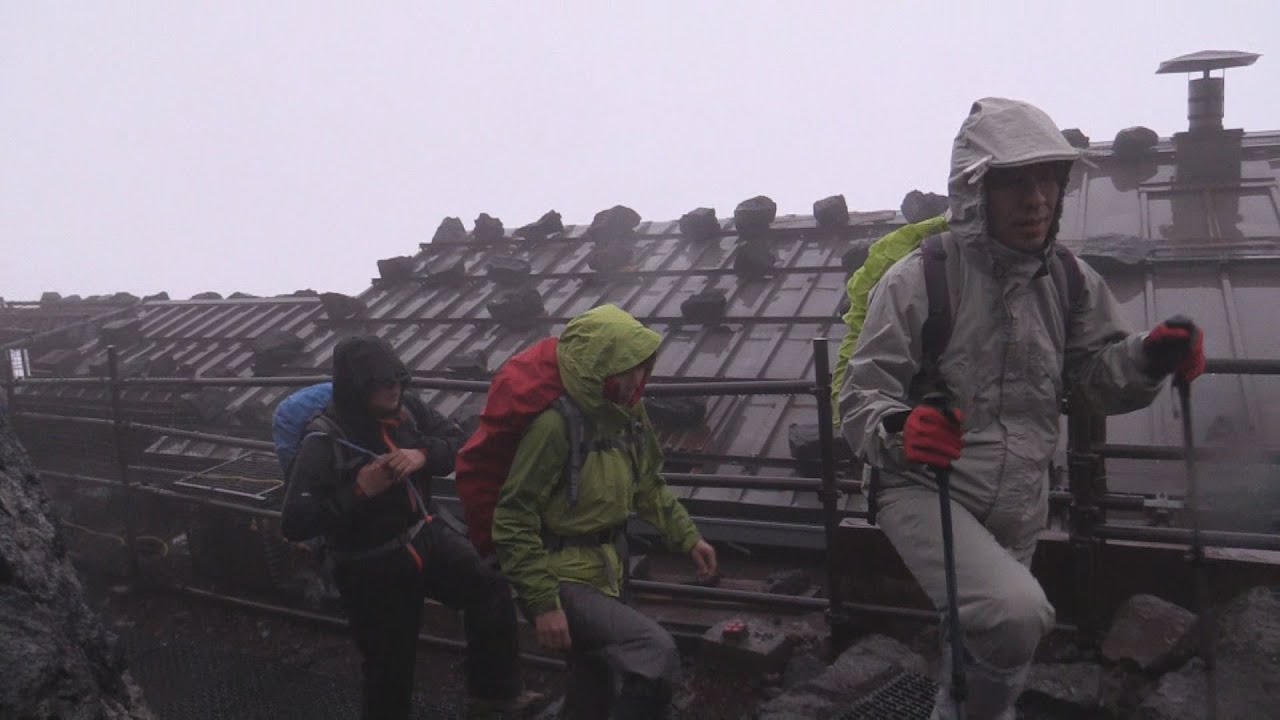 The climbing season started on the Yamanashi Prefecture side of Mount Fuji early on Saturday.
Hikers can now trek up to the summit, Japan's highest peak. The Shizuoka side will open on July 10th. The mountain straddles the 2 prefectures.
A traditional ritual to pray for the safety of climbers will take place at a shrine on the mountain's 5th station later in the day.
Mount Fuji was designated as a UNESCO World Heritage site in 2013.
Following the designation, the prefectural governments began to ask climbers to voluntarily pay a 1,000 yen admission fee. They want to raise funds to preserve the mountain and to enhance safety measures.
世界文化遺産に登録され4年がたった富士山は、1日にことしの山開きを迎え本格的な夏山シーズンに入ります。 山梨と静岡にまたがる富士山では、山梨県側で1日にことしの山開きを迎えます。
#富士山 Tweets
Dec 15
Japanese authorities have found 4 bodies in 2 wooden boats that washed ashore on the Sea of Japan coast in Akita City, Akita Prefecture.
(NHK)
Dec 15
Emperor Akihito wishes to step down in an abdication ceremony that is "as simple as possible," without inviting foreign guests and holding a parade, the head of the Imperial Household Agency said Thursday.
(Japan Today)
Dec 14
Officials from a Japanese train operator say a crack was found near the welded joint of one of the key parts and the undercarriage of a Shinkansen bullet train.
(NHK)
Dec 14
For the first time, a Japanese high court has ordered the operator of a nuclear plant not to restart a reactor.
(NHK)
Dec 14
The average life expectancy in 2015 for Japanese men was highest in Shiga Prefecture, western Japan, at 81.78 years, a health ministry survey showed Wednesday.
(Jiji)
Dec 14
Japan's Supreme Court has upheld a lower court ruling finding the mayor of Minokamo in Gifu Prefecture, central Japan, guilty of receiving bribes.
(Jiji)
Dec 14
A total of 83 wooden boats apparently from North Korea have been found drifting in the Sea of Japan or to the Japanese coast so far this year, the highest figure since comparable data become available in 2013, the Japan Coast Guard said Wednesday.
(Jiji)
Dec 13
A window from a US military helicopter has fallen onto the grounds of an elementary school in Okinawa, Japan's southern prefecture.
(NHK)
Dec 11
Prosecutors investigating Obayashi Corp. suspect the major construction firm rigged a bid for the building of a maglev train station emergency exit, with one of the company's vice presidents brought in voluntarily for questioning about the matter, sources close to the case said Sunday.
(Japan Times)
Dec 10
Tokyo Metropolitan Police on Friday raided an office of extremist group Chukaku-ha in Edogawa Ward over harboring a wanted activist, reports TV Asahi
(tokyoreporter.com)
---