The Japanese underworld loves gold --- it has been the analog bitcoin of crime syndicates in recent years. The origins of gold are difficult to trace, and the material is easy to convert into cash and store. Crime syndicates are increasingly smuggling it, stealing it or robbing it from other smugglers who don't have ties to gangs.
A gold smuggler isn't likely to report any theft to the authorities and therefore makes the perfect victim.
Over the past three years, thieves have conducted a "Reservoir Dogs"-style gold heist dressed as police officers hijacked a Mercedes believed to have been loaded with gold and robbed gold dealers in broad daylight.
According to the Finance Ministry, customs reported 294 cases of gold smuggling between July 2015 and June 2016.
And yet crime syndicates have been interested in gold for some time. In December 2014, a member of the Yamaguchi-gumi and an associate were arrested at Fukuoka International Airport after disembarking from a flight from Hong Kong.
Hiroaki Ishimaru, 45, and Yuichi Nagano, a 30-year-old member of the Fukuhaku-kai, were subsequently charged with attempting to smuggle four blocks of gold weighing 1 kilogram each into Japan.
The gold was estimated to be worth ¥18 million and the pair later told investigators they had been trying to avoid paying tax. This appears to be a common practice in crime syndicates.
Customs officials say crime syndicates have been known to purchase gold in places such as Macau or Hong Kong, where the precious metal faces very little tax.
The gold is then typically smuggled into the country by plane, often through Fukuoka, which has many international flights. By not declaring the gold to customs officials, the smugglers avoid paying the consumption tax rate of 8 percent.
After the gold has been smuggled into Japan, it is sold for cash at stores trading in the precious metal, which are often similar to pawnshops.
Smugglers are typically paid the consumption tax on top of the value of the metal, which they simply pocket as profit.
Feb 21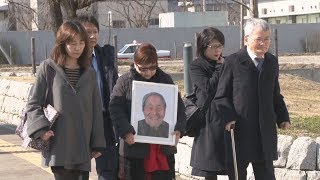 A Japanese court has ordered Tokyo Electric Power Company to pay about 142,000 dollars in damages to the family of an elderly man who killed himself amid an evacuation order during the 2011 Fukushima nuclear crisis.
(NHK)
Feb 21
Gangsters seeking to leave organized crime groups --- but who are in dire financial straits --- could soon get free accommodation and help with transportation costs in Fukuoka Prefecture under a unique program aimed at promoting integration back into society and in turn weakening the underworld syndicates.
(Japan Times)
Feb 21
Tokyo Metropolitan Police have arrested employees at an antiquarian bookstore in Chiyoda Ward over the alleged possession child pornography, a case that is a nationwide first, reports TV Asahi
(tokyoreporter.com)
Feb 20
Fukushima Prefectural Police have arrested a 24-year-old man for allegedly killing his girlfriend, whose body is believed to have been left in their residence in Koriyama City since early this month, reports the Sankei Shimbun
(tokyoreporter.com)
Feb 20
Investigative sources with the Chiba Prefectural Police have revealed that two men, a woman and a teenage girl arrested after a charred corpse was found in a burned-out residence in Inzai City were living inside a vehicle, reports the Sankei Shimbun
(tokyoreporter.com)
Feb 20
Kanagawa Prefectural Police have arrested a 28-year-old man after a missing elementary school girl and another girl were found in his residence in Kawasaki City, reports TV Asahi
(tokyoreporter.com)
Feb 19
An officer with the Osaka Prefectural Police shot and wounded a 25-year-old man in Miyakojima Ward on Sunday after he refused to drop a knife he was wielding, reports NHK
(tokyoreporter.com)
Feb 19
A car driven by the former head of the Tokyo District Public Prosecutor's Office special investigation squad struck and killed a pedestrian in Minato Ward on Sunday, police said.
(Japan Times)
Feb 18
Tokyo Metropolitan Police have arrested a 26-year-old man for allegedly molesting a teenage girl on a street in Chuo Ward last year, reports Nikkan Sports
(tokyoreporter.com)
Feb 16
Tokyo Metropolitan Police have arrested four persons, including an organized crime member, over the alleged smuggling of more than 100 kilograms of marijuana inside wooden doors, reports NHK.
(tokyoreporter.com)
---