Japanese companies have never been in better financial shape. Their sky-high ratio of capital to assets testifies to that fact, with the average figure topping 40% for the first time last fiscal year. There's a catch, however: They are inveterate hoarders, which critics say points to a corporate governance problem.
Saving money itself is not a bad thing, of course. Diligently socking away profits helped Japan Inc. absorb the collapse of the economic bubble at end of the 1980s and the global financial crisis that erupted in 2008. But companies have done a poor job of putting that money back into the economy by funneling it into investment or returning it to shareholders.
Dizzy heights
After the collapse of Lehman Brothers sent the global economy reeling some nine years ago, Mazda Motor booked a net loss of over 70 billion yen ($623 million at current rates), with its capital ratio tumbling to the lower 20% range. But the crisis stirred the automaker into action. Determined to get its earnings back on track, Mazda began developing its Skyactiv environmental technologies and initiating innovative design projects. The moves have paid off, with the company logging record global unit sales in fiscal 2016. Its capital ratio, meanwhile, has surged to 41%.
Major chemical maker Tosoh also resuscitated its finances after the crisis, which sent the company's capital ratio plunging to 20%. But it paid off its debt with money saved by forgoing investment, sending its capital ratio past 50% at the end of last fiscal year. "We would like to further strengthen our financial foundation," said Tosoh President Toshinori Yamamoto.
Statistics collected by The Nikkei show that the average capital ratio for listed Japanese businesses, excluding financial companies, for 2016 rose 0.8 percentage point on the year to 40.4%. That is the highest since fiscal 1982, the first year for which data is available, and far higher than the 32% for the top 500 U.S. companies.
Investors are not applauding, however. Although the Nikkei Stock Average has improved to around 20,000, that is still well below the all-time high of 38,915 recorded in 1989. By contrast, markets in the U.S. and many Asian economies have been hitting new highs.
Feb 21
Seven South Korean women attempted to smuggle gold into Japan late last month by concealing it in their rectums, officials from Aichi Prefecture's Chubu Airport said Tuesday.
(Japan Times)
Feb 21
The Japanese government says Emperor Akihito's abdication ceremony will be held next year on April 30th, the day he steps down, as a state event.
(NHK)
Feb 21
In a ruling handed down Tuesday on a high-profile surrogacy case involving a 28-year-old Japanese man, a Thai juvenile and family court accepted his claim for custody of 13 children whom he had through surrogacy in the Southeast Asian country.
(Jiji)
Feb 21
The Japanese government has decided to hold next year's Group of 20 Summit meeting in the western prefecture of Osaka. It will be the first time Japan has hosted the summit.
(NHK)
Feb 21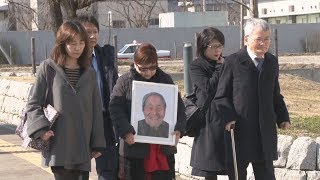 A Japanese court has ordered Tokyo Electric Power Company to pay about 142,000 dollars in damages to the family of an elderly man who killed himself amid an evacuation order during the 2011 Fukushima nuclear crisis.
(NHK)
Feb 21
Gangsters seeking to leave organized crime groups --- but who are in dire financial straits --- could soon get free accommodation and help with transportation costs in Fukuoka Prefecture under a unique program aimed at promoting integration back into society and in turn weakening the underworld syndicates.
(Japan Times)
Feb 21
A total of 213 firms and organizations in Japan were found to have mistreated technical trainees from abroad in 2017, down 10.9 percent from the previous year and falling for the second straight year, the Justice Ministry has said.
(Japan Times)
Feb 21
Tokyo Disney Resort operator Oriental Land will roll out a smartphone app in fiscal 2018 to relieve crowding issues that have frustrated guests at the popular theme park.
(Nikkei)
Feb 21
Japan's land ministry plans to remove utility poles and bury overhead cables along 1,400 kilometers of roads over the next 3 years.
(NHKん)
Feb 21
Tokyo Metropolitan Police have arrested employees at an antiquarian bookstore in Chiyoda Ward over the alleged possession child pornography, a case that is a nationwide first, reports TV Asahi
(tokyoreporter.com)
---