When Japan's parliament legalized casino gambling last year, it created a wave of excitement among casino operators and institutional investors. But sensitivities about gambling addiction have now focused the policy discussion on a concept known as responsible gaming.
This is industry terminology for programs designed to deter customers with known gambling problems from entering casinos. Although well-intentioned, lawmakers are risking a litany of unintended consequences with these policies.
Casinos could be an economic boon for Japan. By one estimate, they could bring in $25 billion a year in revenue. Yet lawmakers are now considering restrictions that could jeopardize those benefits. These include banning cash machines on casino floors, restricting credit card purchases of casino chips to foreign customers only, prohibiting casinos from extending credit to domestic customers, limiting how often domestic customers can visit gambling houses, and prohibiting Macau-style VIP junkets.
The extent to which such measures could reduce problem gambling is debatable, especially since Japan's gamblers already have plenty of other options, including horse racing and pachinko. But one thing is certain: They'd cripple Japan's casino industry before it could get off the ground.
One problem is that restricting casinos from lending to their own customers means that third-party creditors will fill the void. Japan has a long history of syndicated money-lending at pachinko parlors, and of organized criminal groups attempting to collect debts from insolvent gamblers. If casino patrons had to seek outside sources of credit, they'd be more likely to become targets for these groups.
"The Japanese police have been using new organized crime exclusionary ordinances to clamp down on traditional sources of income for Yakuza groups," said David Suzuki, of the private security firm Blackpeak Group, in an interview. "I believe they see the legalization of casino gambling as a massive, historic opportunity to resuscitate themselves."
Customers who borrow directly from a casino can also rest assured that any debt collection will be handled through the collections department or a relevant jurisdiction's courts -- and not through intimidation or other illegal methods. But these best practices are in jeopardy if traditional casino credit functions are outsourced to third parties.
More important, from a business perspective, is that implementing restrictive lending practices would significantly reduce casino revenue. Casinos function much like financial institutions. Both handle customer accounts, extend credit and collect on unsettled debts. Gaming chips are company obligations -- much like bank notes. In that regard, casinos provide substantial financial liquidity, not only for gambling but also for related businesses, such as restaurants, bars and entertainment. Limiting cash in a casino is analogous to limiting beer in a bar -- it just doesn't work.
Feb 21
Seven South Korean women attempted to smuggle gold into Japan late last month by concealing it in their rectums, officials from Aichi Prefecture's Chubu Airport said Tuesday.
(Japan Times)
Feb 21
The Japanese government says Emperor Akihito's abdication ceremony will be held next year on April 30th, the day he steps down, as a state event.
(NHK)
Feb 21
In a ruling handed down Tuesday on a high-profile surrogacy case involving a 28-year-old Japanese man, a Thai juvenile and family court accepted his claim for custody of 13 children whom he had through surrogacy in the Southeast Asian country.
(Jiji)
Feb 21
The Japanese government has decided to hold next year's Group of 20 Summit meeting in the western prefecture of Osaka. It will be the first time Japan has hosted the summit.
(NHK)
Feb 21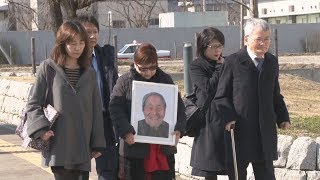 A Japanese court has ordered Tokyo Electric Power Company to pay about 142,000 dollars in damages to the family of an elderly man who killed himself amid an evacuation order during the 2011 Fukushima nuclear crisis.
(NHK)
Feb 21
Gangsters seeking to leave organized crime groups --- but who are in dire financial straits --- could soon get free accommodation and help with transportation costs in Fukuoka Prefecture under a unique program aimed at promoting integration back into society and in turn weakening the underworld syndicates.
(Japan Times)
Feb 21
A total of 213 firms and organizations in Japan were found to have mistreated technical trainees from abroad in 2017, down 10.9 percent from the previous year and falling for the second straight year, the Justice Ministry has said.
(Japan Times)
Feb 21
Tokyo Disney Resort operator Oriental Land will roll out a smartphone app in fiscal 2018 to relieve crowding issues that have frustrated guests at the popular theme park.
(Nikkei)
Feb 21
Japan's land ministry plans to remove utility poles and bury overhead cables along 1,400 kilometers of roads over the next 3 years.
(NHKん)
Feb 21
Tokyo Metropolitan Police have arrested employees at an antiquarian bookstore in Chiyoda Ward over the alleged possession child pornography, a case that is a nationwide first, reports TV Asahi
(tokyoreporter.com)
---