Participants at an international fisheries conference have failed to adopt a Japanese proposal to set catch quotas for Pacific saury.
Delegates from 7 countries and Taiwan on Saturday ended the 3-day meeting of the North Pacific Fisheries Commission in the northern Japanese city of Sapporo.
Japan proposed setting catch limits to better manage the fish stock in light of a surge in hauls by China and others.
Japanese officials proposed allocating 242,000 tons for Japan, 190,000 tons for Taiwan and 46,000 tons for China, based on their past catch levels.
But the proposal was rejected, with China, South Korea and Russia calling the move premature.
漁獲量が激減しているサンマの資源保護を巡る国際会議が終了し、国や地域ごとに漁獲量の上限を設けるという日本の提案は、中国などの強い反発で合意できませんでした。
Feb 18
A Tokyo-based operator of women-only share houses may have been involved in dubious rent business dealings under its former president amid the rapid expansion of the operation.
(Japan Today)
Feb 15
The Japanese government will urge companies to adopt a more transparent decision-making process through measures such as allocating at least one-third of board seats to outsiders.
(Nikkei)
Feb 14
Major Japanese cryptocurrency exchange Coincheck Inc. submitted to the Financial Services Agency on Tuesday a business improvement report following the recent theft of 58 billion yen worth of digital money.
(Jiji)
Feb 13
U.S.-based Airbnb will start a comprehensive support service for hosts in Japan in an effort to ensure a sufficient number of local listings amid an upcoming regulatory change and growing competition.
(Nikkei)
Feb 12
Labor shortages are prompting Japanese moving companies to raise prices ahead of the peak house-moving season in spring.
(NHK)
Feb 10
The expansion of Amazon.com into physical stores is driving partnerships between Japanese retailers and information technology companies looking to withstand the American e-commerce company's growing might in both online and bricks-and-mortar realms.
(Nikkei)
Feb 10
The Supreme Court on Friday ordered a hotel operator to pay public broadcaster NHK a subscription fee of about 6.2 million yen, upholding lower court rulings.
(Japan Today)
Feb 10
Coincheck Inc., the hacked virtual currency exchange operator, said Friday that it will restart customer withdrawals of yen deposits on Tuesday.
(Jiji)
Feb 09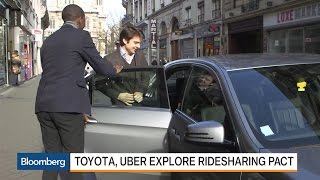 Toyota Motor Corp. said Thursday it will invest ¥7.5 billion in the developer of a taxi-hailing app to jointly create services that help cab drivers pick up customers more efficiently using artificial intelligence.
(Japan Times)
Feb 08
Japan Tobacco Inc plans to launch a new "heat-not-burn" (HNB) product in Japan as early as the end of this year, as it tries to catch Philip Morris International (PM.N) in a growing cigarette-alternative category.
(Japan Today)
---