Japan's Toshiba is planning to expedite a deal for its flash memory unit by adding a clause to the sales contract.
The struggling electronics firm has chosen a Japanese government-led consortium as its preferred bidder for the unit.
But Toshiba's US partner Western Digital says any deal without its consent is unacceptable.
Western Digital has filed a suit in the US seeking an injunction to block the sale. On Friday, the Superior Court of California held off on a decision.
Toshiba has little time, as it needs to complete the sale by the end of next March to rebuild its finances and avoid the delisting of its shares.
But a Japanese public-private fund that leads the consortium says its investment is conditional on Toshiba settling the dispute with its US partner.
Toshiba is now considering inserting a clause in the sales contract that would allow an extension of the deadline for a settlement until the end of the sale procedures.
経営再建中の東芝がアメリカの大手企業から半導体子会社の売却をやめるよう求められている裁判で、初めてのヒアリングがアメリカで行われました。
Feb 21
Seven South Korean women attempted to smuggle gold into Japan late last month by concealing it in their rectums, officials from Aichi Prefecture's Chubu Airport said Tuesday.
(Japan Times)
Feb 21
The Japanese government says Emperor Akihito's abdication ceremony will be held next year on April 30th, the day he steps down, as a state event.
(NHK)
Feb 21
In a ruling handed down Tuesday on a high-profile surrogacy case involving a 28-year-old Japanese man, a Thai juvenile and family court accepted his claim for custody of 13 children whom he had through surrogacy in the Southeast Asian country.
(Jiji)
Feb 21
The Japanese government has decided to hold next year's Group of 20 Summit meeting in the western prefecture of Osaka. It will be the first time Japan has hosted the summit.
(NHK)
Feb 21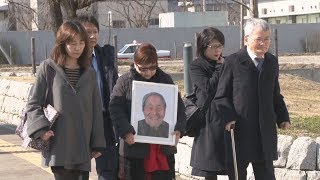 A Japanese court has ordered Tokyo Electric Power Company to pay about 142,000 dollars in damages to the family of an elderly man who killed himself amid an evacuation order during the 2011 Fukushima nuclear crisis.
(NHK)
Feb 21
Gangsters seeking to leave organized crime groups --- but who are in dire financial straits --- could soon get free accommodation and help with transportation costs in Fukuoka Prefecture under a unique program aimed at promoting integration back into society and in turn weakening the underworld syndicates.
(Japan Times)
Feb 21
A total of 213 firms and organizations in Japan were found to have mistreated technical trainees from abroad in 2017, down 10.9 percent from the previous year and falling for the second straight year, the Justice Ministry has said.
(Japan Times)
Feb 21
Tokyo Disney Resort operator Oriental Land will roll out a smartphone app in fiscal 2018 to relieve crowding issues that have frustrated guests at the popular theme park.
(Nikkei)
Feb 21
Japan's land ministry plans to remove utility poles and bury overhead cables along 1,400 kilometers of roads over the next 3 years.
(NHKん)
Feb 21
Tokyo Metropolitan Police have arrested employees at an antiquarian bookstore in Chiyoda Ward over the alleged possession child pornography, a case that is a nationwide first, reports TV Asahi
(tokyoreporter.com)
---