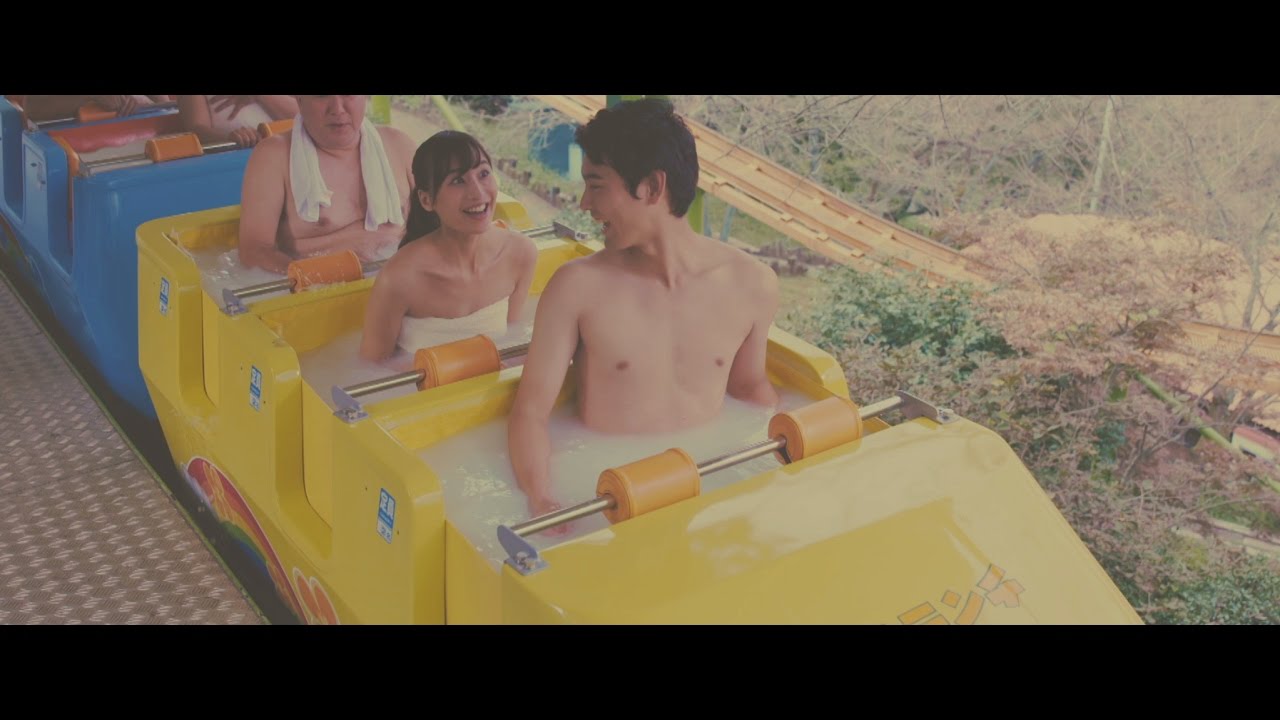 A Japanese city boasting one of the world's largest hot-spring resorts opened a special amusement park on Saturday with a hot-tub merry-go-round and other rides featuring immersion in its famous thermal water.
The "spamusement park" will operate for just three days at the existing Beppu Rakutenchi amusement park in Beppu, Oita prefecture, after the southwestern Japan city successfully raised funds to set up special rides featuring the local hot-spring water.
The attraction became a reality after Beppu mayor Yasuhiro Nagano committed to open such a park in a YouTube video uploaded last November. The local representative pledged to go through with the idea if the video got more than 1 million views, a goal achieved in just three days.
The video's conceptual footage showed men and women of all ages wrapped in towels having fun at a park combining bathing and rides, which was originally an idea to promote tourism in the city.
The roller-coaster was depicted in the video as having seats filled with hot water, but the city opted to use bubbles made from hot-spring ingredients instead of water, due to safety concerns.
The city, which crowdfunded about 82 million yen (25 million baht) for the project, is letting only those who donated a certain amount of money enter. About 12,000 people are expected to ride the park's eight attractions in the three days it is operating, city officials said.
温泉を活用したアトラクションを楽しめる「湯~園地」が29日、大分県別府市の遊園地・別府ラクテンチで実現した。馬車が浴槽になったメリーゴーラウンドなど、8種のアトラクションを用意した。31日まで。
Oct 17
Police in Hiroshima, western Japan, are investigating graffiti found at 3 places in the Peace Memorial Park. The park is home to the landmark Atomic Bomb Dome, which was damaged in the 1945 bombing.
(NHK)
Oct 17
The number of foreign visitors to Japan has dropped for the first time in more than 5 years as natural disasters prompted many tourists to cancel trips in September.
(NHK)
Oct 17
A Tokyo court has begun questioning 3 former executives of Tokyo Electric Power Company about their involvement in the 2011 nuclear accident at the Fukushima Daiichi plant.
(NHK)
Oct 17
Tokyo police arrested on Tuesday some members of a fraud group for allegedly attempting to register a land ownership change using fake documents, in a high-profile case that led Sekisui House Ltd. <1928> to lose billions of yen.
(Jiji)
Oct 17
Keisuke Fukuchi, the 2018 world champion of the Othello board game and the youngest ever at 11, was congratulated and surprised while on his return flight to Japan after the competition in Prague as the pilot revealed via intercom that he was the previous record holder.
(Kyodo)
Oct 17
Gunma Prefecture says its helicopter that crashed in August is suspected to have been flying in violation of civil aviation laws.
(NHK)
Oct 17
An unmanned store using artificial intelligence instead of cashiers is set to open on a trial basis at a station in Tokyo.
(NHK)
Oct 16
Showa University in Tokyo admitted Monday that its medical school has been rigging entrance examination results in favor of first- and second-time test takers, while putting former students' children high on waiting lists to fill vacancies.
(Jiji)
Oct 16
The Imperial Household Agency said Monday it will jointly excavate Japan's largest ancient mounded tomb with a local government for the first time.
(Japan Times)
Oct 16
Chief Cabinet Secretary Yoshihide Suga says Facebook has informed the government that its recent massive data leak could involve Japanese users.
(NHK)
---