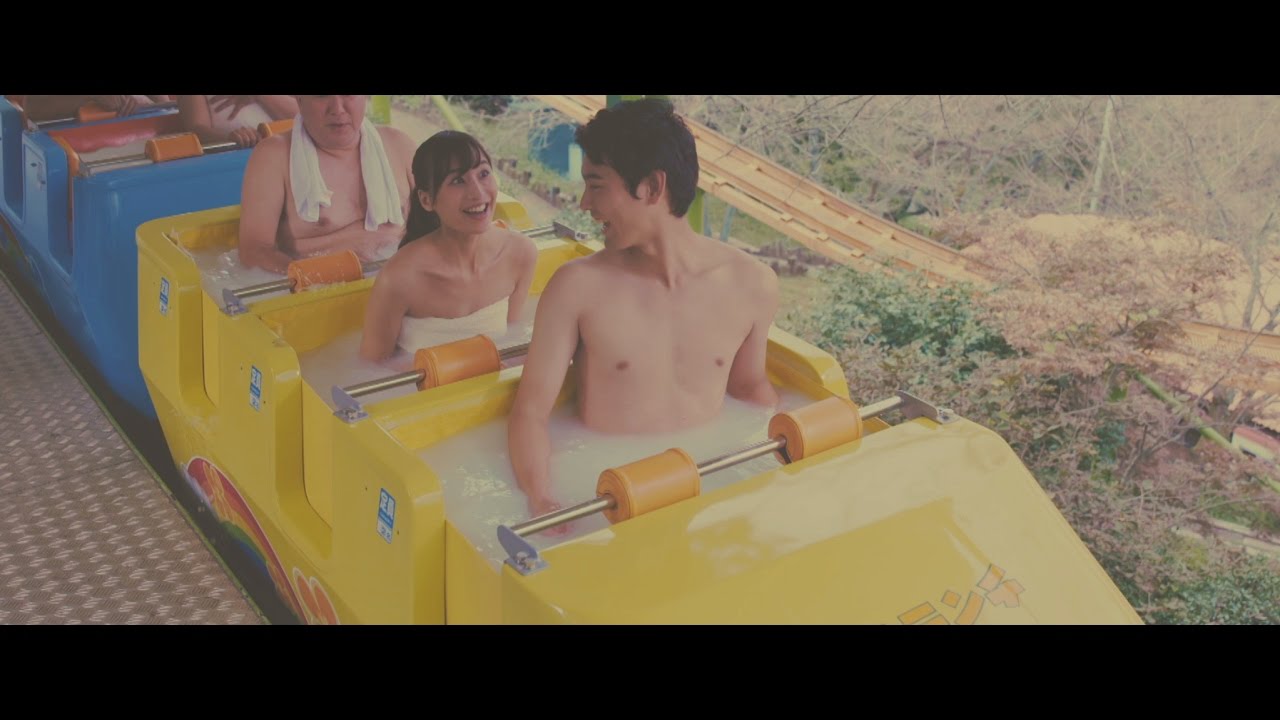 A Japanese city boasting one of the world's largest hot-spring resorts opened a special amusement park on Saturday with a hot-tub merry-go-round and other rides featuring immersion in its famous thermal water.
The "spamusement park" will operate for just three days at the existing Beppu Rakutenchi amusement park in Beppu, Oita prefecture, after the southwestern Japan city successfully raised funds to set up special rides featuring the local hot-spring water.
The attraction became a reality after Beppu mayor Yasuhiro Nagano committed to open such a park in a YouTube video uploaded last November. The local representative pledged to go through with the idea if the video got more than 1 million views, a goal achieved in just three days.
The video's conceptual footage showed men and women of all ages wrapped in towels having fun at a park combining bathing and rides, which was originally an idea to promote tourism in the city.
The roller-coaster was depicted in the video as having seats filled with hot water, but the city opted to use bubbles made from hot-spring ingredients instead of water, due to safety concerns.
The city, which crowdfunded about 82 million yen (25 million baht) for the project, is letting only those who donated a certain amount of money enter. About 12,000 people are expected to ride the park's eight attractions in the three days it is operating, city officials said.
温泉を活用したアトラクションを楽しめる「湯~園地」が29日、大分県別府市の遊園地・別府ラクテンチで実現した。馬車が浴槽になったメリーゴーラウンドなど、8種のアトラクションを用意した。31日まで。
Jul 23
Sweltering heat continues to shroud most of Japan. Temperatures reached nearly 40 degrees Celsius in some places on Sunday.
(NHK)
Jul 23
The organizing committee of the 2020 Tokyo Olympics and Paralympics has unveiled the names of the mascots for the Games.
(NHK)
Jul 23
What if Amazon.com were to launch a bank? Consumers would likely welcome the move. Perhaps the big internet platform operator could entice its customers into letting it manage their money by offering points or discounts at its online store.
(Nikkei)
Jul 22
Several beaches ravaged by the 2011 earthquake and tsunami in northeastern Japan have been reopened for bathing for the first time in 8 years.
(NHK)
Jul 22
In sumo, Mitakeumi beat Tochiozan on the 14th day of the Nagoya tournament on Saturday to win his first title with 13 wins and one loss, ahead of the final day.
(NHK)
Jul 22
Imagine wrapping up a tough work week and jumping into a three-day weekend and find out the whole ATM system is down until the following Tuesday.
(Japan Times)
Jul 22
Some of the major foreign supermarket chains that entered Japan around 2000 offering low prices made possible through bulk purchases have exited the country.
(Japan Times)
Jul 21
Severe tropical storm Ampil is moving toward Japan's southwestern island of Okinawa, bringing strong winds and high waves.
(NHK)
Jul 21
Japan's health ministry says the average life expectancies for men and women hit record highs in 2017.
(NHK)
Jul 21
The proportion of women with children who said they were employed stood at a record high of 70.8 pct in 2017, exceeding 70 pct for the first time, a survey by the labor ministry showed Friday.
(Jiji)
---