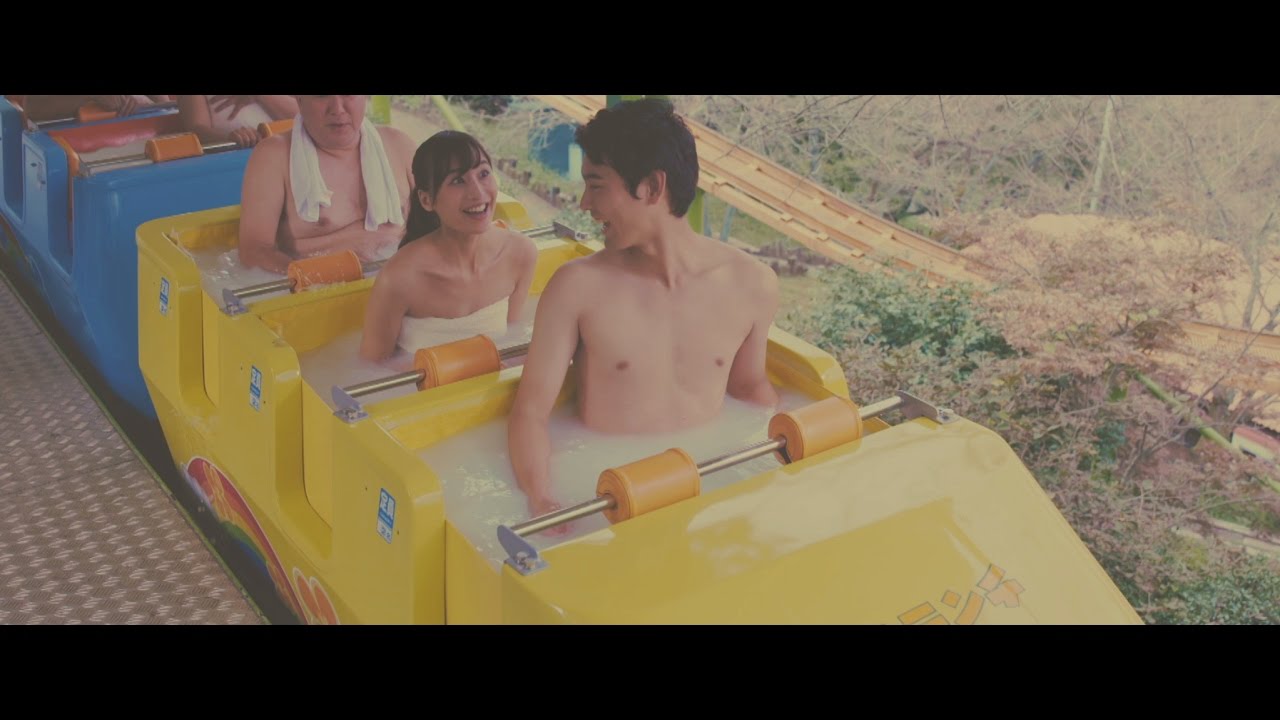 A Japanese city boasting one of the world's largest hot-spring resorts opened a special amusement park on Saturday with a hot-tub merry-go-round and other rides featuring immersion in its famous thermal water.
The "spamusement park" will operate for just three days at the existing Beppu Rakutenchi amusement park in Beppu, Oita prefecture, after the southwestern Japan city successfully raised funds to set up special rides featuring the local hot-spring water.
The attraction became a reality after Beppu mayor Yasuhiro Nagano committed to open such a park in a YouTube video uploaded last November. The local representative pledged to go through with the idea if the video got more than 1 million views, a goal achieved in just three days.
The video's conceptual footage showed men and women of all ages wrapped in towels having fun at a park combining bathing and rides, which was originally an idea to promote tourism in the city.
The roller-coaster was depicted in the video as having seats filled with hot water, but the city opted to use bubbles made from hot-spring ingredients instead of water, due to safety concerns.
The city, which crowdfunded about 82 million yen (25 million baht) for the project, is letting only those who donated a certain amount of money enter. About 12,000 people are expected to ride the park's eight attractions in the three days it is operating, city officials said.
温泉を活用したアトラクションを楽しめる「湯~園地」が29日、大分県別府市の遊園地・別府ラクテンチで実現した。馬車が浴槽になったメリーゴーラウンドなど、8種のアトラクションを用意した。31日まで。
Dec 15
Japanese authorities have found 4 bodies in 2 wooden boats that washed ashore on the Sea of Japan coast in Akita City, Akita Prefecture.
(NHK)
Dec 15
Emperor Akihito wishes to step down in an abdication ceremony that is "as simple as possible," without inviting foreign guests and holding a parade, the head of the Imperial Household Agency said Thursday.
(Japan Today)
Dec 15
Japan's space agency says its asteroid probe Hayabusa2 is on course to reach its target between Earth and Mars in about 6 months.
(NHK)
Dec 14
Officials from a Japanese train operator say a crack was found near the welded joint of one of the key parts and the undercarriage of a Shinkansen bullet train.
(NHK)
Dec 14
Osaka University said Wednesday that personal data of around 80,000 students, graduates, staff, former workers and others may have been stolen by hackers.
(Japan Times)
Dec 14
For the first time, a Japanese high court has ordered the operator of a nuclear plant not to restart a reactor.
(NHK)
Dec 14
The average life expectancy in 2015 for Japanese men was highest in Shiga Prefecture, western Japan, at 81.78 years, a health ministry survey showed Wednesday.
(Jiji)
Dec 14
Japan's Supreme Court has upheld a lower court ruling finding the mayor of Minokamo in Gifu Prefecture, central Japan, guilty of receiving bribes.
(Jiji)
Dec 14
Tokyo Metropolitan Police have arrested a 72-year-old man over the alleged molestation of a fourth-year middle school girl in a parking lot in Edogawa Ward earlier this year, reports the Sankei Shimbun
(tokyoreporter.com)
Dec 14
Japan's ruling Liberal Democratic Party and its coalition partner, Komeito, adopted on Tuesday an income tax reform plan that will bring about heavier burdens on salaried employees earning over 8.5 million yen a year.
(Jiji)
---