A police officer dumped a plastic bag containing parts of the body of a woman in her 80s at a garbage collection point at a Tokyo police station in July by mistake and some of them remain unrecovered, the police said Friday.
According to the Metropolitan Police Department, the officer in his 20s attached to Mejiro Police Station was aware that the bag contained human remains but discarded them because he thought they were unimportant due to their small size.
The bag was retrieved later from a garbage collector but some of the remains were missing, the police said.
The woman in her 80s was killed on July 26 after being hit by a train in Tokyo's Toshima Ward and the police are investigating the case as either an accident or a suicide.
The police officer discarded the bag at the garbage collection point later in the day. When the police conducted an autopsy on the body on the following day, they realized some of her body parts were missing.
先月、東京・豊島区の踏切内で女性が電車にはねられて死亡した事故で、警視庁の男性巡査が遺体の一部をごみ捨て場の前に放置していたことが分かりました。 先月26日、豊島区南長崎の西武池袋線の踏切で、近くに住む80代の女性が電車にはねられて死亡しました。
May 27
Scorching heat hit Japan on Sunday. The temperature shot up to over 39 degrees Celsius in the northernmost prefecture of Hokkaido. That's a national record high for May.
(NHK)
May 27
Three people remained missing as of Sunday evening after two Japanese cargo ships collided during the early morning hours off the coast of Chiba Prefecture, the Japan Coast Guard said.
(Japan Times)
May 26
Temperatures rose across Japan on Saturday to highs usually not seen until the height of summer, causing hundreds of people to be taken to hospitals and prompting the weather agency to issue heatstroke warnings.
(Japan Today)
May 26
Japan's top trade negotiator with the United States has said both sides continue to differ on negotiations for a trade deal, adding that they need to work further to narrow the gap.
(NHK)
May 25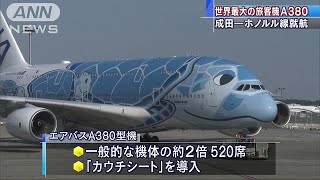 All Nippon Airways debuted flights of a double-decker Airbus A380 from Narita Airport north of Tokyo, bound for Hawaii on Friday.
(NHK)
May 24
Many parts of Japan saw the mercury top 30 degrees Celsius on Thursday. Weather officials are warning of unseasonal high temperatures over the weekend.
(NHK)
May 23
Kyoto Prefectural Police have arrested a 23-year-old male Australian national who is suspected of scrawling graffiti in dozens of locations in Kyoto City, reports Fuji News Network (May 22).
(tokyoreporter.com)
May 23
The International Olympic Committee says boxing is set to maintain its place in the 2020 Tokyo Games, but that the sport's international association should be excluded from organizing the events due to a number of problems.
(NHK)
May 23
Junnosuke Taguchi, a former member of Japanese boy band KAT-TUN, was arrested Wednesday on suspicion of possessing marijuana, the Narcotics Control Department said.
(Japan Times)
May 22
Tokyo DisneySea has begun its largest expansion project ever.
(NHK)
---