A storm is ripping through the Japanese archipelago, bringing heavy rains to wide areas. 2 people are dead and 17 others are injured.
The storm is moving northeast after making landfall on Japan's main island of Honshu on Monday afternoon.
More than 17 thousand people in parts of western Japan have been ordered or advised to evacuate.
In central Japan, tens of thousands of people have been told to prepare to evacuate.
Authorities are urging residents to brace for high waves along the coast and mudslides and floods in many areas.
400 flights have been cancelled. Airlines say that number could increase.
An expressway and train services in and around the island of Shikoku have been disrupted.
The storm battered the island of Kyushu with heavy rain and violent winds on Sunday, just one month after the region was hit by torrential rains and landslides.
7日午前10時ごろ、暴風域に入った徳島市から報告です。 (沖原千佳記者報告) 徳島市内では20分ほど前から再び激しい雨が降り出しました。その影響で道路には水がたまり始めています。徳島県上勝町では午前5時ごろまでの1時間に46ミリの激しい雨を観測。
May 26
Temperatures rose across Japan on Saturday to highs usually not seen until the height of summer, causing hundreds of people to be taken to hospitals and prompting the weather agency to issue heatstroke warnings.
(Japan Today)
May 26
Japan's top trade negotiator with the United States has said both sides continue to differ on negotiations for a trade deal, adding that they need to work further to narrow the gap.
(NHK)
May 25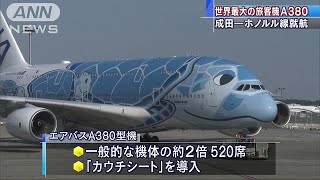 All Nippon Airways debuted flights of a double-decker Airbus A380 from Narita Airport north of Tokyo, bound for Hawaii on Friday.
(NHK)
May 24
Many parts of Japan saw the mercury top 30 degrees Celsius on Thursday. Weather officials are warning of unseasonal high temperatures over the weekend.
(NHK)
May 23
Kyoto Prefectural Police have arrested a 23-year-old male Australian national who is suspected of scrawling graffiti in dozens of locations in Kyoto City, reports Fuji News Network (May 22).
(tokyoreporter.com)
May 23
The International Olympic Committee says boxing is set to maintain its place in the 2020 Tokyo Games, but that the sport's international association should be excluded from organizing the events due to a number of problems.
(NHK)
May 23
Junnosuke Taguchi, a former member of Japanese boy band KAT-TUN, was arrested Wednesday on suspicion of possessing marijuana, the Narcotics Control Department said.
(Japan Times)
May 22
Tokyo DisneySea has begun its largest expansion project ever.
(NHK)
May 22
A Japanese government committee has decided on the route of a parade scheduled for October to celebrate the enthronement of Emperor Naruhito.
(NHK)
May 22
The Supreme Court and other legal professionals in Japan have hosted a symposium to mark the tenth anniversary of the introduction of the country's lay judge system.
(NHK)
---