The city of Kyoto aims to introduce a lodging tax in 2018 at the earliest to cope with issues stemming from a surge in the number of tourists, based on a recommendation Monday from an advisory panel.
"Based on the recommendation, we want to work out the system at an early date so we can make a proposal to the city assembly in September," Kyoto Mayor Daisaku Kadokawa said after receiving a report from the panel of experts.
The panel recommended taxes be imposed on lodgers, except for students on school excursions, at all accommodations facilities in the city, including private houses and rooms for vacation rental. Heavier taxes should be imposed at accommodation facilities with higher fees, it said.
The number of lodgers hit a record 14.15 million in 2016 in Kyoto, an ancient Japanese capital and one of the most popular destinations in Japan for foreign tourists.
With the surge in the number of lodgers, Kyoto is facing swelling costs in tackling such issues as crowded hotels and buses as well as the improvement of public transportation systems.
Dec 07
Narita International Airport near Tokyo is looking to ease congestion at one of its terminals.
(NHK)
Dec 03
Inui Street in the Imperial Palace in central Tokyo was opened to the public on Saturday, in time for the autumn foliage season.
(Jiji)
Dec 01
Local restaurants, souvenir shops and even some temples and shrines are hoping to cater to foreign guests with an international custom yet to be adopted in Japan: letting customers pay their bills with credit cards instead of cash.
(Japan Today)
Nov 29
The latest edition of the Michelin guide for Tokyo is due out on Friday with 82 new restaurants, including five new two-star establishments and 23 entities garnering single stars, Michelin said on Tuesday.
(Japan Times)
Nov 28
From a television commercial that gives a humorous twist to a theme park's impending closure to hotels staffed by robots, tactics to capitalize on company outings, and ads featuring Japanese pop idols and actors — theme parks in Japan are squeezing their creative juices to attract more first-time visitors and repeaters through avant-garde ways.
(Japan Times)
Nov 27
A new Tokyo Bay amphibious bus tour was launched Monday to service the expected influx of foreign tourists drawn to the city ahead of the 2020 Tokyo Olympics and Paralympics.
(Kyodo)
Nov 26
Railway fans have gathered in western Japan to see a steam locomotive get chugging again for the first time in 44 years.
(NHK)
Nov 25
Japan appeals to different people for different reasons. Some visit for the history or the food. Many stay for the martial arts, while others keep coming back for a dose of manga, anime and video-game culture. Still others come to enjoy the land — the huge span of scenery from the north of Hokkaido to Okinawa in the southwest, and the sharp changes such places undergo with the revolutions of season.
(Japan Times)
Nov 19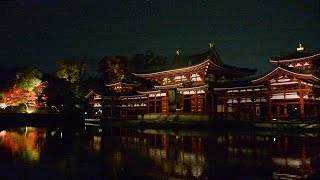 The Phoenix Hall of Byodoin temple, a UNESCO World Heritage site in Uji, Kyoto Prefecture, glows at night during a trial illumination on Friday.
(the-japan-news.com)
Nov 17
Osaka Governor Ichiro Matsui sought support for the western Japan prefecture's bid to host the 2025 World Exposition at a general meeting of the Bureau International des Expositions in Paris on Wednesday.
(Jiji)
---