The Japanese market has been in a strange place for some time now. While Abenomics has certainly shown some promise, albeit without managing to live up to the hype that it suggested, the truth of the matter seems to be that the market is unsure as to whether Japan is about to enter a period of time where uncertainty causes an end to the bull market that has been in place since Abenomics hit full flow sustained in part by increased government investment.
Having pursued a very different strategy compared to the rest of the G7, Japan has at least proven that it is prepared to take on the challenge of an ageing population and a low birth rate while also dealing with rather more "uniquely Japanese" issues such as a private sector that has companies unwilling to even get close to spending on investing anything like they earn.
A Long-Term Change?
Abenomics has successfully increased the number of independent directors in leading companies, meaning that a lack of company investment could well be a thing of the past now. This could be spurred on by shareholder power as stockholders start to consider whether or not they want companies to continue to sit on lots of cash assets when they could be getting a better return from their investment. If this fails to happen then investors are going to have to start looking at different options to see how they can increase their returns.
While there are many ways to invest, it is always important to look into how much risk you are willing to take with an investment. With this in mind, investors may start to look for ways to speculate that work whether we are experiencing a bull market or a bear market. One example of this can be seen by usinga company that offers the opportunity to invest using a CFD (contract for difference) instrument model. This means investors can speculate on outcomes without having to actually own any assets, meaning that if you are worried about having to buy into companies, you can avoid doing so by using a CFD rather than buying stocks and shares.
Threats Still Linger
While the changes made by Prime Minister Abeseem to have made a difference, providing an opportunity for potential big returns for investors, two key threats still linger for the Japanese economy. The first of these is the lingering issue over the level of debt that the government has racked up; it has been borrowed cheaply, but we don't yet know what will happen if stagnation persists in the economy, rather than the hoped-for economic explosion.
Perhaps, though, the second issue is a more worrying long-term trend: an ageing population that is likely to see a shortage of labour in the future. The most worrying stat in this area is the fact that the labour shortage has hit a 43-year high. The impact of this could be huge with a lack of demand for jobs, although the recent unemployment figure increase to 3.1% does show that people are prepared to leave their jobs to seek out better prospects.
Given that in the past Japanese workers were simply happy to live out their entire career in one company, this drive and determination to look for a better job rather than to settle for anything on offer, combined with the reforms driven through in Abenomics, highlights the fact that Japan may not be in a perfect situation where the economy is ready to enjoy a boom period, but is certainly in a place to have a period of growth despite taking on challenges that many Western economies are simply afraid to even discuss.
Oct 24
Mount Fuji, Japan's highest peak, has been capped with snow for the first time this season.
(NHK)
Oct 24
Power transmission trouble halted three JR Utsunomiya Line trains in Kuki, Saitama Prefecture, on Monday, stranding about 1,900 passengers for about two hours.
(Japan Times)
Oct 24
Typhoon Lan blazed through Tokyo on Monday morning after making landfall along the central Pacific coastline earlier in the day, leaving seven people dead as it pummeled Honshu with heavy rain and strong winds.
(Japan Times)
Oct 24
Visiting Tokyo Governor Yuriko Koike on Monday announced a plan to make the Japanese capital free of carbon dioxide emissions during the opening and closing days of the 2020 Tokyo Olympics and Paralympics.
(Jiji)
Oct 24
An industry group says the sales of Japanese animation, related services, and products topped 2 trillion yen, or about 17.6 billion dollars, for the first time in 2016.
(NHK)
Oct 24
Up to now, it has been a real hassle making advance reservations for Japan's bullet trains from overseas. JR East finally set up an online reservation system a while back, but that was only for trains heading north from Tokyo.
(rocketnews24.com)
Oct 23
Tokyo's Nikkei 225 on Monday posted the longest winning streak in its nearly 70-year history as markets cheered the weekend election victory of Japan's pro-business prime minister.
(Japan Today)
Oct 23
Voter turnout for single-seat constituencies in Sunday's election for the House of Representatives, the lower chamber of parliament, is projected at around 53.69 pct, the second-lowest in the post-World War II period, a Jiji Press estimate showed Monday.
(Jiji)
Oct 23
Fresh off a decisive election victory, Prime Minister Shinzo Abe pledged Monday to tackle what he called Japan's two national crises: the military threat from North Korea and an aging and shrinking population.
(Japan Today)
Oct 23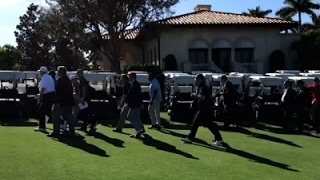 U.S. President Donald Trump on Monday congratulated Prime Minister Shinzo Abe on his ruling camp's big victory in the general election the previous day.
(Japan Today)
---