Faced with having to stabilize the supply of potatoes for its chips, Japanese snack maker Calbee is increasing the amount of the crop it grows in rice fields. Paddy-field potatoes are mainly grown in Kyushu, Japan's southernmost main island, but Calbee also plans to start cultivating them in the northern regions of Hokkaido and Tohoku.
Potatoes are traditionally grown in dry-soil fields, but the company will now grow more of the crop in better-drained rice fields with higher ridges. Crop yields per area will remain unchanged, despite both rice and potatoes being grown in the same place.
Aug 17
Huge bonfires on mountains lit up Japan's old capital, Kyoto, on Wednesday night in an annual Buddhist ceremony.
(NHK)
Aug 17
Lack of sunshine caused by prolonged cloudy conditions and lingering rain in Pacific coastal areas of northeastern Japan may cause problems for the rice harvest.
(NHK)
Aug 16
The estimated number of visitors to Japan in July grew 16.8 pct from a year before to 2,681,500, a record high on a monthly basis, the Japan National Tourism Organization said Wednesday.
(Jiji)
Aug 16
The Japan Tourism Agency plans to urge "ryokan" Japanese-style inn operators to set separate fees for stays and meals, agency officials said Wednesday.
(Jiji)
Aug 16
The organizing committee for the 2020 Tokyo Olympics and Paralympics said Tuesday that it has received a total of 2,042 applications in a campaign to solicit ideas for official mascots for the quadrennial sporting events.
(Jiji)
Aug 16
Kumamoto Prefectural Police have arrested the 30-year-old male manager of a talent agency over the alleged sexual assault of an intoxicated teenage girl in Kumamoto City, reports Nippon News Network.
(tokyoreporter.com)
Aug 16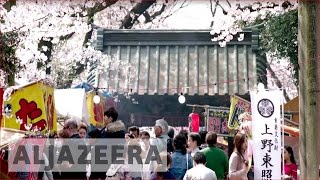 Japan's cautious consumers are starting to loosen up, spending more on cars and home appliances and offering hope that domestic demand - and not just exports - will be strong enough to reflate an economy that has been sluggish for many years.
(Japan Today)
Aug 16
Prime Minister Shinzo Abe made a tamagushi ritual offering at his own expense to Yasukuni Shrine on Tuesday, the 72nd anniversary of the end of World War II.
(the-japan-news.com)
Aug 16
In telephone talks held Tuesday morning, Prime Minister Shinzo Abe and U.S. President Donald Trump confirmed their cooperation to deal with a possible North Korean missile launch that might travel over Japan toward waters off Guam.
(the-japan-news.com)
Aug 16
A high-level Japanese government official denounced a Korean bus company Tuesday for putting "comfort woman" statues on its five buses running in Seoul, urging the Korean government to take "appropriate measures."
(koreatimes.co.kr)
---