Japan on Friday said it would allow Osprey tilt-rotor aircraft to continue to operate in the country, accepting U.S. assurances that the flights are safe following a fatal crash off Australia.
The U.S. Marine Corps MV-22 Osprey aircraft, which was based at an air base in Japan, crashed last Saturday while on exercises off the Australian coast, leaving three service members missing and presumed dead.
Itsunori Onodera, Japan's new defense minister, had asked the U.S. to temporarily stop flying the aircraft in his country following the accident, the latest deadly incident involving Ospreys.
But on Friday, the defense ministry issued a statement saying that the U.S. military "is taking reasonable measures" and "the U.S. forces' explanation that it can conduct safe flights of MV-22 Ospreys is understandable."
According to a U.S. official, the Osprey crashed after clipping the back of the USS Green Bay while trying to land on the amphibious transport ship.
The MV-22 -- a hybrid helicopter-turboprop -- has two engines positioned on fixed wingtips that allow it to land and take off vertically. It can travel much faster than a helicopter.
The aircraft has been involved in a series of fatal incidents, mostly in the United States.
In April 2000, 19 Marines were killed in an MV-22 crash in Arizona.
防衛省が容認すると早速、普天間基地から三沢基地に飛びました。 防衛省は、沖縄のアメリカ軍普天間基地所属の新型輸送機「オスプレイ」がオーストラリア沖で墜落した事故を受けて、自粛を求めていた飛行の再開を容認したと発表しました。
Aug 17
Huge bonfires on mountains lit up Japan's old capital, Kyoto, on Wednesday night in an annual Buddhist ceremony.
(NHK)
Aug 17
Lack of sunshine caused by prolonged cloudy conditions and lingering rain in Pacific coastal areas of northeastern Japan may cause problems for the rice harvest.
(NHK)
Aug 16
The estimated number of visitors to Japan in July grew 16.8 pct from a year before to 2,681,500, a record high on a monthly basis, the Japan National Tourism Organization said Wednesday.
(Jiji)
Aug 16
The Japan Tourism Agency plans to urge "ryokan" Japanese-style inn operators to set separate fees for stays and meals, agency officials said Wednesday.
(Jiji)
Aug 16
The organizing committee for the 2020 Tokyo Olympics and Paralympics said Tuesday that it has received a total of 2,042 applications in a campaign to solicit ideas for official mascots for the quadrennial sporting events.
(Jiji)
Aug 16
Kumamoto Prefectural Police have arrested the 30-year-old male manager of a talent agency over the alleged sexual assault of an intoxicated teenage girl in Kumamoto City, reports Nippon News Network.
(tokyoreporter.com)
Aug 16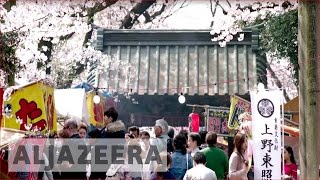 Japan's cautious consumers are starting to loosen up, spending more on cars and home appliances and offering hope that domestic demand - and not just exports - will be strong enough to reflate an economy that has been sluggish for many years.
(Japan Today)
Aug 16
Prime Minister Shinzo Abe made a tamagushi ritual offering at his own expense to Yasukuni Shrine on Tuesday, the 72nd anniversary of the end of World War II.
(the-japan-news.com)
Aug 16
In telephone talks held Tuesday morning, Prime Minister Shinzo Abe and U.S. President Donald Trump confirmed their cooperation to deal with a possible North Korean missile launch that might travel over Japan toward waters off Guam.
(the-japan-news.com)
Aug 16
A high-level Japanese government official denounced a Korean bus company Tuesday for putting "comfort woman" statues on its five buses running in Seoul, urging the Korean government to take "appropriate measures."
(koreatimes.co.kr)
---