Japan on Friday said it would allow Osprey tilt-rotor aircraft to continue to operate in the country, accepting U.S. assurances that the flights are safe following a fatal crash off Australia.
The U.S. Marine Corps MV-22 Osprey aircraft, which was based at an air base in Japan, crashed last Saturday while on exercises off the Australian coast, leaving three service members missing and presumed dead.
Itsunori Onodera, Japan's new defense minister, had asked the U.S. to temporarily stop flying the aircraft in his country following the accident, the latest deadly incident involving Ospreys.
But on Friday, the defense ministry issued a statement saying that the U.S. military "is taking reasonable measures" and "the U.S. forces' explanation that it can conduct safe flights of MV-22 Ospreys is understandable."
According to a U.S. official, the Osprey crashed after clipping the back of the USS Green Bay while trying to land on the amphibious transport ship.
The MV-22 -- a hybrid helicopter-turboprop -- has two engines positioned on fixed wingtips that allow it to land and take off vertically. It can travel much faster than a helicopter.
The aircraft has been involved in a series of fatal incidents, mostly in the United States.
In April 2000, 19 Marines were killed in an MV-22 crash in Arizona.
防衛省が容認すると早速、普天間基地から三沢基地に飛びました。 防衛省は、沖縄のアメリカ軍普天間基地所属の新型輸送機「オスプレイ」がオーストラリア沖で墜落した事故を受けて、自粛を求めていた飛行の再開を容認したと発表しました。
Oct 24
Mount Fuji, Japan's highest peak, has been capped with snow for the first time this season.
(NHK)
Oct 24
Power transmission trouble halted three JR Utsunomiya Line trains in Kuki, Saitama Prefecture, on Monday, stranding about 1,900 passengers for about two hours.
(Japan Times)
Oct 24
Typhoon Lan blazed through Tokyo on Monday morning after making landfall along the central Pacific coastline earlier in the day, leaving seven people dead as it pummeled Honshu with heavy rain and strong winds.
(Japan Times)
Oct 24
Visiting Tokyo Governor Yuriko Koike on Monday announced a plan to make the Japanese capital free of carbon dioxide emissions during the opening and closing days of the 2020 Tokyo Olympics and Paralympics.
(Jiji)
Oct 24
An industry group says the sales of Japanese animation, related services, and products topped 2 trillion yen, or about 17.6 billion dollars, for the first time in 2016.
(NHK)
Oct 24
Up to now, it has been a real hassle making advance reservations for Japan's bullet trains from overseas. JR East finally set up an online reservation system a while back, but that was only for trains heading north from Tokyo.
(rocketnews24.com)
Oct 23
Tokyo's Nikkei 225 on Monday posted the longest winning streak in its nearly 70-year history as markets cheered the weekend election victory of Japan's pro-business prime minister.
(Japan Today)
Oct 23
Voter turnout for single-seat constituencies in Sunday's election for the House of Representatives, the lower chamber of parliament, is projected at around 53.69 pct, the second-lowest in the post-World War II period, a Jiji Press estimate showed Monday.
(Jiji)
Oct 23
Fresh off a decisive election victory, Prime Minister Shinzo Abe pledged Monday to tackle what he called Japan's two national crises: the military threat from North Korea and an aging and shrinking population.
(Japan Today)
Oct 23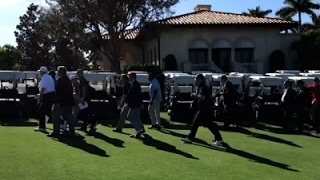 U.S. President Donald Trump on Monday congratulated Prime Minister Shinzo Abe on his ruling camp's big victory in the general election the previous day.
(Japan Today)
---