This restaurant-machine fusion is one small step for vending, one giant leap for vending-machine-kind.
There are approximately 2.5 million vending machines in Japan and each one has a story, but none so enticing as a machine rumored to vend handmade gyoza 24 hours a day, seven days a week, rain or shine. Our reporter Masanuki caught wind of this legend and set out to the dark corners of Yokohama – where the wild Pikachu roam – in order to find it.
It actually turned out not to be in the dark corners, but about five minutes from Center Minami Station on foot. Nevertheless, danger was afoot as Masanuki didn't know the exact location of the machine and would have to scour the... Oh, there it is!
Painted bright yellow, it certainly did have a unique appearance worthy of its reputation. Hearing of a machine that dished out gyoza, Masanuki was half-expecting one of those old-timey machines with questionable tuna sandwiches inside, but this one was very clean and modern looking. He had no qualms about buying perishable food from it.
The machine was located outside of the Lonsanbo Chinesee small plate restaurant and boasted several of its items such as Handmade Gyoza (13 for 1,000 yen), Meat Gyoza (12 for 1,000 yen), Mizu Gyoza (8 for 880 yen), along with soup dumplings and shumai to choose from. All items were made by the Lonsanbo staff themselves.
Nov 19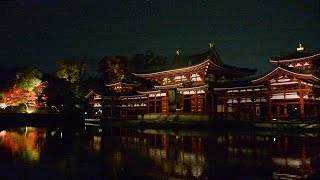 The Phoenix Hall of Byodoin temple, a UNESCO World Heritage site in Uji, Kyoto Prefecture, glows at night during a trial illumination on Friday.
(the-japan-news.com)
Nov 17
Osaka Governor Ichiro Matsui sought support for the western Japan prefecture's bid to host the 2025 World Exposition at a general meeting of the Bureau International des Expositions in Paris on Wednesday.
(Jiji)
Nov 17
Japanese regional carrier Air Do becomes the latest airline struck by the global shortage of pilots, saying Thursday it has canceled 26 flights scheduled for February after already grounding 34 trips this month.
(Nikkei)
Nov 17
The government plans to actively promote stays at farming villages geared toward foreign tourists. Supportive measures to begin next fiscal year will include sponsoring skilled chefs to hold cooking classes at women's clubs to enhance local cuisine, and other steps to attract foreigners interested Japanese food and culture.
(the-japan-news.com)
Nov 16
Colorful autumn leaves are in their prime at a park in Saitama Prefecture, north of Tokyo, drawing many visitors.
(NHK)
Nov 16
The Imperial Household Agency said Wednesday that it will open Inui Street, running through the Imperial Palace in central Tokyo, to the public on Dec. 2-10.
(Jiji)
Nov 15
The first public exhibition of a giant panda cub born at a Tokyo zoo in 29 years will begin next month, with large numbers of visitors expected.
(Japan Today)
Nov 13
Of all the things there are to see and do in a foreign city, it's fair to say a visit to the local garbage incinerator is not usually one of them. But a garbage facility in the Japanese city of Osaka has become a major tourist attraction --- for all the wrong reasons.
(cairnspost.com.au)
Nov 13
The Ritz-Carlton, Osaka's French restaurant La Baie and The Ritz-Carlton Kyoto's Japanese restaurant Tempura Mizuki have both been awarded one Michelin star in the Michelin Guide to Kyoto and Osaka 2018.
(Japan Today)
Nov 12
Airports around the world have found an unconventional, eco-friendly way to take advantage of all the unused open space around their runways and buildings: hosting beehives.
(Japan Times)
---