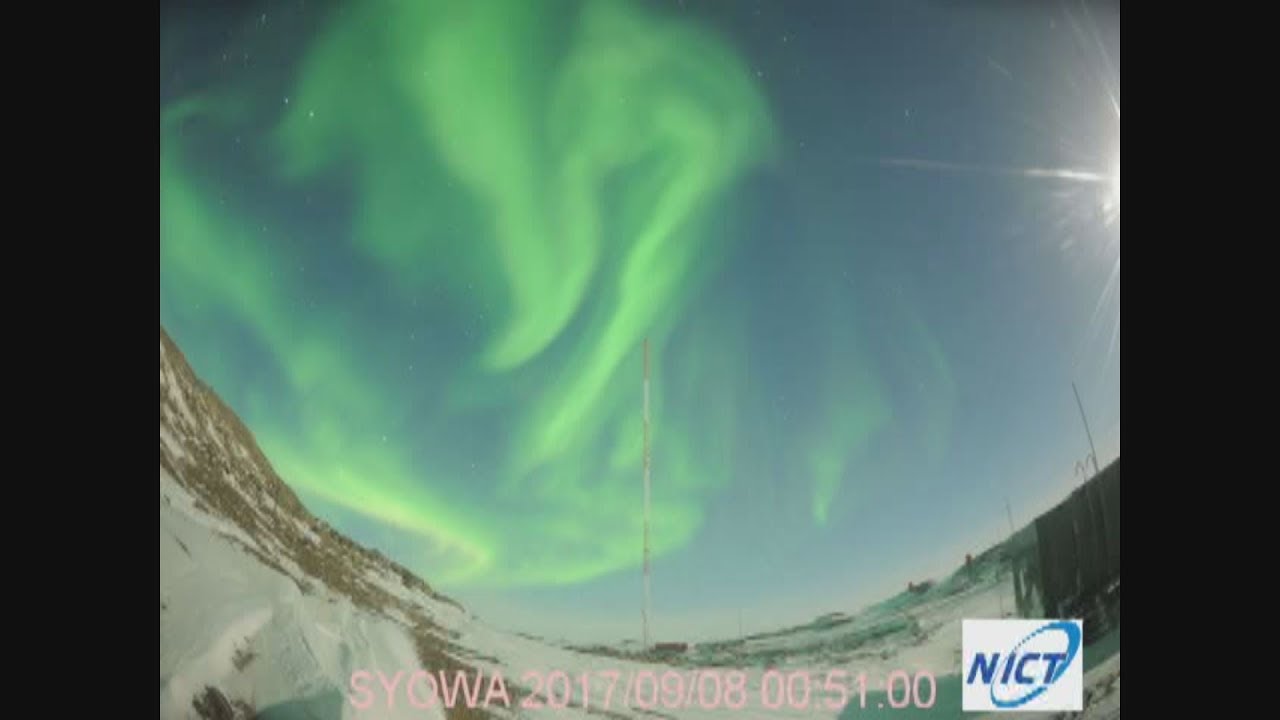 Scientists say the disruptions in the Earth's magnetic field caused by charged particles from the sun have passed their peak. But they are calling for continued caution for few more days as there could be more explosions on the surface of the sun.
Solar flares -- large eruptions in dark spots on the sun -- have taken place several times this month.
A large-scale solar flare occurred shortly before 9:00 PM, Japan Time, on Wednesday, for the first time since 2006.
Japan's National Institute of Information and Communications Technology says charged particles and shock waves released by the latest eruption reached Earth from 8 to 9 AM on Friday.
The institute says disruptions in the magnetic field peaked from 9 to 12 AM on Friday, and will gradually recede.
The scientists say they confirmed a margin of error several meters longer than usual for GPS data at the Geospatial Information Authority of Japan.
The institute's Director Mamoru Ishii is calling for continued caution until Saturday or so. He is warning of another possible solar flare as well.
Scientists say the latest flares have no impact on human health.
通信機器に障害が出る恐れがあるということです。 国立研究開発法人「情報通信研究機構」によりますと、6日午後9時ごろ、太陽で通常の1000倍の爆発が観測されました。太陽の大規模な爆発は11年ぶりです。
Sep 21
Emperor Akihito on Wednesday visited a shrine dedicated to ancient Korean settlers in Hidaka, Saitama Prefecture.
(Japan Today)
Sep 20
Toshiba Corp has decided to sell its chip unit to a Japan-U.S.-South Korean consortium for around 2.4 trillion yen ($21 billion) following months of talks involving other bidders, sources close to the matter said Wednesday.
(Japan Today)
Sep 20
Fukuoka Prefectural Police have arrested a 36-year-old woman in Yukahashi City after she admitted to stabbing her husband, who himself told police his intestines were "coming out" in an emergency call.
(tokyoreporter.com)
Sep 20
The estranged wife of a former violin maker broke into his house and destroyed 54 violins and 70 bows after they fought over payments for child support, prosecutors said Tuesday.
(Japan Times)
Sep 20
A work by 15th-century ink wash painter Sesshu that had been missing for 84 years has been found.
(NHK)
Sep 20
Some 862,000 people in Japan are estimated to have been newly diagnosed with cancer in 2013, down some 3,000 from the previous year, a National Cancer Center research revealed Wednesday.
(Jiji)
Sep 18
Severe tropical storm Talim has made landfall on Japan's northern main island of Hokkaido, after passing by the western coast of the country. It is packing strong winds and torrential rains.
(NHK)
Sep 18
Japan's Prime Minister Shinzo Abe is on his way to New York to attend the UN General Assembly.
(NHK)
Sep 18
Tokyo Metropolitan Police have arrested a middle school counselor for allegedly having sex with a middle school student after promising a cash payment, reports TV Asahi
(tokyoreporter.com)
Sep 16
The number of centenarians in Japan totaled 67,824 as of Friday, hitting a record high for the 47th consecutive year, the Ministry of Health, Labor and Welfare said.
(Jiji)
---