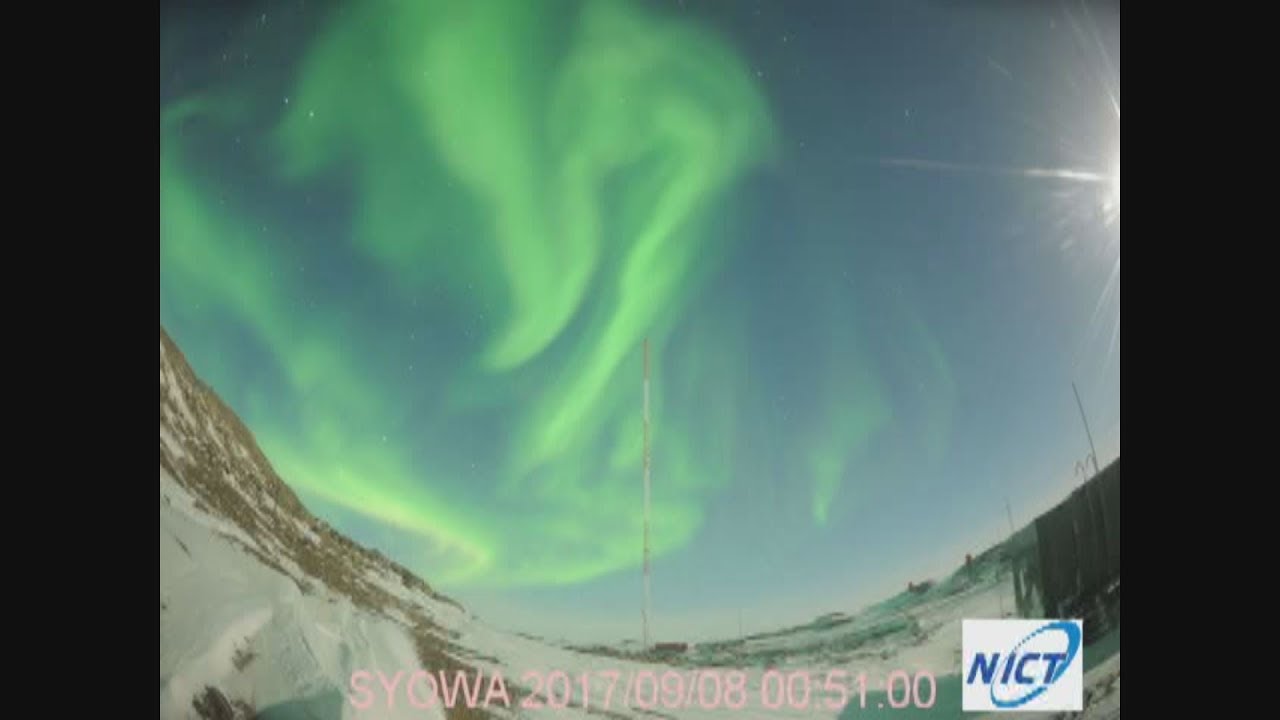 Scientists say the disruptions in the Earth's magnetic field caused by charged particles from the sun have passed their peak. But they are calling for continued caution for few more days as there could be more explosions on the surface of the sun.
Solar flares -- large eruptions in dark spots on the sun -- have taken place several times this month.
A large-scale solar flare occurred shortly before 9:00 PM, Japan Time, on Wednesday, for the first time since 2006.
Japan's National Institute of Information and Communications Technology says charged particles and shock waves released by the latest eruption reached Earth from 8 to 9 AM on Friday.
The institute says disruptions in the magnetic field peaked from 9 to 12 AM on Friday, and will gradually recede.
The scientists say they confirmed a margin of error several meters longer than usual for GPS data at the Geospatial Information Authority of Japan.
The institute's Director Mamoru Ishii is calling for continued caution until Saturday or so. He is warning of another possible solar flare as well.
Scientists say the latest flares have no impact on human health.
通信機器に障害が出る恐れがあるということです。 国立研究開発法人「情報通信研究機構」によりますと、6日午後9時ごろ、太陽で通常の1000倍の爆発が観測されました。太陽の大規模な爆発は11年ぶりです。
Nov 21
Police are set to refer sumo grand champion Harumafuji to prosecutors by the end of the year on suspicion of assaulting lower-ranked wrestler Takanoiwa in a drunken brawl, investigative sources said Tuesday.
(Japan Times)
Nov 21
Tokyo Metropolitan Police have arrested a 31-year-old man for organizing an orgy event via the social-networking service Twitter, reports the Sankei Shimbun.
(tokyoreporter.com)
Nov 21
A wild boar was killed after it injured an 11-year-old girl during a rampage in the town of Oizumi on Monday, reports NHK.
(tokyoreporter.com)
Nov 21
Osaka Prefectural Police have arrested a 53-year-old woman living in Neyagawa City the bodies of four newborn infants were found encased in concrete in a residence, reports TV Asahi
(tokyoreporter.com)
Nov 21
A group of Japanese researchers has developed the country's first quantum computer and is offering others free trials as a way to spur further innovation.
(NHK)
Nov 21
As a part of a crackdown on illegal gambling, Tokyo Metropolitan Police have busted a pair of internet casinos operating in Shibuya Ward, reports TV Asahi
(tokyoreporter.com)
Nov 20
Police on Monday served a fresh arrest warrant on a 27-year-old man who has admitted to killing nine people before dismembering their bodies at his apartment near Tokyo.
(Japan Today)
Nov 20
The US military in Japan has banned all its service members from drinking both on and off base following a fatal car accident in Okinawa Prefecture, southern Japan.
(NHK)
Nov 20
The organizing committee of the 2020 Tokyo Olympics and Paralympics sent out information to elementary schools nationwide about the games' official mascot on Monday, ahead of a vote for the final selection.
(Japan Today)
Nov 20
A man on a motorbike came behind women and snatched their handbags on three occasions within 15 minutes on Saturday night in an area near JR Omiya Station in Saitama city, police said Sunday. The man got away with around 80,000 yen, police said.
(Japan Today)
---