Japan's agriculture ministry said Friday it has set an ambitious goal of increasing annual rice exports to 100,000 tons by 2019.
Amid a slump in domestic consumption, the ministry aims to step up sales campaigns for Japanese rice in overseas markets, where Japanese food is increasingly popular, in a bid to shore up farmers' incomes, officials said.
The export target figure is for rice consumed as a staple food, as well as for processed products, such as snacks and sake, in which rice is used as the main ingredient.
In 2016, Japan's rice exports totaled 10,000 tons for the staple food alone and 24,000 tons including processed items.
農林水産省は、日本のコメの輸出量を再来年に現在の4倍以上の10万トンに増やす目標を発表しました。コメの輸出で具体的な目標を設定するのは初めてです。 農水省は主食用のコメのほかに、日本酒やせんべいなどの加工品も含めたコメの輸出量を再来年に10万トンにまで増やすことを目指します。
Feb 21
Seven South Korean women attempted to smuggle gold into Japan late last month by concealing it in their rectums, officials from Aichi Prefecture's Chubu Airport said Tuesday.
(Japan Times)
Feb 21
The Japanese government says Emperor Akihito's abdication ceremony will be held next year on April 30th, the day he steps down, as a state event.
(NHK)
Feb 21
In a ruling handed down Tuesday on a high-profile surrogacy case involving a 28-year-old Japanese man, a Thai juvenile and family court accepted his claim for custody of 13 children whom he had through surrogacy in the Southeast Asian country.
(Jiji)
Feb 21
The Japanese government has decided to hold next year's Group of 20 Summit meeting in the western prefecture of Osaka. It will be the first time Japan has hosted the summit.
(NHK)
Feb 21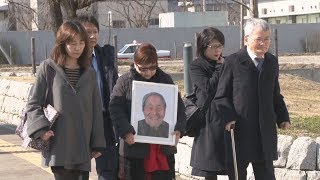 A Japanese court has ordered Tokyo Electric Power Company to pay about 142,000 dollars in damages to the family of an elderly man who killed himself amid an evacuation order during the 2011 Fukushima nuclear crisis.
(NHK)
Feb 21
Gangsters seeking to leave organized crime groups --- but who are in dire financial straits --- could soon get free accommodation and help with transportation costs in Fukuoka Prefecture under a unique program aimed at promoting integration back into society and in turn weakening the underworld syndicates.
(Japan Times)
Feb 21
A total of 213 firms and organizations in Japan were found to have mistreated technical trainees from abroad in 2017, down 10.9 percent from the previous year and falling for the second straight year, the Justice Ministry has said.
(Japan Times)
Feb 21
Tokyo Disney Resort operator Oriental Land will roll out a smartphone app in fiscal 2018 to relieve crowding issues that have frustrated guests at the popular theme park.
(Nikkei)
Feb 21
Japan's land ministry plans to remove utility poles and bury overhead cables along 1,400 kilometers of roads over the next 3 years.
(NHKん)
Feb 21
Tokyo Metropolitan Police have arrested employees at an antiquarian bookstore in Chiyoda Ward over the alleged possession child pornography, a case that is a nationwide first, reports TV Asahi
(tokyoreporter.com)
---