The opportunity to see wild brown bears in their natural environment has made a national park in Hokkaido a popular hiking destination.
The hiking route in Daisetsuzan National Park is open for about a three-month period from late June to early October. It is closed when the park's information center judges conditions too dangerous.
Hikers are allowed to walk along the trail without a guide, but only after attending a lecture about brown bears, including prohibited behaviors such as cooking in the forest, eating at certain locations and leaving waste behind.
The 7-km-long route takes visitors through a mountainous area dotted with ponds in Kamikawa, affording them a good chance of spotting bears from a distance. Since the opening of a supervisory office in 1994, there have been no reported incidents between people and bears.
"If we keep an adequate distance, we can coexist," the center says.
The writers of Lonely Planet included the hiking route, called Daisetsu Kogen Onsen Spa Numameguri, in one of its travel guidebooks, and through this more foreign tourists have visited the national park in recent years.
One early morning in August a couple from Germany were excited to see an adult brown bear with a cub grazing on grass about 200 meters away. Using telescopes, the couple took a closer look at them, which stood at about 1 to 1.5 meters tall.
"Many of the bears here are gentle in nature and quickly run away when approached," said Hitoshi Yanagisawa, 43, an official at the brown bear information center.
Because of the area's lush, rich vegetation, close to 30 bears are spotted at the popular feeding spot every summer.
Hikers can access the route from 7 a.m. to 3 p.m. during the open period. Information center officials patrol the route every day and post information on a notice board in the center on locations of recent bear sightings or where footprints have been found.
According to the Hokkaido Prefectural Government, 14 incidents involving brown bears were reported throughout the prefecture in the five years to March 2016. In some cases, people were attacked when they entered the forest to gather wild plants to eat.
Nov 19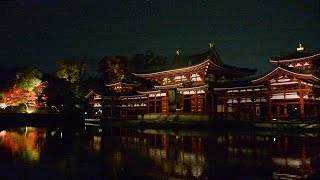 The Phoenix Hall of Byodoin temple, a UNESCO World Heritage site in Uji, Kyoto Prefecture, glows at night during a trial illumination on Friday.
(the-japan-news.com)
Nov 17
Osaka Governor Ichiro Matsui sought support for the western Japan prefecture's bid to host the 2025 World Exposition at a general meeting of the Bureau International des Expositions in Paris on Wednesday.
(Jiji)
Nov 17
Japanese regional carrier Air Do becomes the latest airline struck by the global shortage of pilots, saying Thursday it has canceled 26 flights scheduled for February after already grounding 34 trips this month.
(Nikkei)
Nov 17
The government plans to actively promote stays at farming villages geared toward foreign tourists. Supportive measures to begin next fiscal year will include sponsoring skilled chefs to hold cooking classes at women's clubs to enhance local cuisine, and other steps to attract foreigners interested Japanese food and culture.
(the-japan-news.com)
Nov 16
Colorful autumn leaves are in their prime at a park in Saitama Prefecture, north of Tokyo, drawing many visitors.
(NHK)
Nov 16
The Imperial Household Agency said Wednesday that it will open Inui Street, running through the Imperial Palace in central Tokyo, to the public on Dec. 2-10.
(Jiji)
Nov 15
The first public exhibition of a giant panda cub born at a Tokyo zoo in 29 years will begin next month, with large numbers of visitors expected.
(Japan Today)
Nov 13
Of all the things there are to see and do in a foreign city, it's fair to say a visit to the local garbage incinerator is not usually one of them. But a garbage facility in the Japanese city of Osaka has become a major tourist attraction --- for all the wrong reasons.
(cairnspost.com.au)
Nov 13
The Ritz-Carlton, Osaka's French restaurant La Baie and The Ritz-Carlton Kyoto's Japanese restaurant Tempura Mizuki have both been awarded one Michelin star in the Michelin Guide to Kyoto and Osaka 2018.
(Japan Today)
Nov 12
Airports around the world have found an unconventional, eco-friendly way to take advantage of all the unused open space around their runways and buildings: hosting beehives.
(Japan Times)
---