Severe tropical storm Talim has made landfall on Japan's northern main island of Hokkaido, after passing by the western coast of the country. It is packing strong winds and torrential rains.
Police and fire officials told NHK that Talim left 2 person killed, 3 others missing and 35 injured across the country.
The Meteorological Agency downgraded Talim from typhoon categorization on Sunday. As of 10 AM on Monday, the storm's maximum wind speed was 108 kilometers an hour near its center.
Talim is bringing torrential rains to wide areas across Hokkaido.
Over the weekend, Talim ripped through western and eastern Japan.
In Kagawa Prefecture, an 86-year-old woman was killed when a landslide hit her house. In Kochi Prefecture, 60-year-old man was found dead inside a car in a river. Two other men, 84 and 66, left their house and were later reported missing.
In Oita Prefecture, a 71-year-old man has been reported missing. Police suspect he may have fallen into a swollen river, and are searching near his home.
35 others have been injured due to mudslides and strong winds.
Talim is also affecting transport systems. Airlines canceled more than 800 flights on Sunday, mainly to and from Kyushu and Shikoku.
And additional 272 flights scheduled for Monday, mostly to and from Hokkaido and Tohoku, have been suspended.
The shinkansen bullet train system in Hokkaido has halted operations due to strong winds.
The Meteorological Agency warns of heavy rain and strong winds, mainly in northern Japan on Monday. It says that in Hokkaido hourly rain of more than 80 millimeters is expected.
It also calls on people in the region to be vigilant against landslides and flooding, as well as storms and high waves.
大型の台風18号は、北海道の広い範囲を暴風域に巻き込みながらオホーツク海側まで北上してきました。18日夜には温帯低気圧に変わる見込みですが、北海道では18日いっぱい、瞬間的に45メートルの風が吹く恐れがあります。19日の天気です。
Aug 22
With the Rugby World Cup kicking off Sept. 20 in Japan, communities across the country are preparing for the 500,000-plus visitors expected to attend.
(Nikkei)
Aug 22
A Shinkansen bullet train made an emergency stop after one of its doors opened while speeding through northeastern Japan.
(NHK)
Aug 22
The number of South Korean tourists visiting Japan fell last month to its lowest in nearly a year as visitors canceled travel plans amid deteriorating relations between the neighbors, Japanese government data showed on Wednesday.
(Japan Times)
Aug 22
Japan's two largest opposition parties said Tuesday they will form a joint group in both houses of the Diet in an attempt to challenge the ruling bloc's dominance.
(Japan Today)
Aug 22
Tokyo Metropolitan Police have arrested a 50-year-old man over the alleged abduction of a middle school girl in order to molest her last month, reports TBS News (Aug. 21).
(tokyoreporter.com)
Aug 22
It has always been a mystery why Summer Sonic is not held in the relative cool of June or July, but at the very height of summer, when the August sun beats down upon the festival's outdoor stages or typhoons power through the country, threatening disruption and cancellations to the event's packed schedule.
(Japan Times)
Aug 21
Korean Air says it will suspend more flights from South Korea to Japan, due to lower travel demand amid worsening bilateral ties between the two countries.
(NHK)
Aug 21
Immigration authorities revoked a record 832 visas in 2018, more than double the figure of a year earlier, Justice Ministry data showed Monday.
(Japan Times)
Aug 21
Japan's Prince Hisahito has paid a courtesy call on the King and Queen of Bhutan.
(NHK)
Aug 21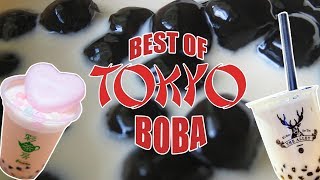 Japan's current bubble tea craze has sent tapioca imports soaring to meet the demand for the drink made with cold milk and tapioca balls.
(Asahi)
---