Japan has no shortage of festivals for every season, from the weird and wacky, to the absolutely magical. One such festival that would fall into the latter category is the Tengu no Hi-watari (天狗の火渡り), which takes place annually in Japan's northern-most prefecture of Hokkaido.
The festival -- held at the Ebisu Shrine in the town of Furubira -- features a tengu, among others, running through a bonfire of towering flames. Tengu, if you're not familiar, are creatures found in Japanese folklore, usually localized as "goblins" in English, and often depicted with a red face and distinctively long nose.
Many cultures throughout the world have their own fire walks, which normally involves participants walking across hot coals or embers. The towering flames involved at this fire walk in Hokkaido certainly make for a more impressive spectacle, which was captured and shared on Twitter by musician and photographer Katsu (克), who goes by @katuka2 online. In the photos, Katsu captures the intense contrast between the dark shadows of night against the bright blazing flames, as the masked fire walker emerges from the fire in a hellish scene. The photos immediately received the attention of the Twitter community -- and rightfully so -- wracking up 37,000 retweets and nearly 70,000 likes since they were published on September 12.
Jul 23
Sweltering heat continues to shroud most of Japan. Temperatures reached nearly 40 degrees Celsius in some places on Sunday.
(NHK)
Jul 22
Several beaches ravaged by the 2011 earthquake and tsunami in northeastern Japan have been reopened for bathing for the first time in 8 years.
(NHK)
Jul 21
Severe tropical storm Ampil is moving toward Japan's southwestern island of Okinawa, bringing strong winds and high waves.
(NHK)
Jul 21
New VR Zone attraction lets you take on Godzilla in an attack chopper…
(soranews24.com)
Jul 20
Temperatures in Kyoto rose as high as 39.8 degrees Celsius on Thursday, tying the city's record high logged on Aug. 8, 1994, the Japan Meteorological Agency said.
(Jiji)
Jul 19
The number of foreign tourists who visited Japan in the first half of this year hit a record high for the period.
(NHK)
Jul 19
Japanese temples are offering their facilities as tourist accommodation, an initiative aimed at wooing foreigners to rural Japan.
(Nikkei)
Jul 19
The Legoland Japan theme park in the central Japanese city of Nagoya will lower its admission fee for children, its operator said Wednesday, following complaints about high ticket prices.
(Kyodo)
Jul 18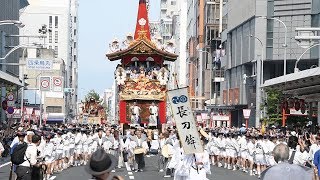 In Japan's ancient capital Kyoto, spectators braved sweltering heat to watch a series of colorfully decorated floats at the annual Gion festival on Tuesday.
(NHK)
Jul 17
Each year, a pair of the Aomori Prefecture town's fields are used to create amazing rice paddy art (or "tambo art," as it's called in Japanese).
(soranews24.com)
---