A failure to follow protocol caused police officers in Kawanishi City to confuse the bodies of two elderly men, resulting in the wrong corpse undergoing an autopsy, it was learned on Friday, reports NHK
Four officers of the police traffic division of the Kawanishi Police Station intended to transport the body of a 74-year-old man killed in a traffic incident from the station morgue to a hospital for an autopsy, but confused the body with that of an 85-year-old man who died at his home, Hyogo Prefectural Police said.
The autopsy was conducted on the 85-year-old man, with the mix-up going unnoticed until another officer realized the body of the 85-year-old was missing.
Officers failed to follow protocol and check the identity of the body, which was stored in a bag at the station morgue along with the other body, police said.
"There was failure to follow checking procedures, such as the names [of the bodies]," police said, according to Nippon News Network (Sept. 23).
Police apologized to the families of both men, and plan to investigate the cause of the incident.
Mired in scandals
Hyogo Prefectural Police have been mired in scandals, according to the Sankei Shimbun (Sept. 23).
For engaging in a sex act on the job at the workplace, a 39-year-old male police inspector received a 10 percent pay cut for three months and a 30-year-old female officer in the same division was given a warning.
A 51-year-old male officer in Mita City was referred to prosecutors, who will decide whether he will stand trial, after he intentionally overlooked his superior's speeding violation.
兵庫県の川西警察署で、事故で死亡した男性の遺体を警察官が取り違え、別の男性の遺体を司法解剖していたことが分かりました。 川西警察署によりますと、オートバイの単独事故で死亡して司法解剖することになっていた74歳の男性の遺体を署の霊安室の冷蔵庫に保管していました。
May 27
Scorching heat hit Japan on Sunday. The temperature shot up to over 39 degrees Celsius in the northernmost prefecture of Hokkaido. That's a national record high for May.
(NHK)
May 27
Three people remained missing as of Sunday evening after two Japanese cargo ships collided during the early morning hours off the coast of Chiba Prefecture, the Japan Coast Guard said.
(Japan Times)
May 26
Temperatures rose across Japan on Saturday to highs usually not seen until the height of summer, causing hundreds of people to be taken to hospitals and prompting the weather agency to issue heatstroke warnings.
(Japan Today)
May 26
Japan's top trade negotiator with the United States has said both sides continue to differ on negotiations for a trade deal, adding that they need to work further to narrow the gap.
(NHK)
May 25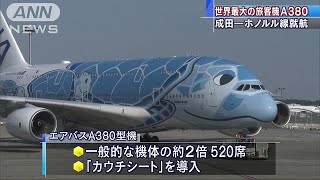 All Nippon Airways debuted flights of a double-decker Airbus A380 from Narita Airport north of Tokyo, bound for Hawaii on Friday.
(NHK)
May 24
Many parts of Japan saw the mercury top 30 degrees Celsius on Thursday. Weather officials are warning of unseasonal high temperatures over the weekend.
(NHK)
May 23
Kyoto Prefectural Police have arrested a 23-year-old male Australian national who is suspected of scrawling graffiti in dozens of locations in Kyoto City, reports Fuji News Network (May 22).
(tokyoreporter.com)
May 23
The International Olympic Committee says boxing is set to maintain its place in the 2020 Tokyo Games, but that the sport's international association should be excluded from organizing the events due to a number of problems.
(NHK)
May 23
Junnosuke Taguchi, a former member of Japanese boy band KAT-TUN, was arrested Wednesday on suspicion of possessing marijuana, the Narcotics Control Department said.
(Japan Times)
May 22
Tokyo DisneySea has begun its largest expansion project ever.
(NHK)
---