Osaka Prefectural Police have arrested a 48-year-old man who allegedly stabbed his common-law wife to death at their residence in Sakai City last week after a dispute about her bulimia-like behavior. The woman's daughter was also seriously injured in the incident, reports the Sankei Shimbun
At around 10:00 p.m. on September 13, the collapsed bodies of Megumi Futase, 35, and her daughter, 4, were found inside the residence, located in the Handakitacho area of Naka Ward, police said.
Futase, who had a stab wound to the chest, was confirmed dead prior to arrival at a hospital. Her daughter is in serious condition with a wound to the abdomen.
Police subsequently arrested Shigenobu Kobayashi, the common-law husband of Futase, on suspicion of murder. He denies having an intent to kill.
"My wife was on a diet whereby she vomited the food she ate, and we got into an argument about whether to show such an [act] in front of a child," the suspect told the Nishi Sakai Police Station, according to TV Asahi (Sept. 14). "I then realized [she] were stabbed with a knife."
Fled by motorcycle
According to police, Kobayashi was not present at the time of the discovery. After fleeing the scene by motorcycle with a knife, presumably the one used in the crime, he arrived at the residence of a female acquaintance.
Kobayashi divulged to her what he had done before again speeding off with the knife left behind. The woman then visited the suspect's residence and made the grisly discovery.
Early the following morning, Kobayashi surrendered to officers at the Nishi Sakai Police Station while accompanied by relatives.
Domestic violence
In May of last year, Futase consulted with police about domestic violence carried out by the suspect. "He struck me with the palm of his hand," she told police. "He also stomped on my shoulder."
Two months later, she told police that she had split up with him and that action on their part was not needed.
Feb 21
Seven South Korean women attempted to smuggle gold into Japan late last month by concealing it in their rectums, officials from Aichi Prefecture's Chubu Airport said Tuesday.
(Japan Times)
Feb 21
The Japanese government says Emperor Akihito's abdication ceremony will be held next year on April 30th, the day he steps down, as a state event.
(NHK)
Feb 21
In a ruling handed down Tuesday on a high-profile surrogacy case involving a 28-year-old Japanese man, a Thai juvenile and family court accepted his claim for custody of 13 children whom he had through surrogacy in the Southeast Asian country.
(Jiji)
Feb 21
The Japanese government has decided to hold next year's Group of 20 Summit meeting in the western prefecture of Osaka. It will be the first time Japan has hosted the summit.
(NHK)
Feb 21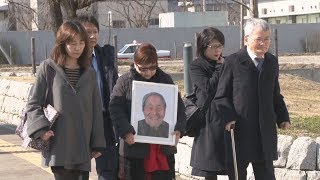 A Japanese court has ordered Tokyo Electric Power Company to pay about 142,000 dollars in damages to the family of an elderly man who killed himself amid an evacuation order during the 2011 Fukushima nuclear crisis.
(NHK)
Feb 21
Gangsters seeking to leave organized crime groups --- but who are in dire financial straits --- could soon get free accommodation and help with transportation costs in Fukuoka Prefecture under a unique program aimed at promoting integration back into society and in turn weakening the underworld syndicates.
(Japan Times)
Feb 21
A total of 213 firms and organizations in Japan were found to have mistreated technical trainees from abroad in 2017, down 10.9 percent from the previous year and falling for the second straight year, the Justice Ministry has said.
(Japan Times)
Feb 21
Tokyo Disney Resort operator Oriental Land will roll out a smartphone app in fiscal 2018 to relieve crowding issues that have frustrated guests at the popular theme park.
(Nikkei)
Feb 21
Japan's land ministry plans to remove utility poles and bury overhead cables along 1,400 kilometers of roads over the next 3 years.
(NHKん)
Feb 21
Tokyo Metropolitan Police have arrested employees at an antiquarian bookstore in Chiyoda Ward over the alleged possession child pornography, a case that is a nationwide first, reports TV Asahi
(tokyoreporter.com)
---