A little-known milky paradise awaits those who know where to look at this busy station in the capital.
With its maze of alleyways and out-of-the way nooks and crannies, Tokyo is a jungle oasis filled with hidden secrets just waiting to be discovered. Over the years, we've come across secret walls in the subway and little-known places where you can enjoy beautiful sights for free, but now there's a new discovery in the city that's got everyone talking on social media. Best of all, it's relatively easy to find, once you know where it is, as it's located on platform five at Tokyo's Akihabara Station.
As our reporters approached the row of vending machines, they became more and more intrigued by their contents. When they scanned their eyes over the drinks on offer, they knew that this was the pot of gold at the end of the rainbow.
Cynics might be wondering where the thrill is in such a discovery, but for lovers of milk, this is a rare find worth travelling for. It's not every day you get to see a whole bunch of creamy beverages together like this, especially when they hail from different areas of the country like Hokkaido and Kumamoto.
Despite knowing just about everything there is to know about Tokyo, our well-seasoned reporters had never seen anything like this. With choices like plain milk, teas, milk coffees, yoghurt drinks, green smoothies, flavoured milks, and matcha au lait on offer, our reporters suddenly turned into excited children, eager to push their coins into the machines to make a purchase.
The first thing to catch their eye was a small blue-and-white carton on the top shelf, with a sign alongside it that said "just like ice cream?"
Produced by Rakuno Mothers dairy company in Kumamoto Prefecture, this vanilla-flavoured "Delicious Milk" really did taste like an ice cream! Only downside to this one was it was so easy to drink it was gone in seconds.
Another special drink rarely seen in the city is the Cafe au Lait from Rakuno Mothers, billed here as the "Soul drink of Kumamoto". Thanks to this secret vending machine find, we won't have to travel 1,000 kilometres south to the island of Kyushu to sample this signature drink!
Dec 17
A ski resort opened in western Japan's Hyogo Prefecture on Saturday, with its operator and the local government saying it is the country's first new facility to be opened to skiers and snowboarders in 14 years.
(Japan Today)
Dec 07
Narita International Airport near Tokyo is looking to ease congestion at one of its terminals.
(NHK)
Dec 03
Inui Street in the Imperial Palace in central Tokyo was opened to the public on Saturday, in time for the autumn foliage season.
(Jiji)
Dec 01
Local restaurants, souvenir shops and even some temples and shrines are hoping to cater to foreign guests with an international custom yet to be adopted in Japan: letting customers pay their bills with credit cards instead of cash.
(Japan Today)
Nov 29
The latest edition of the Michelin guide for Tokyo is due out on Friday with 82 new restaurants, including five new two-star establishments and 23 entities garnering single stars, Michelin said on Tuesday.
(Japan Times)
Nov 28
From a television commercial that gives a humorous twist to a theme park's impending closure to hotels staffed by robots, tactics to capitalize on company outings, and ads featuring Japanese pop idols and actors — theme parks in Japan are squeezing their creative juices to attract more first-time visitors and repeaters through avant-garde ways.
(Japan Times)
Nov 27
A new Tokyo Bay amphibious bus tour was launched Monday to service the expected influx of foreign tourists drawn to the city ahead of the 2020 Tokyo Olympics and Paralympics.
(Kyodo)
Nov 26
Railway fans have gathered in western Japan to see a steam locomotive get chugging again for the first time in 44 years.
(NHK)
Nov 25
Japan appeals to different people for different reasons. Some visit for the history or the food. Many stay for the martial arts, while others keep coming back for a dose of manga, anime and video-game culture. Still others come to enjoy the land — the huge span of scenery from the north of Hokkaido to Okinawa in the southwest, and the sharp changes such places undergo with the revolutions of season.
(Japan Times)
Nov 19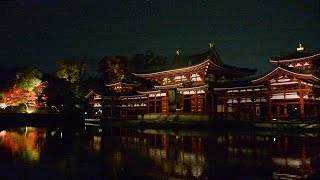 The Phoenix Hall of Byodoin temple, a UNESCO World Heritage site in Uji, Kyoto Prefecture, glows at night during a trial illumination on Friday.
(the-japan-news.com)
---