A little-known milky paradise awaits those who know where to look at this busy station in the capital.
With its maze of alleyways and out-of-the way nooks and crannies, Tokyo is a jungle oasis filled with hidden secrets just waiting to be discovered. Over the years, we've come across secret walls in the subway and little-known places where you can enjoy beautiful sights for free, but now there's a new discovery in the city that's got everyone talking on social media. Best of all, it's relatively easy to find, once you know where it is, as it's located on platform five at Tokyo's Akihabara Station.
As our reporters approached the row of vending machines, they became more and more intrigued by their contents. When they scanned their eyes over the drinks on offer, they knew that this was the pot of gold at the end of the rainbow.
Cynics might be wondering where the thrill is in such a discovery, but for lovers of milk, this is a rare find worth travelling for. It's not every day you get to see a whole bunch of creamy beverages together like this, especially when they hail from different areas of the country like Hokkaido and Kumamoto.
Despite knowing just about everything there is to know about Tokyo, our well-seasoned reporters had never seen anything like this. With choices like plain milk, teas, milk coffees, yoghurt drinks, green smoothies, flavoured milks, and matcha au lait on offer, our reporters suddenly turned into excited children, eager to push their coins into the machines to make a purchase.
The first thing to catch their eye was a small blue-and-white carton on the top shelf, with a sign alongside it that said "just like ice cream?"
Produced by Rakuno Mothers dairy company in Kumamoto Prefecture, this vanilla-flavoured "Delicious Milk" really did taste like an ice cream! Only downside to this one was it was so easy to drink it was gone in seconds.
Another special drink rarely seen in the city is the Cafe au Lait from Rakuno Mothers, billed here as the "Soul drink of Kumamoto". Thanks to this secret vending machine find, we won't have to travel 1,000 kilometres south to the island of Kyushu to sample this signature drink!
Jul 23
Sweltering heat continues to shroud most of Japan. Temperatures reached nearly 40 degrees Celsius in some places on Sunday.
(NHK)
Jul 22
Several beaches ravaged by the 2011 earthquake and tsunami in northeastern Japan have been reopened for bathing for the first time in 8 years.
(NHK)
Jul 21
Severe tropical storm Ampil is moving toward Japan's southwestern island of Okinawa, bringing strong winds and high waves.
(NHK)
Jul 21
New VR Zone attraction lets you take on Godzilla in an attack chopper…
(soranews24.com)
Jul 20
Temperatures in Kyoto rose as high as 39.8 degrees Celsius on Thursday, tying the city's record high logged on Aug. 8, 1994, the Japan Meteorological Agency said.
(Jiji)
Jul 19
The number of foreign tourists who visited Japan in the first half of this year hit a record high for the period.
(NHK)
Jul 19
Japanese temples are offering their facilities as tourist accommodation, an initiative aimed at wooing foreigners to rural Japan.
(Nikkei)
Jul 19
The Legoland Japan theme park in the central Japanese city of Nagoya will lower its admission fee for children, its operator said Wednesday, following complaints about high ticket prices.
(Kyodo)
Jul 18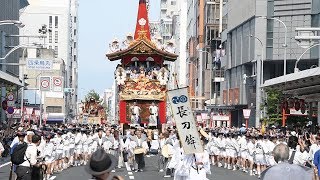 In Japan's ancient capital Kyoto, spectators braved sweltering heat to watch a series of colorfully decorated floats at the annual Gion festival on Tuesday.
(NHK)
Jul 17
Each year, a pair of the Aomori Prefecture town's fields are used to create amazing rice paddy art (or "tambo art," as it's called in Japanese).
(soranews24.com)
---