Political candidates and party officials across Japan are filing paperwork and launching their campaigns for the Lower House election scheduled for October 22nd.
Party candidates and independents are going after the 465 seats in the Lower House. 289 lawmakers will be elected directly and 176 through a system of proportional representation.
The threshold for a majority is 233 seats. Prime Minister Shinzo Abe has said if his ruling coalition doesn't reach that, he'll step down.
Abe's Liberal Democratic Party of Japan and its coalition partner Komeito are facing stiff competition from a divided opposition. Tokyo Governor Yuriko Koike has formed a party called Hope which is collaborating with Nippon Ishin Japan Innovation Party.
And another upstart, the Constitutional Democratic Party of Japan is working together with the Japanese Communist Party and Social Democratic Party of Japan.
The largest opposition party effectively split. Most of its members will be running under Hope, the Constitutional Democratic Party of Japan, or as independents.
Candidates are debating issues like the performance of the Abe administration, a consumption tax hike the government has scheduled for 2019, and amending the Constitution.
Oct 24
Mount Fuji, Japan's highest peak, has been capped with snow for the first time this season.
(NHK)
Oct 24
Power transmission trouble halted three JR Utsunomiya Line trains in Kuki, Saitama Prefecture, on Monday, stranding about 1,900 passengers for about two hours.
(Japan Times)
Oct 24
Typhoon Lan blazed through Tokyo on Monday morning after making landfall along the central Pacific coastline earlier in the day, leaving seven people dead as it pummeled Honshu with heavy rain and strong winds.
(Japan Times)
Oct 24
Visiting Tokyo Governor Yuriko Koike on Monday announced a plan to make the Japanese capital free of carbon dioxide emissions during the opening and closing days of the 2020 Tokyo Olympics and Paralympics.
(Jiji)
Oct 23
Voter turnout for single-seat constituencies in Sunday's election for the House of Representatives, the lower chamber of parliament, is projected at around 53.69 pct, the second-lowest in the post-World War II period, a Jiji Press estimate showed Monday.
(Jiji)
Oct 23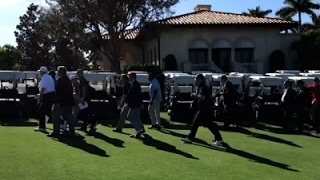 U.S. President Donald Trump on Monday congratulated Prime Minister Shinzo Abe on his ruling camp's big victory in the general election the previous day.
(Japan Today)
Oct 23
Voters across Japan have given Prime Minister Shinzo Abe's Liberal Democratic Party and its coalition partner, Komeito, enough seats to maintain a two-thirds majority in the Lower House.
(NHK)
Oct 22
A man who has been arrested for assault could be tied to the body of a woman discovered inside a love hotel Tuesday in Mito City, police said on Friday, reports TV Asahi
(tokyoreporter.com)
Oct 22
Tochigi Prefectural Police have arrested a 26-year-old man suspected in the theft of over 150 nameplates for landmarks from as many as three prefectures.
(tokyoreporter.com)
Oct 21
An elderly driver has run over pedestrians in Tokyo's busy district of Kichijoji, reportedly injuring 7 people.
(NHK)
---