A scandal involving falsified data on Kobe Steel products may be worse than first believed.
An in-house probe shows that workers may have altered data on at least one steel powder product. Such powder is used to make automobiles and machinery.
Kobe Steel officials say the product was sent to one client. The firm is confirming whether it poses any safety problems.
The latest revelation follows a disclosure of misconduct involving copper and aluminum products that the company shipped to about 200 firms in the year through August.
The firms include Toyota Motor, Nissan Motor and Mitsubishi Heavy Industries. They're trying to confirm the safety of their products made with the items in question.
アルミや銅製品のデータ改ざんが判明した神戸製鋼所が車のギアなどに使われる鉄粉についても改ざんした疑いがあることが明らかになりました。 鉄粉は自動車のギアなど、複雑な形状の部品を作る素材です。
Oct 24
Mount Fuji, Japan's highest peak, has been capped with snow for the first time this season.
(NHK)
Oct 24
Power transmission trouble halted three JR Utsunomiya Line trains in Kuki, Saitama Prefecture, on Monday, stranding about 1,900 passengers for about two hours.
(Japan Times)
Oct 24
Typhoon Lan blazed through Tokyo on Monday morning after making landfall along the central Pacific coastline earlier in the day, leaving seven people dead as it pummeled Honshu with heavy rain and strong winds.
(Japan Times)
Oct 24
Visiting Tokyo Governor Yuriko Koike on Monday announced a plan to make the Japanese capital free of carbon dioxide emissions during the opening and closing days of the 2020 Tokyo Olympics and Paralympics.
(Jiji)
Oct 23
Voter turnout for single-seat constituencies in Sunday's election for the House of Representatives, the lower chamber of parliament, is projected at around 53.69 pct, the second-lowest in the post-World War II period, a Jiji Press estimate showed Monday.
(Jiji)
Oct 23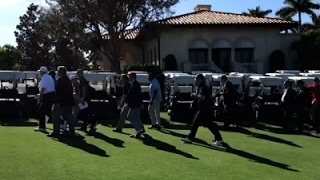 U.S. President Donald Trump on Monday congratulated Prime Minister Shinzo Abe on his ruling camp's big victory in the general election the previous day.
(Japan Today)
Oct 23
Voters across Japan have given Prime Minister Shinzo Abe's Liberal Democratic Party and its coalition partner, Komeito, enough seats to maintain a two-thirds majority in the Lower House.
(NHK)
Oct 22
A man who has been arrested for assault could be tied to the body of a woman discovered inside a love hotel Tuesday in Mito City, police said on Friday, reports TV Asahi
(tokyoreporter.com)
Oct 22
Tochigi Prefectural Police have arrested a 26-year-old man suspected in the theft of over 150 nameplates for landmarks from as many as three prefectures.
(tokyoreporter.com)
Oct 21
An elderly driver has run over pedestrians in Tokyo's busy district of Kichijoji, reportedly injuring 7 people.
(NHK)
---