A scandal involving falsified data on Kobe Steel products may be worse than first believed.
An in-house probe shows that workers may have altered data on at least one steel powder product. Such powder is used to make automobiles and machinery.
Kobe Steel officials say the product was sent to one client. The firm is confirming whether it poses any safety problems.
The latest revelation follows a disclosure of misconduct involving copper and aluminum products that the company shipped to about 200 firms in the year through August.
The firms include Toyota Motor, Nissan Motor and Mitsubishi Heavy Industries. They're trying to confirm the safety of their products made with the items in question.
アルミや銅製品のデータ改ざんが判明した神戸製鋼所が車のギアなどに使われる鉄粉についても改ざんした疑いがあることが明らかになりました。 鉄粉は自動車のギアなど、複雑な形状の部品を作る素材です。
Jul 18
More than a week after torrential rains in western Japan triggered landslides and flooding, over 200 people are dead and 16 are still missing.
(NHK)
Jul 18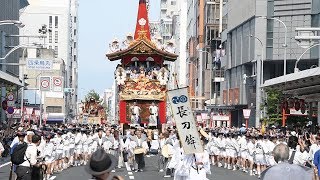 In Japan's ancient capital Kyoto, spectators braved sweltering heat to watch a series of colorfully decorated floats at the annual Gion festival on Tuesday.
(NHK)
Jul 18
Japan and the European Union have signed a free trade deal in Tokyo after years of negotiations. The economic partnership agreement covers about 40 percent of the world's trade and 30 percent of its gross domestic product. The EPA calls for Japan and the EU to remove tariffs on most of each other's goods in phases.
(NHK)
Jul 18
The Tokyo Metropolitan Government invited the media to observe the construction sites for the 2020 Olympics and Paralympics venues on Tuesday, 2 years ahead of the games' opening.
(NHK)
Jul 17
Each year, a pair of the Aomori Prefecture town's fields are used to create amazing rice paddy art (or "tambo art," as it's called in Japanese).
(soranews24.com)
Jul 16
People in many parts of Japan are sweltering as temperatures have soared to nearly 40 degrees Celsius. The heatwave is likely to continue this week with the risk of heatstroke remaining high in areas including those hit by recent heavy rain.
(NHK)
Jul 16
Japan's Prime Minister Shinzo Abe says the government will provide financial support to areas in western Japan that were hit hard recently by record-high rainfall.
(NHK)
Jul 16
Japanese authorities say 210 people have been confirmed dead and 22 remain missing after the recent record rainfall in the western part of the country.
(NHK)
Jul 15
On Rishiri Island in the northern Japan prefecture of Hokkaido, people are on alert after a brown bear has recently been spotted for the first time in 106 years, ahead of the summer tourism season.
(Jiji)
Jul 15
Meat, mackerel and other foods are being increasingly promoted as substitutes for "kabayaki," or grilled, eels ahead of the midsummer Day of the Ox in Japan.
(Jiji)
---