Kanagawa Prefectural Police have arrested three persons, including an organized crime member, over the killing of an 18-year-old boy whose corpse was found in a river in Kawasaki City last year, reports TBS News
Police have accused Ryunosuke Kojitani, a 21-year-old member of the Sumiyoshi-kai, Hiroki Iwase, a 21-year-old resident of Misato City, Saitama Prefecture, and Takuma Tsumagari, a 21-year-old resident of Tokyo's Setagaya Ward, of killing Mizuki Takahashi, whose corpse was found floating off the shore of the Tama River in Tama Ward on December 2.
According to police, the boy was killed on November 23. When his body was found it was fully nude and floating face-up. There were no signs of any external wounds.
The results of an autopsy revealed that Takahashi, who is from Yokohama, died due to drowning, according to police.
The boy had gone missing in November. On the same day that his body was discovered, his mother reported to the Seya Police Station in Yokohama that his whereabouts were unknown.
The three suspects and the victim are acquaintances. Kojitani became a person of interest for police after they spoke with Takahashi's acquaintances and examined security camera footage.
Boys quarelling
According to Nikkan Sports (Oct. 11), police are aware of a jogger who saw a group of boys quarreling about 400 meters upstream from the location of the discovery of the body.
Police are seeking the whereabouts of one other person who is believed to have participated in the killing.
男らは少年を全裸にしたうえ、冬の川で溺死(できし)させたとみられています。 津曲拓馬容疑者(21)と指定暴力団住吉会系の組員・糀谷龍之介容疑者(21)ら3人は去年11月、川崎市の多摩川河川敷で、横浜市に住む無職の高橋瑞樹さん(18)を溺死させた疑いが持たれています。
Oct 24
Mount Fuji, Japan's highest peak, has been capped with snow for the first time this season.
(NHK)
Oct 24
Power transmission trouble halted three JR Utsunomiya Line trains in Kuki, Saitama Prefecture, on Monday, stranding about 1,900 passengers for about two hours.
(Japan Times)
Oct 24
Typhoon Lan blazed through Tokyo on Monday morning after making landfall along the central Pacific coastline earlier in the day, leaving seven people dead as it pummeled Honshu with heavy rain and strong winds.
(Japan Times)
Oct 24
Visiting Tokyo Governor Yuriko Koike on Monday announced a plan to make the Japanese capital free of carbon dioxide emissions during the opening and closing days of the 2020 Tokyo Olympics and Paralympics.
(Jiji)
Oct 24
An industry group says the sales of Japanese animation, related services, and products topped 2 trillion yen, or about 17.6 billion dollars, for the first time in 2016.
(NHK)
Oct 24
Up to now, it has been a real hassle making advance reservations for Japan's bullet trains from overseas. JR East finally set up an online reservation system a while back, but that was only for trains heading north from Tokyo.
(rocketnews24.com)
Oct 23
Tokyo's Nikkei 225 on Monday posted the longest winning streak in its nearly 70-year history as markets cheered the weekend election victory of Japan's pro-business prime minister.
(Japan Today)
Oct 23
Voter turnout for single-seat constituencies in Sunday's election for the House of Representatives, the lower chamber of parliament, is projected at around 53.69 pct, the second-lowest in the post-World War II period, a Jiji Press estimate showed Monday.
(Jiji)
Oct 23
Fresh off a decisive election victory, Prime Minister Shinzo Abe pledged Monday to tackle what he called Japan's two national crises: the military threat from North Korea and an aging and shrinking population.
(Japan Today)
Oct 23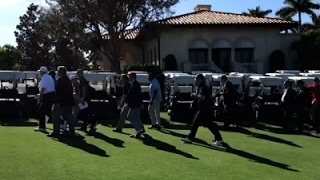 U.S. President Donald Trump on Monday congratulated Prime Minister Shinzo Abe on his ruling camp's big victory in the general election the previous day.
(Japan Today)
---