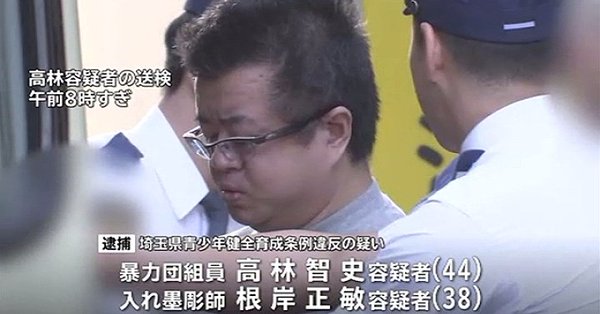 Tokyo Metropolitan Police have arrested an organized crime member who allegedly introduced a tattoo artist to a teenage girl, reports TBS News.
In April, Satoshi Takabayashi, a 43-year-old upper-level member of the Kobe Yamaguchi-gumi, allegedly introduced the girl, 17, to tattoo artist Masatoshi Iwase, a 38-year-old resident of Saitama Prefecture.
The girl subsequently received an irezumi tattoo, which are often sported by underworld figures, on her right shoulder and back during sessions at his residence in April and May.
Takabayashi, who has been accused of violating a prefectural ordinance regarding the healthy upbringing of youths, admits to the allegations. "She requested, so I made the introduction," the suspect was quoted. He has been sent to prosecutors.
In August, police first arrested Takabayashi for allegedly confining the girl at a gang office in Tokyo's Koto Ward over a one-month period.
千葉県に住む17歳の少女の体に入れ墨を入れたなどとして、暴力団組員の男ら2人が逮捕されました。
Jan 21
The Tokyo metropolitan government will survey foreign tourists on what they enjoy about the city's nightlife, aiming to better cater to their interests while encouraging them to spend, a source said Saturday.
(Japan Today)
Jan 21
Japan's Defense Ministry says the Air Self-Defense Force scrambled its jets against Chinese aircraft fewer times during the first 9 months of this fiscal year, compared to the previous year.
(NHK)
Jan 21
Tokyo Metropolitan Police arrested another organized crime member over the alleged possession of a pistol found last year through the help of a so-called "hybrid police dog," reports TV Asahi
(tokyoreporter.com)
Jan 21
The body of a child which was found Friday at the edge of a river in Sakai, Fukui Prefecture, has been identified as that of a three-year-old boy who has been missing since Dec 9.
(Japan Today)
Jan 21
Tokyo Metropolitan Police have arrested three persons, including a former member of a bosozoku group, over the alleged extortion of a male adult video (AV) star, reports Nikkan Sports
(tokyoreporter.com)
Jan 21
Work to dispose of a World War II bomb that did not explode was carried out on Kokusai-dori, a major street in the city center of Naha, the capital of Japan's southernmost prefecture of Okinawa, on Saturday.
(Jiji)
Jan 21
The New York office of the Japan National Tourism Organization has produced four videos to promote tourist attractions of Japan's Tohoku northeastern region to American people.
(Jiji)
Jan 21
Tokyo Metropolitan Police have arrested a 32-year-old man for over an illicit encounter with a high school girl last year that he allegedly filmed, reports Fuji News Network
(tokyoreporter.com)
Jan 21
The Tokyo High Court has ruled that Yahoo Japan Co. defamed a man and has ordered that it delete 11 search results that associate his name with criminal behavior, sources have confirmed.
(Japan Times)
Jan 21
Thousands of blooming tulips are giving people an early taste of spring at a park in eastern Japan.
(NHK)
---