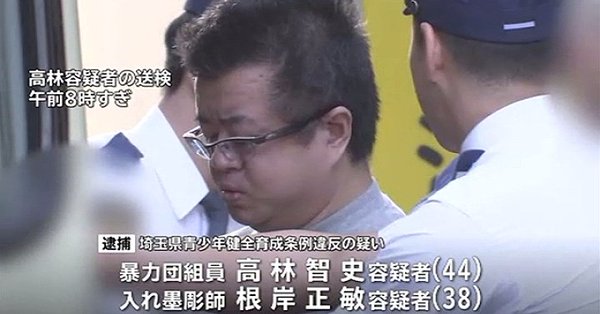 Tokyo Metropolitan Police have arrested an organized crime member who allegedly introduced a tattoo artist to a teenage girl, reports TBS News.
In April, Satoshi Takabayashi, a 43-year-old upper-level member of the Kobe Yamaguchi-gumi, allegedly introduced the girl, 17, to tattoo artist Masatoshi Iwase, a 38-year-old resident of Saitama Prefecture.
The girl subsequently received an irezumi tattoo, which are often sported by underworld figures, on her right shoulder and back during sessions at his residence in April and May.
Takabayashi, who has been accused of violating a prefectural ordinance regarding the healthy upbringing of youths, admits to the allegations. "She requested, so I made the introduction," the suspect was quoted. He has been sent to prosecutors.
In August, police first arrested Takabayashi for allegedly confining the girl at a gang office in Tokyo's Koto Ward over a one-month period.
千葉県に住む17歳の少女の体に入れ墨を入れたなどとして、暴力団組員の男ら2人が逮捕されました。
Oct 17
Police in Hiroshima, western Japan, are investigating graffiti found at 3 places in the Peace Memorial Park. The park is home to the landmark Atomic Bomb Dome, which was damaged in the 1945 bombing.
(NHK)
Oct 17
The number of foreign visitors to Japan has dropped for the first time in more than 5 years as natural disasters prompted many tourists to cancel trips in September.
(NHK)
Oct 17
A Tokyo court has begun questioning 3 former executives of Tokyo Electric Power Company about their involvement in the 2011 nuclear accident at the Fukushima Daiichi plant.
(NHK)
Oct 17
Tokyo police arrested on Tuesday some members of a fraud group for allegedly attempting to register a land ownership change using fake documents, in a high-profile case that led Sekisui House Ltd. <1928> to lose billions of yen.
(Jiji)
Oct 17
Keisuke Fukuchi, the 2018 world champion of the Othello board game and the youngest ever at 11, was congratulated and surprised while on his return flight to Japan after the competition in Prague as the pilot revealed via intercom that he was the previous record holder.
(Kyodo)
Oct 17
Gunma Prefecture says its helicopter that crashed in August is suspected to have been flying in violation of civil aviation laws.
(NHK)
Oct 17
An unmanned store using artificial intelligence instead of cashiers is set to open on a trial basis at a station in Tokyo.
(NHK)
Oct 16
Showa University in Tokyo admitted Monday that its medical school has been rigging entrance examination results in favor of first- and second-time test takers, while putting former students' children high on waiting lists to fill vacancies.
(Jiji)
Oct 16
The Imperial Household Agency said Monday it will jointly excavate Japan's largest ancient mounded tomb with a local government for the first time.
(Japan Times)
Oct 16
Chief Cabinet Secretary Yoshihide Suga says Facebook has informed the government that its recent massive data leak could involve Japanese users.
(NHK)
---