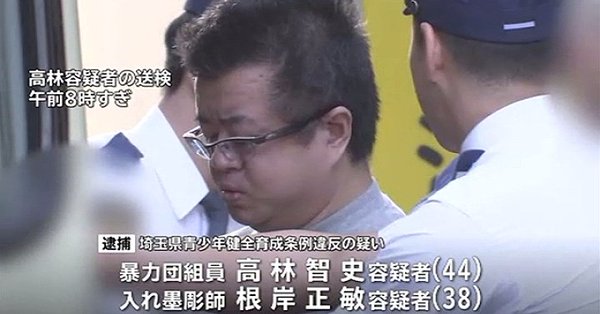 Tokyo Metropolitan Police have arrested an organized crime member who allegedly introduced a tattoo artist to a teenage girl, reports TBS News.
In April, Satoshi Takabayashi, a 43-year-old upper-level member of the Kobe Yamaguchi-gumi, allegedly introduced the girl, 17, to tattoo artist Masatoshi Iwase, a 38-year-old resident of Saitama Prefecture.
The girl subsequently received an irezumi tattoo, which are often sported by underworld figures, on her right shoulder and back during sessions at his residence in April and May.
Takabayashi, who has been accused of violating a prefectural ordinance regarding the healthy upbringing of youths, admits to the allegations. "She requested, so I made the introduction," the suspect was quoted. He has been sent to prosecutors.
In August, police first arrested Takabayashi for allegedly confining the girl at a gang office in Tokyo's Koto Ward over a one-month period.
千葉県に住む17歳の少女の体に入れ墨を入れたなどとして、暴力団組員の男ら2人が逮捕されました。
Jul 18
More than a week after torrential rains in western Japan triggered landslides and flooding, over 200 people are dead and 16 are still missing.
(NHK)
Jul 18
A 36-year-old Filipino man arrested last year admitted Tuesday to raping and murdering a female university student in eastern Japan in January 2004.
(Japan Today)
Jul 18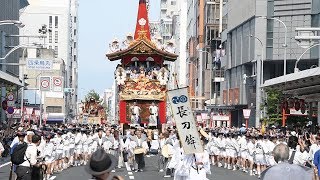 In Japan's ancient capital Kyoto, spectators braved sweltering heat to watch a series of colorfully decorated floats at the annual Gion festival on Tuesday.
(NHK)
Jul 18
Many retailers and consumers in Japan are welcoming the free trade pact with the European Union. They are expecting it to lower prices for a range of gourmet products and provide a boost to the economy.
(NHK)
Jul 18
Japan and the European Union have signed a free trade deal in Tokyo after years of negotiations. The economic partnership agreement covers about 40 percent of the world's trade and 30 percent of its gross domestic product. The EPA calls for Japan and the EU to remove tariffs on most of each other's goods in phases.
(NHK)
Jul 18
The Tokyo Metropolitan Government invited the media to observe the construction sites for the 2020 Olympics and Paralympics venues on Tuesday, 2 years ahead of the games' opening.
(NHK)
Jul 18
Japan's Mitsubishi Aircraft has debuted its long-delayed passenger jet at an airshow in Britain.
(NHK)
Jul 18
Yomiuri Giants owner Shoichi Oikawa has resigned to take responsibility for a series of scandals involving players at the Japanese professional baseball team, the Giants said Tuesday.
(Jiji)
Jul 18
A Japanese Air Self-Defense Force aircraft blocked a runway at Naha Airport in the southwestern prefecture of Okinawa on Tuesday, causing it to be closed temporarily.
(NHK)
Jul 17
People in western Japan are battling soaring temperatures as they still reel from devastating floods and landslides triggered by record rainfalls.
(NHK)
---