Japanese Prime Minister Shinzo Abe on Friday asked the business community to provide 300 billion yen to help reduce the number of children on nursery waiting lists.
The business community is seen accepting the request, made at the second session of the Council for Designing 100-Year Life Society, a government team to flesh out Abe's human resources development initiative.
The government will draw up by year-end a 2-trillion-yen policy package featuring measures to eliminate nursery capacity shortages and expand tuition-free education.
Nov 21
Japan may be known as the world leader when it comes to high-tech toilets, but only 35.8 percent of those in prefectural high schools are Western-style.
(Japan Times)
Nov 20
Prison inmates who don't speak Japanese now have access to better interpretation services, thanks to a new system introduced earlier this month.
(NHK)
Nov 16
The Tomio-Maruyama ancient tomb mound in the western Japan city of Nara has been found likely to be the largest of known round-shaped tombs in the country, the city's archaeological research center said Wednesday.
(Jiji)
Nov 16
Tokyo-based Showa Women's University (SWU) and Temple University, Japan Campus (TUJ) have announced a unique campus-sharing agreement that could offer a model to other Japanese schools.
(Japan Times)
Nov 15
Saitama Prefectural Police have sent a 29-year-old temporary teacher at an elementary school to prosecutors for the molestation of two female students, reports TBS News.
(tokyoreporter.com)
Nov 13
Junior high school students in Japan are generally well-behaved, though occasionally a few naughty ones may slip through the disciplinary system and wreak juvenile havoc.
(rocketnews24.com)
Nov 11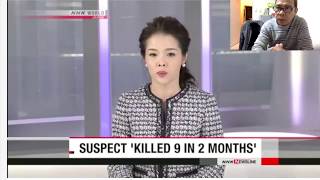 Chief Cabinet Secretary Yoshihide Suga has instructed ministers to step up measures against inappropriate websites that deal with suicide.
(NHK)
Nov 09
Japan will spend roughly 800 billion yen ($7.01 billion) to expand its free preschool program, part of Prime Minister Shinzo Abe's push to increase human resources investment.
(Nikkei)
Nov 09
Eighty local governments in Japan are considering or making preparations for the establishment of pubic night junior high schools to be attended by people who were unable to finish compulsory education for various reasons and foreigners, the education ministry has said.
(Jiji)
Nov 01
A law to improve the treatment of foreign trainees under Japan's technical training program was put into effect on Wednesday.
(Jiji)
---