Houston Astros infielder Yulieski Gurriel will be suspended for the first five games of the 2018 season for making a racist gesture directed at Los Angeles Dodgers pitcher Yu Darvish during Friday's World Series game, Major League Baseball Commissioner Rob Manfred said Saturday.
After hitting a home run off the Japanese right-hander in Game 3 of the series, Gurriel, 33, used his fingers to stretch his eyes toward his ears and appeared to say a word in Spanish usually used to mock Asian people.
Feb 19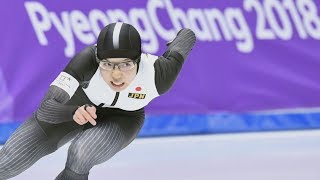 Nao Kodaira won the women's 500-meter speedskating event in the Pyeongchang Olympics on Sunday, becoming the first Japanese woman to win gold in the sport.
(Jiji)
Feb 19
Figure skating star Yuzuru Hanyu said he took painkillers while competing to win the men's singles title at the Pyeongchang Olympics, revealing that he has not yet recovered from his right ankle injury.
(the-japan-news.com)
Feb 18
Teen shogi star Sota Fujii has clinched his first title in an official tournament.
(NHK)
Feb 18
Japan's Yuzuru Hanyu has won gold in the men's figure skating in the PyeongChang Winter Olympics in South Korea.
(NHK)
Feb 16
Having been sired by the wonder-horse Frankel, Soul Stirring was always likely to be an above average performer on the turf.
(newsonjapan.com)
Feb 16
Japanese football legend Kazuyoshi Miura has been certified as the oldest professional soccer player to score a goal in a competitive league. His fans in Japan call him 'Kazu'.
(NHK)
Feb 14
Two Japanese professional players of the traditional board games shogi and go have received the country's People's Honor Award.
(NHK)
Feb 12
The winter-long dance is over. Yu Darvish is joining the Chicago Cubs.
(Japan Times)
Feb 09
In response to successive scandals involving physical violence, the Japan Sumo Association announced Thursday that a third-party committee has convened and will question every member of the JSA.
(Japan Times)
Feb 05
Former American professional wrestler The Destroyer, who garnered tremendous popularity in Japan decades ago, received the esteemed Order of the Rising Sun at a ceremony in Buffalo on Saturday, reports Nippon News Network.
(tokyoreporter.com)
---