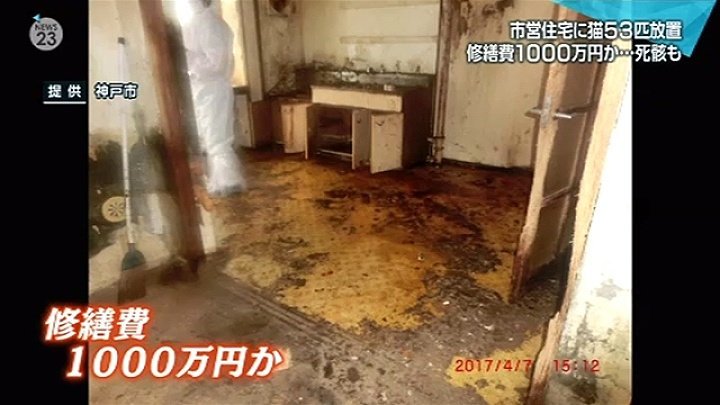 The Kobe Municipal Government earlier this year evicted a woman from a municipally run apartment after it received numerous complaints regarding the dozens of cats she kept inside, reports TBS News
In April, the woman was evicted after the government received numerous complaints about foul odors coming from the apartment, located in Higashinada Ward, according to the government.
The 53 cats inside the residence had not been spayed or neutered. There were also a few cat corpses found inside the residence.
"Before I knew it, they had multiplied," the woman was quoted.
Under the municipal code, breeding of pets is prohibited. In 2006, the woman, aged in her 40s, moved into the residence with her three children. Eventually, the woman became unable to take care of the cats and moved to a separate residence.
The complaints about the foul odor began in 2015. The woman was subsequently warned by the government more than 10 times. However, she ignored each of the notifications.
Urine and feces
The city then filed a claim to evict her with the Kobe District Court in October of last year. This past January, the court ruled in favor of the city.
Urine and feces from the felines caused an estimated 10 million yen in property damage to the tatami flooring and walls of the 60-square-meter unit. The city may ask the woman to pay a portion of that cost.
A citizens group and volunteers have taken custody of the cats.
強制退去処分となった市営住宅にネコ53匹が放置されていました。 おととし秋、神戸市東灘区の市営住宅に住む女性(40代)の部屋で「ネコを飼育していて、悪臭がひどい」と近所の住民から市に通報がありました。
Aug 19
A former nurse at a hospital in Yokohama, the capital of Kanagawa Prefecture, south of Tokyo, was served a third arrest warrant on Saturday in a serial poisoning murder case about two years ago.
(Jiji)
Aug 19
The life and times of Japan's first golfer: Amsterdam 1605
(thesamuraigolfer.com)
Aug 18
Investigators in Osaka Prefecture say a suspect who fled a police station 5 days ago chased women on a motorcycle as he apparently hunted for bag-snatching targets.
(NHK)
Aug 18
The first of 2 new government planes has been delivered to Japan ahead of their debut next year.
(NHK)
Aug 18
Education in Japan is specific and works on the principle of "quality study is a guarantee of a successful career." Every Japanese usually deserves only one attempt to take a worthy place in society. However, this system has its dark side as well.
(newsonjapan.com)
Aug 18
Chiba Prefectural Police are investigating what is believed to have been a murder-suicide after the bodies of an 81-year-old man and his eldest son, 52, were found in their residence in Yotsukaido City on Wednesday, reports the Sankei Shimbun
(tokyoreporter.com)
Aug 18
The national health insurance program underwent a major reform at the start of fiscal 2018 that saw prefectures, rather than municipalities, begin managing the deficit-ridden system to improve its financial base.
(Japan Times)
Aug 18
A bottle of rare Japanese whisky sold at a world-record price on Friday, the third record shattered this year for a single malt from the country.
(Nikkei)
Aug 18
Sewing needles have been found inserted into bread products on two days this week at a supermarket in Fukuoka city, police said Friday.
(Jiji)
Aug 18
Corruption has been revealed in the Japanese sport of kendo, as the All Japan Kendo Federation said Friday that people taking promotional exams had often been paying money to their examiners in order to win their approval.
(Japan Today)
---