Japanese Prime Minister Shinzo Abe and visiting US President Donald Trump have had dinner together in Tokyo's Ginza district.
Abe and Trump and their wives headed for a "teppanyaki" restaurant in the presidential limousine on Sunday evening.
The 2 couples had a photo call at the entrance of the restaurant.
Sources say they had spiny lobsters and Japanese beef steaks cooked on an iron plate.
They also say the leaders discussed North Korea and other issues during dinner for about half an hour, with only interpreters present.
Abe saw the Trumps off at the restaurant and told reporters that it was a very fruitful dinner. He added that the president was delighted.
Earlier in the day, the leaders played golf together, joined by Japan's top golfer, Hideki Matsuyama.
Abe and Trump will hold their 5th one-on-one talks on Monday.
The president is scheduled to meet the families of some of the Japanese citizens who were abducted by North Korea.
トランプ大統領は5日午前に横田基地に到着しました。その後、安倍総理大臣と埼玉県川越市内でゴルフをし、現在は都心の繁華街にいるようです。大統領としては初来日の初日の夜ですが、今は何をしているのでしょうか。現場からの報告です。
Jun 21
Police have arrested a teen suspected of involvement in a knife attack Tuesday on a 9-year-old boy -- causing serious head trauma -- who was returning home from school in Shizuoka Prefecture, local authorities said Wednesday.
(Japan Times)
Jun 20
Yuya Osako exacted sweet revenge for Japan on Tuesday as the Blue Samurai beat Colombia 2-1, becoming the first Asian side ever to beat a South American team at the World Cup.
(jacarandafm.com)
Jun 20
Japanese soccer fans have been celebrating their national squad's 2-1 win over Colombia in its first group match in the World Cup finals.
(NHK)
Jun 20
The head of a veterinary school operator at the center of a political scandal in Japan denies he ever had a meeting with Prime Minister Shinzo Abe to discuss a school project.
(NHK)
Jun 20
The House of Representatives passed a bill to introduce up to three casino-featuring integrated resorts in Japan at a plenary meeting Tuesday.
(Jiji)
Jun 20
The Japanese operator of a popular app that matches buyers and sellers of used goods has gone public.
(NHK)
Jun 19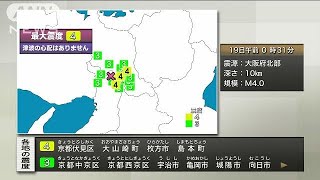 More than 20 tremors believed to be aftershocks of Monday's major earthquake have rattled the western Japanese prefecture of Osaka.
(NHK)
Jun 19
Police in Kitakyushu said Monday they have arrested a 27-year-old man on suspicion of fatally abusing his 4-year-son after he locked the boy inside a storage cabinet beneath a TV stand at their house.
(Japan Today)
Jun 19
The earthquake that struck western Japan on Monday morning battered the region's infrastructure, revealing the fragility of utility lifelines and transportation networks in one of the country's most densely populated areas.
(Nikkei)
Jun 18
A basketball referee was punched in the face by a high school player during a game in the western Japanese prefecture of Nagasaki on Sunday.
(NHK)
---