Anti-drug authorities in Japan have arrested 6 people on suspicion of possessing a large supply of so-called "dangerous drugs." The drugs are mixtures of herbs and chemicals, similar to illegal narcotics.
The health ministry's anti-drug officials say 50-year-old Manabu Iwamura, and 5 others, were found in possession of 20 kilograms of the banned substances in September at a house in Kawasaki city, located south of Tokyo.
The officials say a further search at the house uncovered a total of 180 kilograms of the drugs, including powdery materials that could be used as ingredients, and around 1.6 tons of herbs. It is the largest single seizure of dangerous drugs. Their street value is estimated to be over 3 billion yen, or 26 million dollars.
Mixing devices and centrifuges, likely used to produce the drugs, were also found.
The authorities say Iwamura has admitted that the allegations are true. He is quoted as saying he started selling the substances 3 years ago, and that monthly revenues have been around 180,000 dollars, on average, over the past 2 years.
The officials believe the suspects made over 9 million dollars through online sales. They are trying to obtain more information about the sale routes and uncover other details.
インターネットを使って危険ドラッグを密売していた過去最大規模のグループが関東信越厚生局麻薬取締部に摘発されました。 岩村学容疑者(50)ら6人が拠点にしていた川崎市内の住宅からは、時価30億円相当の薬物が押収されました。
Jun 21
Police have arrested a teen suspected of involvement in a knife attack Tuesday on a 9-year-old boy -- causing serious head trauma -- who was returning home from school in Shizuoka Prefecture, local authorities said Wednesday.
(Japan Times)
Jun 20
Yuya Osako exacted sweet revenge for Japan on Tuesday as the Blue Samurai beat Colombia 2-1, becoming the first Asian side ever to beat a South American team at the World Cup.
(jacarandafm.com)
Jun 20
Japanese soccer fans have been celebrating their national squad's 2-1 win over Colombia in its first group match in the World Cup finals.
(NHK)
Jun 20
The head of a veterinary school operator at the center of a political scandal in Japan denies he ever had a meeting with Prime Minister Shinzo Abe to discuss a school project.
(NHK)
Jun 20
The House of Representatives passed a bill to introduce up to three casino-featuring integrated resorts in Japan at a plenary meeting Tuesday.
(Jiji)
Jun 20
The Japanese operator of a popular app that matches buyers and sellers of used goods has gone public.
(NHK)
Jun 19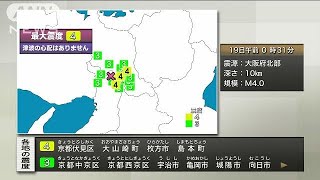 More than 20 tremors believed to be aftershocks of Monday's major earthquake have rattled the western Japanese prefecture of Osaka.
(NHK)
Jun 19
Police in Kitakyushu said Monday they have arrested a 27-year-old man on suspicion of fatally abusing his 4-year-son after he locked the boy inside a storage cabinet beneath a TV stand at their house.
(Japan Today)
Jun 19
The earthquake that struck western Japan on Monday morning battered the region's infrastructure, revealing the fragility of utility lifelines and transportation networks in one of the country's most densely populated areas.
(Nikkei)
Jun 18
A basketball referee was punched in the face by a high school player during a game in the western Japanese prefecture of Nagasaki on Sunday.
(NHK)
---