All of the remaining eight victims have been identified in a case where dismembered bodies of nine people were found at an apartment in Zama, Kanagawa Prefecture, south of Tokyo, police said early Friday.
In the case, Takahiro Shiraishi, a 27-year-old resident of the apartment, has been arrested on suspicion of body abandonment. He has told police investigators that he killed all nine people.
Shiraishi is believed to have cut up their bodies in the apartment's bathroom and put dismembered bodies in cooler and other boxes in the apartment.
The nine victims, aged between 15 and 26 from Tokyo and four other prefectures, include three high school students. One of them has already been identified as Aiko Tamura, 23, from Hachioji, Tokyo.
The remaining eight victims were identified as Akari Suda, 17, from the city of Fukushima, Kureha Ishihara, 15, from Oura, Gunma Prefecture, Natsumi Kubo, 17, from the city of Saitama, Hinako Sarashina, 19, from Tokorozawa, Saitama Prefecture, Hitomi Fujima, 26, from Kasukabe, Saitama, Mizuki Miura, 21, from Atsugi, Kanagawa Prefecture, Shogo Nishinaka, 20, from Yokosuka, Kanagawa, and Kazumi Maruyama, 25, from Yokohama, Kanagawa.
神奈川県座間市のアパートで9人の遺体が見つかった事件で、警視庁は9人全員の身元を特定したと発表しました。 白石隆浩容疑者(27)のアパートの部屋からは9人の遺体が見つかりました。これまでに、東京・八王子市の田村愛子さん(23)以外の身元は特定されていませんでした。
Jun 21
Police have arrested a teen suspected of involvement in a knife attack Tuesday on a 9-year-old boy -- causing serious head trauma -- who was returning home from school in Shizuoka Prefecture, local authorities said Wednesday.
(Japan Times)
Jun 20
Yuya Osako exacted sweet revenge for Japan on Tuesday as the Blue Samurai beat Colombia 2-1, becoming the first Asian side ever to beat a South American team at the World Cup.
(jacarandafm.com)
Jun 20
Japanese soccer fans have been celebrating their national squad's 2-1 win over Colombia in its first group match in the World Cup finals.
(NHK)
Jun 20
The head of a veterinary school operator at the center of a political scandal in Japan denies he ever had a meeting with Prime Minister Shinzo Abe to discuss a school project.
(NHK)
Jun 20
The House of Representatives passed a bill to introduce up to three casino-featuring integrated resorts in Japan at a plenary meeting Tuesday.
(Jiji)
Jun 20
The Japanese operator of a popular app that matches buyers and sellers of used goods has gone public.
(NHK)
Jun 19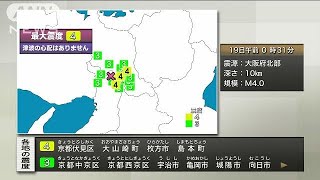 More than 20 tremors believed to be aftershocks of Monday's major earthquake have rattled the western Japanese prefecture of Osaka.
(NHK)
Jun 19
Police in Kitakyushu said Monday they have arrested a 27-year-old man on suspicion of fatally abusing his 4-year-son after he locked the boy inside a storage cabinet beneath a TV stand at their house.
(Japan Today)
Jun 19
The earthquake that struck western Japan on Monday morning battered the region's infrastructure, revealing the fragility of utility lifelines and transportation networks in one of the country's most densely populated areas.
(Nikkei)
Jun 18
A basketball referee was punched in the face by a high school player during a game in the western Japanese prefecture of Nagasaki on Sunday.
(NHK)
---