Japan's Economic Revitalization Minister says all the 11 signatory nations of the Trans-Pacific Partnership trade deal have reconfirmed their broad agreement to put the deal into effect without the United States.
Toshimitsu Motegi is among ministers from 11 countries that in principle reached the agreement at a meeting in the Vietnamese city of Da Nang on Thursday.
The agreement was to be confirmed at the summit meeting scheduled for Friday, but was postponed.
That came as Canadian Prime Minister Justin Trudeau told his Japanese counterpart Shinzo Abe in a meeting before the planned summit that member countries were not ready to confirm the agreement.
This led TPP ministers from the 11 countries to hold a new round of talks on Friday.
Motegi told reporters that Canada's delegation said it had gained consent from the top leader.
Motegi also said it would be difficult to hold a summit due to the schedules of the leaders. He said he and his co-chair, Vietnamese Industry and Trade Minister Tran Tuan Anh, will publicize the content of the agreement and release ministers' statement on Saturday.
Motegi said the Canadians had expressed clear support for the broad agreement on Thursday, and added that this time the country confirmed all the details including wording.
Top leaders of TPP signatory countries are in Vietnam to attend the Asia-Pacific Economic Cooperation summit.
10日に予定されていたアメリカを除くTPP(環太平洋経済連携協定)11カ国の首脳会合はカナダが異論を唱えたため、延期となりました。 安倍総理大臣:「TPP首脳会合は延期することと致しました」 首脳会合では、9日の閣僚会合で大筋合意した協定内容が確認される予定でした。
Oct 22
The government is considering giving effective 2 percent rebates for cashless purchases of all goods and services at small shops after next year's planned consumption tax hike, it was learned Saturday.
(Japan Times)
Oct 19
Investors who collectively placed approximately 100,000 failed share trades may seek compensation after a systems glitch at the Tokyo Stock Exchange last week left some 40 brokerages temporarily unable to place orders, sources said Thursday.
(Japan Times)
Oct 16
The Japanese government is looking at how to minimize the impact of the tax hike.
(NHK)
Oct 10
The operator of the Tokyo Stock Exchange says trading was partially disrupted due to system trouble on Tuesday but was expected to return to normal on Wednesday.
(NHK)
Sep 29
The percentage of working-age women with jobs in Japan reached a record-high 70.0 percent in August, government data showed Friday, underscoring an increase in female workers amid changing attitudes and a deepening labor shortage.
(Japan Today)
Sep 26
The world's third-largest economy has suffered from a caricature. Yes, Japan fell from its pinnacle in the 1990s because of a property crash, enfeebled banks and a dwindling population. But that was then. It's not falling anymore.
(Japan Times)
Sep 21
The Bank of Japan has for years bought Japanese stocks as part of its huge massive monetary easing program to lift the country out of deflation and hit a 2 percent price-stability target.
(Nikkei)
Sep 21
A new report shows that people in Japan are sitting on a record pile of financial assets. It credits a surge in stock prices as the main factor.
(NHK)
Sep 11
Japanese Prime Minister Shinzo Abe and Russian President Vladimir Putin have concluded their meeting in Russia's Far East. They agreed to draw up a schedule of joint economic projects on the islands known as the Northern Territories.
(NHK)
Sep 08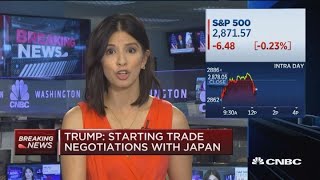 US President Donald Trump has pressured Japan to reduce its trade deficit with the US.
(NHK)
---