Over a nearly one-hour period on Monday, a 41-year-old male driver accompanied by his mother caused multiple accidents in Matsuyama City as he led Ehime Prefctural Police on a chase that proceeded through a shopping mall, reports TV Asahi
At 1:55 p.m., Ryohei Zaima, a company employee living in Imabari City, got into a minor accident on National Route 196. After he fled the scene, police were tipped off, which kicked off the chase.
Over the next 55 minutes, Zaima led police on a chase that resulted in five other collisions, including an incident involving a woman, aged in her 60s, who was struck and injured slightly at a pedestrian crossing while on a bicycle.
In multiple clips taken from security camera footage, the silver sedan can been seen barreling through the mall --- accessible by bicycles and pedestrians --- with shoppers scattering out of its path as a white police motorcycle follows. One eyewitness estimated the speed of the vehicle at 80 kilometers per hour.
The chase ended after Zaima made a U-turn, causing the battered vehicle to lose its left-front tire and come to a halt. Police subsequently apprehended Zaima, whose mother, 69, was in the back seat, on suspicion of violating the Road Traffic Act for making a U-turn in a prohibited area.
"Because of various stresses I got desperate and drove like a maniac," said Zaima, who is also under investigation for hit-and-run causing injury.
約1時間にわたって暴走を続けた車。パトカーとのカーチェイスを繰り広げ、運転していた男が逮捕された。
Jun 21
Police have arrested a teen suspected of involvement in a knife attack Tuesday on a 9-year-old boy -- causing serious head trauma -- who was returning home from school in Shizuoka Prefecture, local authorities said Wednesday.
(Japan Times)
Jun 20
Yuya Osako exacted sweet revenge for Japan on Tuesday as the Blue Samurai beat Colombia 2-1, becoming the first Asian side ever to beat a South American team at the World Cup.
(jacarandafm.com)
Jun 20
Japanese soccer fans have been celebrating their national squad's 2-1 win over Colombia in its first group match in the World Cup finals.
(NHK)
Jun 20
The head of a veterinary school operator at the center of a political scandal in Japan denies he ever had a meeting with Prime Minister Shinzo Abe to discuss a school project.
(NHK)
Jun 20
The House of Representatives passed a bill to introduce up to three casino-featuring integrated resorts in Japan at a plenary meeting Tuesday.
(Jiji)
Jun 20
The Japanese operator of a popular app that matches buyers and sellers of used goods has gone public.
(NHK)
Jun 19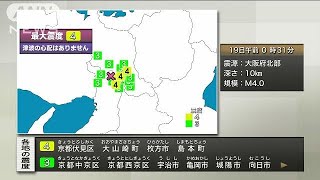 More than 20 tremors believed to be aftershocks of Monday's major earthquake have rattled the western Japanese prefecture of Osaka.
(NHK)
Jun 19
Police in Kitakyushu said Monday they have arrested a 27-year-old man on suspicion of fatally abusing his 4-year-son after he locked the boy inside a storage cabinet beneath a TV stand at their house.
(Japan Today)
Jun 19
The earthquake that struck western Japan on Monday morning battered the region's infrastructure, revealing the fragility of utility lifelines and transportation networks in one of the country's most densely populated areas.
(Nikkei)
Jun 18
A basketball referee was punched in the face by a high school player during a game in the western Japanese prefecture of Nagasaki on Sunday.
(NHK)
---