Hokkaido Prefectural Police have sent a lawyer to prosecutors over the attack of a taxi driver inside his cab in Sapporo earlier this month, reports TV Asahi
At around 11:00 p.m. on November 6, the lawyer, aged in his 30s, began kicking the back of the driver's seat after he entered the cab in the Susukino nightlife quarter of Chuo Ward. One kick shattered the plastic panel separating the driver from the back seat.
As revealed in dashboard camera footage, the driver halted the cab after the man began kicking the door. After it opened, he exited without paying the fare of 990 yen. As he fled, he threw his smartphone at the taxi.
According to the company that owns the taxi, the damage to the cab amounted to 140,000 yen.
The lawyer, who was not named, was sent to prosecutors on Tuesday on suspicion of causing property damage.
"With this being a serious development, we will take strict measures in accordance with the law to recover trust," a representative of the Sapporo firm employing the defendant was quoted.
埼玉県で起きていたタクシー強盗事件で公開手配されていた男が出頭し、逮捕されました。
Mar 22
Japanese Foreign Minister Taro Kono and his visiting Russian counterpart, Sergei Lavrov, agreed on Wednesday to accelerate talks on planned joint economic activities at the four disputed northwestern Pacific islands so that certain progress can be achieved when Japanese Prime Minister Shinzo Abe visits Russia possibly in late May.
(Jiji)
Mar 21
A female zookeeper at Ueno Zoological Gardens in Tokyo sustained injuries Tuesday after a gorilla bit her right arm, police said.
(Japan Today)
Mar 20
Police said Monday they have arrested three Taiwanese women for allegedly attempting to smuggle gold worth around 50 million yen ($470,000) into Japan in their bras.
(Japan Today)
Mar 20
The leaders of Japan and Russia have reaffirmed cooperation on planned joint economic projects on Russian-controlled islands claimed by Japan.
(NHK)
Mar 19
More than two decades after Japan's Aum Shinrikyo cult plunged Tokyo into terror by releasing a nerve agent on rush-hour subway trains, its spinoffs continue to attract new followers.
(Japan Today)
Mar 18
Tokyo Metropolitan Police plan to arrest a man claiming to be the former boyfriend of a woman found stabbed to death in Tama City on Friday, reports the Mainichi Shimbun
(tokyoreporter.com)
Mar 18
Investigative sources with law enforcement revealed on Saturday that popular adult video (AV) actress Nozomi Aso has been arrested again on drug-related charges, reports the Sankei Sports.
(tokyoreporter.com)
Mar 17
Japanese authorities have lowered volcanic alert levels for the 2 peaks of Mount Kusatsu-Shirane in Gunma Prefecture, more than 7 weeks after the volcano erupted.
(NHK)
Mar 17
A blackmail letter has been sent to a restaurant owned by Japanese Prime Minister Shinzo Abe's wife, Akie.
(NHK)
Mar 16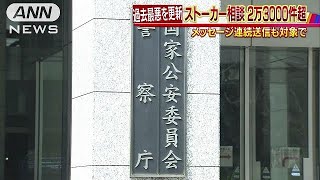 Police in Japan received a record-high number of inquiries and reports about stalking and domestic violence last year.
(NHK)
---