Japan appeals to different people for different reasons. Some visit for the history or the food. Many stay for the martial arts, while others keep coming back for a dose of manga, anime and video-game culture. Still others come to enjoy the land — the huge span of scenery from the north of Hokkaido to Okinawa in the southwest, and the sharp changes such places undergo with the revolutions of season.
Outdoor activities such as hiking and cross-country trekking are popular in the summer and autumn, and often go hand-in-hand with landscape photography, as the scenery tends toward breathtaking.
Just over 70 percent of Japan is mountainous, and each of the main islands has at least one range. Most of Japan's mountains are heavily forested, too, which makes for no end of prime hiking trails.
The Hida, Kiso and Akaishi mountain ranges --- also known as the northern, central and southern alps, respectively --- are great examples. Each contains peaks, plains and valleys with something to offer hikers of all levels, complete with a wide spectrum of scenic views across the surrounding prefectures. And then there are the 34 national parks spread across the country, each with their own flora and fauna, again great for hiking and full of photographic potential. Japan certainly isn't short of areas good for strapping on a pair of boots, throwing your camera over your shoulder and heading out for a hike, which many people do from spring through autumn.
But come the winter months, many of these places, especially in the northern part of Honshu and across Hokkaido, become inaccessible to the average hiker due to heavy snowfalls that can last anywhere from two to five months depending on the area.
Many people choose to hang up their boots during these colder months --- assuming their favorite hiking routes are all but inaccessible due to snow and sub-zero temperatures. Imagining themselves cut off from the outdoors, save a few expensive weekends spent at a ski resort, many choose instead to hibernate for the winter in the warmth of their homes, which is a shame, because winter in Japan is full of beautiful landscapes waiting to be rediscovered.
One of the keys to unlocking what this side of Japan has to offer is the increasingly popular activity of snowshoe hiking.
Jul 23
Sweltering heat continues to shroud most of Japan. Temperatures reached nearly 40 degrees Celsius in some places on Sunday.
(NHK)
Jul 22
Several beaches ravaged by the 2011 earthquake and tsunami in northeastern Japan have been reopened for bathing for the first time in 8 years.
(NHK)
Jul 21
Severe tropical storm Ampil is moving toward Japan's southwestern island of Okinawa, bringing strong winds and high waves.
(NHK)
Jul 21
New VR Zone attraction lets you take on Godzilla in an attack chopper…
(soranews24.com)
Jul 20
Temperatures in Kyoto rose as high as 39.8 degrees Celsius on Thursday, tying the city's record high logged on Aug. 8, 1994, the Japan Meteorological Agency said.
(Jiji)
Jul 19
The number of foreign tourists who visited Japan in the first half of this year hit a record high for the period.
(NHK)
Jul 19
Japanese temples are offering their facilities as tourist accommodation, an initiative aimed at wooing foreigners to rural Japan.
(Nikkei)
Jul 19
The Legoland Japan theme park in the central Japanese city of Nagoya will lower its admission fee for children, its operator said Wednesday, following complaints about high ticket prices.
(Kyodo)
Jul 18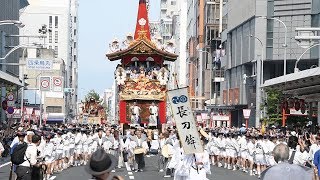 In Japan's ancient capital Kyoto, spectators braved sweltering heat to watch a series of colorfully decorated floats at the annual Gion festival on Tuesday.
(NHK)
Jul 17
Each year, a pair of the Aomori Prefecture town's fields are used to create amazing rice paddy art (or "tambo art," as it's called in Japanese).
(soranews24.com)
---