A new Tokyo Bay amphibious bus tour was launched Monday to service the expected influx of foreign tourists drawn to the city ahead of the 2020 Tokyo Olympics and Paralympics.
Fuji Kyuko Co. operates the 12-meter-long bus named "TOKYO NO KABA" (Tokyo's Hippo). The cruise takes it under the Rainbow Bridge that spans Tokyo Bay after winding through the office buildings and entertainment complexes in the nearby Odaiba area.
The bus seats 38 and offers tour information in English, Chinese, Korean, Thai and Indonesian. It was designed by Eiji Mitooka, known for his train and other industrial designs including the luxurious cruise train "Seven Stars in Kyushu" operated by Kyushu Railway Co.
Feb 16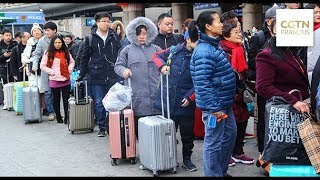 Reservations for travel overseas are surging for this year's 10-day Golden Week period, during which the Imperial succession is set to take place, according to a JTB Corp. official.
(Japan Times)
Feb 16
A fire broke out at a warehouse in Tokyo on Tuesday afternoon leaving three men dead and another man injured, while some flights at nearby Haneda airport were also disrupted by the incident.
(Kyodo)
Feb 15
Bullet train ticket machines have stopped working in many parts of Japan.
(NHK)
Feb 13
As spring approaches in Japan, the country's weather forecasters face one of their biggest missions of the year: predicting exactly when the famed cherry blossoms will bloom.
(straitstimes.com)
Feb 10
A cold snap hit Tokyo and its surrounding areas Saturday, causing cancellations of more than 100 domestic flights to and from the capital.
(Japan Times)
Feb 09
People in Sapporo shivered through frigid conditions on Friday as the city recorded a daytime high of minus 10.1 degrees Celsius, making it the first time in 40 years that the mercury has failed to reach minus 10.
(NHK)
Feb 07
Nara Park in Nara Prefecture is famous for its 1,000-plus-strong shika (native deer) population. These deer, considered to be messengers of the gods, are a national treasure and a protected species within the city's limits, due to their sacred connection to Nara's Kasuga Taisha Shrine.
(soranews24.com)
Feb 06
Star Wars, anime favourites, and tennis pro Naomi Osaka all make an appearance at this year's event.
(soranews24.com)
Feb 05
Tokyo Tower, an iconic landmark in the capital, has been illuminated in red as part of the efforts to welcome Chinese visitors to Japan during the Lunar New Year holiday.
(NHK)
Feb 03
Geisha apprentices, called "maikos," have gathered at Yasaka Shrine in Kyoto to take part in a traditional bean-throwing ritual.
(NHK)
---