For the first time, a Japanese high court has ordered the operator of a nuclear plant not to restart a reactor.
The Hiroshima High Court issued the injunction on Wednesday. It ordered Shikoku Electric Power Company not to restart the No. 3 reactor at its Ikata plant in Ehime Prefecture. It's currently offline for regular inspections.
The decision reverses a lower court order in March. Residents had sued to have the reactor shut down, citing the threat of a serious accident.
The latest lawsuit considered whether Shikoku Electric had properly assessed the risk to the plant posed by the largest possible earthquake and eruptions of nearby volcanoes.
Presiding Judge Tomoyuki Nonoue said the likelihood wasn't small that the nuclear plant would be affected by pyroclastic flows from an eruption of Mount Aso on the neighboring island of Kyushu. He found fault with the plant's location. He added that the operator had underestimated the amount of volcanic cinder and ash that would fall on the plant.
He concluded that the Nuclear Regulation Authority's judgment that the plant had met the requirements needed for a restart was flawed. He noted that the NRA hadn't properly assessed the risk that residents faced from various dangers such as volcanoes.
Under the injunction, the reactor will remain shut down until September 30th of next year.
Jun 19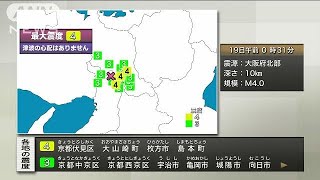 More than 20 tremors believed to be aftershocks of Monday's major earthquake have rattled the western Japanese prefecture of Osaka.
(NHK)
Jun 19
The earthquake that struck western Japan on Monday morning battered the region's infrastructure, revealing the fragility of utility lifelines and transportation networks in one of the country's most densely populated areas.
(Nikkei)
Jun 18
More than 2,000 venomous fire ants have been discovered in a shipping container from China that arrived at a port in Osaka Prefecture earlier this month, leaving two people hurt, government officials said.
(Japan Today)
Jun 17
An earthquake shook Gunma Prefecture, north of Tokyo, on Sunday afternoon. No major damage has been reported.
(NHK)
Jun 17
A nuclear reactor at a trouble-hit complex in southwestern Japan restarted operations Saturday for the first time in more than six and a half years amid lingering safety concerns.
(Japan Today)
Jun 17
The U.S. naval hospital ship Mercy arrived Saturday in Japan, which is considering building such floating hospitals to provide medical care after disasters like the 2011 catastrophe.
(Kyodo)
Jun 16
The Cultural Affairs Council recommended on Friday that a stratum in Chiba Prefecture, eastern Japan, be designated as a natural monument, citing its significance as a representing observation point for the beginning of a geological period that could be called "Chibanian."
(Jiji)
Jun 15
Tokyo Electric Power Company Holdings Inc. <9501> will start discussions to decommission all four nuclear reactors at its Fukushima No. 2 power plant, President Tomoaki Kobayakawa said Thursday.
(Jiji)
Jun 15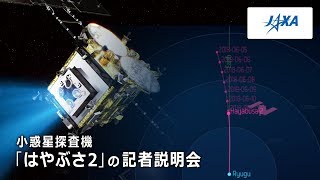 The Japan Aerospace Exploration Agency, or JAXA, has released new images of the Ryugu asteroid taken by its probe Hayabusa-2.
(NHK)
Jun 14
Japan's nuclear watchdog on Wednesday approved a plan to scrap a nuclear fuel reprocessing plant northeast of Tokyo over a 70-year period with the cost projected at 1 trillion yen ($9 billion).
(Kyodo)
---